Finding and diagnosing it before it's too late
Coco Chanel triggered one of the nation's most enduring fashion trends back in the 1920s, and it wasn't her shoes or the cut of her dress, but a bronze, glowing suntan! Since that time, the thought of a sun-kissed glow took a 180-degree turn from being associated with the working class to the embodiment of glamour. This not only changed the fashion world, but it also made a significant impact on the health of our society forever.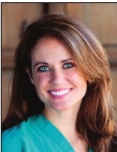 The tanning process can be triggered by natural sunlight or by artificial UV radiation like tanning beds. While a warm, golden tan is now associated with beauty, it is also the number one cause of skin cancer. With 3.5 million cases of skin cancer diagnosed annually, it is the most common form of cancer in the United States. The good news is that skin cancer is also one of the most preventable forms of cancer. By protecting yourself from the sun and avoiding indoor tanning, you can significantly lower your risk.
Sun safety tips from the Centers for Disease Control include:
1. Avoiding sunlight during midday hours.
2. Covering up with clothes and hats.
3. Sunscreen with UVA and UVB protection and SPF15 or preferably higher.
4. Reapply sunscreen every two hours.
Everyone should practice monthly head-to-toe self-examinations of the skin so that they can find any new or changing cancerous or precancerous lesions. An annual full body skin check with a dermatologist is also a good way to catch lesions early when they are most curable. There is no specific age that one should start annual exams with a physician, but the earlier you can start preventative measures, the better! Skin cancers found and removed early are almost always curable. Skin cancer can present in many shapes, sizes and colors. You should seek a dermatologist's or primary care doctor's advice for any spots that are changing, itching or bleeding. They can be raised, ulcerated, colored or even pale in color compared to the rest of your skin.
Products containing peeling agents, such as retinol, as part of your skin-care regimen are effective at removing dead cells and promoting the growth of healthy new cells. Routine peels, microdermabrasion and lasers can help to stimulate a healthy outer layer of skin and promote collagen growth within the deeper layers. It is always important to use these methods under the guidance of an experienced physician, as while they are effective ways to reverse the signs of aging and sun damage, they may heighten skin sensitivity and make the need for sunscreen protection even more critical!
As an assistant professor of facial plastic and reconstructive surgery, I primarily see skin cancers of the face and neck that have been removed by a dermatologist or primary care physician and require expert management to reconstruct the defect. Sometimes patients will be referred for both the removal of the cancer and reconstruction of the defect. Even a small skin cancer on the face can lead to life-changing scarring and destruction, particularly if they involve delicate areas like the eyelids, nose and lips. When these areas are involved, patients may be referred to a facial plastic reconstructive surgeon who is experienced in surgical techniques to restore functionality in a cosmetically pleasing way. Eyelids commonly harbor small skin cancers that can go unnoticed but can be just as serious with neglect, leading to blindness or loss of the eye and surrounding structures.
Another area that is commonly referred to a facial plastic surgeon is the nose because it is the most prominent facial feature, and reconstruction can be quite complex. The nose has one of the highest rates of skin cancer, mostly due to the fact that it is often overlooked when applying sunscreen. The lips, ears and scalp are some of the most critical areas to protect as they have some of the highest rates of metastatic spread when involved with skin cancer. It is not only the surgeon's duty to reconstruct these areas when they are involved in skin cancer but to also know when and where to look for metastatic spread of these cancers. When certain skin cancers meet criteria based on size, depth, high-risk pathologic features or involve areas of the body that are known to have a high risk of the metastasis, your surgeon should consider a sentinel lymph node biopsy to make sure your cancer hasn't spread to other areas of your body. This is a minimally invasive procedure that identifies and samples the lymph nodes that the cancer may have spread to.
What if you have already experienced significant sun damage? Is it too late? Not at all! You should see a dermatologist, facial plastic and reconstructive surgeon or experienced physician who can guide you to making efforts to restore your skin's health!
Dr. Paige Bundrick is an assistant professor of facial plastic and reconstructive surgery and otolaryngology at LSU Health Shreveport.