Community news, business happenings
SALT Opening Soon at Shreveport Aquarium
SALT, the new restaurant at the Shreveport Aquarium is scheduled to open Sept. 1, and local foodies are looking forward to its unique "sustainable New American fare." SALT will offer riverfront dining in a modern polished atmosphere with a menu focused on the riches of regional resources such as our Louisiana Gulf.
"There's a reason we call it 'SALT,'" said general manager Rick Rose. "We serve simply seasoned, well-prepared foods. Our plan is simple. Pull up a comfortable chair, indulge in fantastic sustainable food, toast with hand-crafted libations and exchange ideas, laughs and good conversation."
Rose comes from a theater background and has owned several establishments in the hospitality industry, most recently including Twine on Line. "SALT is not about plating food," Rose said. "I come from an artistic background, and they call it the culinary arts for a reason. It's not about pumping out food. We want people to have a true experience at SALT."
"Something happens when you sit down with people. It goes back to something tribal, something very raw. As soon as you pick up a fork or knife, you start to worry about whether you're holding it right. So a lot of our foods are going to be finger foods, served on a sustainable Greenie, a napkin made out of recycled plastic bottles."
"I cannot wait for you to see the team we've put together," Rose said. "These people we've assembled really want to interact with our guests."
Chef Aaron Ehrle has joined the SALT team and comes to the table with 16 years of restaurant experience and training at both the Culinary Institute of America in Hyde Park, N. Y., and the Midwest Culinary Institute in Cincinnati, Ohio. From his expertise with modern cooking techniques and molecular gastronomy, Ehrle loves experimenting with French and you taste, you sample and then you vote. Pre-sale tickets to participate as a "judge" and sample the margaritas will be $25 each or $30 cash at the door. VIP tickets are available for $50 until sold out.
There are military discounts with proper identification, and there are $10 general admission tickets to attend the event but not to sample. All sales are final, rain or shine. All proceeds benefit GO SBC, a 501c3 organization dedicated to seeding the birth of new restaurant concepts that are environmentally, socially and health conscious.
"The Red River Pour-Off was designed for the bartender who likes to bartend," said event Executive Director Nico Ponce, who is himself a bartender. There will be over 20 margaritas to sample and promoters say, "Think Sake Ritas, Wine Margaritas and even Red Bull Margaritas." Just imagine the endless possibilities.
Presenting sponsor is GO SBC with Town Square Media serving as sampling card sponsor, Topo Chico participating as water sponsor and Travelhost serving as voting ballot box sponsor. Community Outreach partners are the Highland Blues and Jazz Festival and the Susan B. Komen North Louisiana division.
GO SBC was founded in 2015 to improve the quality of life for the residents of Shreveport-Bossier by encouraging and supporting local entrepreneurs.
"This is the first year we are featuring live music performers, taco vendors and local retail, giving the festival over 35 vendors participating at the Red River District this Sept. 3 from 2-7 p.m.," said Ponce. Live music is being provided by Southern Roots.

Each participating judge will be given one margarita sampling card allowing them one margarita sample from each of the participating establishments. Each judge will be given one wooden chip to place in the ballot box. Also, each judge will be given a wristband to verify that they are 21 or older and legally allowed to consume alcoholic beverages within the designated areas. After sampling the margaritas, judges will vote for their favorite by placing their wooden chip in the ballot box on the table of their favorite margarita. The establishment with the most chips will win the title, championship belt and the $1K cash prize.
So, even if it still up for debate where, and by whom, the popular drink was first created, you can head for the 3rd annual Red River Pour-Off on Sept. 3 in the Red River District and sample a broad selection of creative variations and even serve as judge to name the best.
Country Tavern won the competition in its inaugural year, and Superior Steakhouse won last year. There is an impressive array of competitors this year that will bring fresh excitement to this one-of-akind competition.
"The festival has been growing steadily by 10 percent each year, and we expect over 2,500 attendees to sample, taste, vote and play margarita judge this year," said Ponce.
The list of impressive vendors for this year's event are just too extensive to name in this article, but for a complete list of participating taco vendors, retail vendors and restaurant vendors, please go to redriverpouroff.com.
Lou Gehrig Burnett in LSU Hall of Fame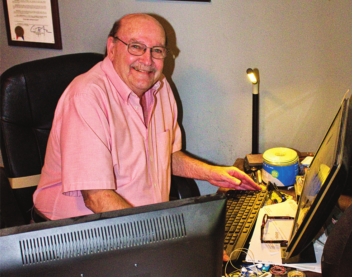 He was a mighty good athlete, earning most valuable player honors in baseball and basketball his senior year of high school.
That's no surprise, considering he was named after one of the greatest of all time.
But when it came to college, Lou Gehrig Burnett chose to concentrate on education instead of athletics.
Who knows? He could have been good enough to be inducted into LSU's Hall of Fame.
Actually, he was. Just not in athletics. The longtime journalist and political aide who now lives in Shreveport will soon be enshrined into the (LSU) Manship School of Mass Communication Hall of Fame. Members include the likes of campaign strategist/political commentator James Carville, the late political writer John Maginnis, and Louisiana Commissioner of Administration Jay Dardenne.
The 43rd annual gala will take place Sept. 14 in Baton Rouge.
"I never thought that was a possibility for me," Burnett said. "I am humbled and grateful for the awesome honor. To be included with so many illustrious people that have already been inducted into the LSU Hall of Fame is more than I ever thought I would achieve."
And Burnett has achieved quite a bit.
From sitting in the Oval Office talking football with President Richard Nixon to managing governmental affairs with Mayor Robert "Bo" Williams, Burnett has been on the "inside" of, and written about, politics from Washington to Shreveport.
Not bad for a boy whose mother had to argue with the parish priest about what she wanted to name her son.
"She was a Cajun lady living in South Louisiana and was a New York Yankees fan," Burnett said. "I was born a month after (baseball great) Lou Gehrig died. She named me Lou Gehrig and had to battle the priest at the church because there wasn't the name of a saint in my name."
Burnett said his mother argued that Lou was short for Saint Louis. His name is proof she won the argument.
"Our whole family was very sports oriented," Burnett said. "She (Mom) pulled for the Yankees. She was in the mode of naming us after famous people. I have a brother who is named Huey P. Long, and another one named Glen Davis, after (Heisman Trophy winner) Glenn Davis at West Point. I guess if they had another kid it would have been named Doc Blanchard!" Burnett's interest in journalism began in college at Nicholls and LSU, where he was editor and sports editor, respectively, of the school's newspaper. From there, he became press secretary for United States Representative F. Edward Hebert of New Orleans.
That started a 27-year career on Capitol Hill, which included working as chief of staff for U.S. Rep. Jerry Huckaby.
After retiring from the federal government, Burnett moved to Shreveport, where he continued his political work. Burnett was executive assistant for Mayor Williams, as well as a political columnist and analyst for various publications and television stations.
He continues that work today, writing for The Forum and publishing a political newsletter, Fax-Net Update.
Considering the current friction involving politics and the national press, Burnett is happy to be on the outside looking in.
"It (working in politics or the press) would be a very difficult situation to do, particularly when you have a president who is fostering the 'fake news' idea, and always downplaying the press," Burnett said. "It makes it very difficult for those people to do their jobs."
However, as the saying goes, all politics is local. Burnett believes too much politics is keeping Shreveport from achieving its potential.
"It just seems the city has not moved forward," Burnett said. "A lot of that is because the 'haves' here in Shreveport kind of like the status quo, and haven't really done a whole lot to promote the city and to move it forward. With the location of Shreveport, it should be a bustling city right now with the highways coming through, and it's just not. It's kind of stagnant."
Stagnant is something you can't say about Burnett's career, which will soon be confirmed as a Hall of Fame career.
– Tony Taglavore