BPCC's New Nursing and Allied Health Building
Bossier Parish Community College (BPCC) unveiled its new Nursing and Allied Health Building last Thursday with a ribbon-cutting and open house. The new building, designed with the latest in health technology and education, is located on the northwest corner of the Cyber Innovation Center's property (closest to Highway 80) at 6220 East Texas St. in Bossier City.
Dr. Rick Bateman Jr., chancellor of BPCC, presided over the ribbon-cutting, saying, "Today, we cut the ribbon on a project born of outstanding vision. Fifty years ago, it was vision for a two-year college that brought BPCC into being. Twelve years ago, it was vision that raised this beautiful campus from the dirt. Ten years ago, it was vision that created this National Cyber Research Park and the Cyber Innovation Center. And just a few years ago, it was vision that made this building project possible."
Following the ceremony, guests including Gov. John Bel Edwards and Tim Hardy, chairman of the LCTCS Board of Supervisors, toured the facility that features four new state-of-theart labs for BPCC's nursing and allied health programs.
According to Tracy McGill, director of public relations at BPCC, the Louisiana State Legislature was responsible for bringing the health building to life. "Especially the NWLA delegation," she said.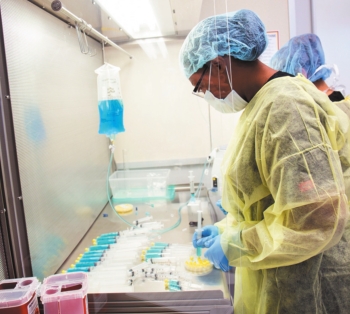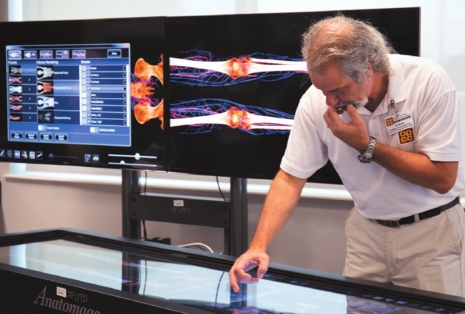 "We broke ground on this facility in May of 2015. Other key partners were Louisiana Community and Technical College System, Cyber Innovation Center, and all of the many BPCC community partners."
"This facility was part of Act 360 of the 2013 Louisiana Legislature," McGill said. "Act 360 is a state-wide facilities initiative to improve Louisiana's community and technical college facilities."
BPCC was chosen for Act 360 because its focus tends to be consumer-driven. Programs at the institution are specifically designed to align with regional, high-demand employment sectors such as nursing and allied health. "Industries that will be fueled by the Nursing and Allied Health Building are hospitals, doctors' offices and clinics, fire departments, EMS services and more," McGill said.
"We have now expanded the Division of Science, Nursing and Allied Health, and the building includes 80,000 square feet," McGill said. "New capacities will accommodate approximately 500 classroom students, approximately 350 lab students and 24 faculty members." In addition to 11 new classrooms, the building also features 20 new laboratory rooms.
The new simulation training will give students instruction and experience that closely resembles working in their real chosen fields. "The Paramedic Program now has an ambulance simulator that resembles an actual ambulance both in movement and space so students can receive true 'on-the-job' training," McGill said. "The Nursing Simulation Lab grew from one room to nine rooms and includes adult, pediatric, baby and birthing manikins, with an audio and visual replay system in each room."
Other improvements provide the most recent technology for health care, including phlebotomy now in its own classroom and lab with more capacity, and anatomy and physiology labs that have doubled in number of capacity. There is a computer testing laboratory and a video room where instructors can create video lectures to be used for online courses.
The pharmacy tech lab has updated shelving and more lab space available with a new register, a new pill-counting system and a new pre-packing system. Students will also have a new sterile products lab with eight new horizontal laminar airflow workbenches.
The new Nursing and Allied Health Building is training students to meet the growing demands of patients and healthcare agencies in North Louisiana. Programs include training and certification for emergency medical technicians, laboratory assistants, medical office specialists, occupational therapy assistants, physical therapy assistants, paramedics, pharmacy technicians and more.
Bossier Parish Community College is an accredited college so coursework completed will transfer to other colleges and universities. For more information about BPCC's Nursing and Allied Health Programs, visit www.bpcc.edu/sciencealliedhealth.