Automated Roll-up Screens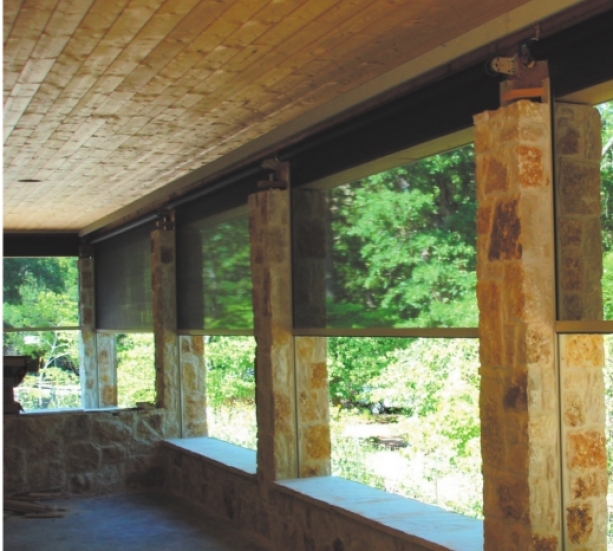 Protection from weather and pesky bugs just part of the convenience of the lastest design
With technology rapidly changing every day, so are trends in home improvement. You might not expect to see these technological advances in the shades and shutters business, but then you'd be surprised. For Robert Reneau, owner of Quality Shades & Shutters, adapting to these changes has been easy with the help of his son.
"You have to get the younger generation to help you with this newer technology," Reneau said. "My son is on top of it. I just learned to listen to him."
Reneau runs Quality Shades & Shutters with the help of his wife and son. Their business is locally owned and operated. His son acts as a master installer going to the homes of clients, while Reneau and his wife help customers at the storefront. Their store contains over 90 window cover displays for customers to see.
In 2002, the Reneau family opened their storefront. They sold furniture in addition to window coverings. Recently, they moved their store to Line Avenue, and they've decided to focus solely on the shades and shutters business.
"You definitely go where your premium product is, and that's where we're at right now."
Lately, the electric roll-up screens sometimes installed for porches have been a hot commodity. It has been rated the number one shade in the industry. The shade is set on an automated track and is helpful for climate control. This Hunter Douglas product uses PowerView technology to sync the screen with Wi-Fi so you can control your interior and exterior shades all with an app on your smartphone. The hub can run up to 50 windows at one time.
"Wherever you are in the country, as long as you have Wi-Fi access, you can raise or lower the shades in your home."
In addition to this product, Quality Shades & Shutters offers a wide selection of window treatments, including Hunter Douglas sheers and shadings, honeycomb shades, Roman shades, roller shades, screen shades, shutters and blinds. Reneau likes to show customers the work he's done in other homes. He even has some clients that like to show off the work that Quality Shades & Shutters has completed in their home.
"I love to go in, see a place and then help the customer find the design of window covering they need for their location," Reneau said. "I would say that over 60 percent of our business is customer-based relations. One customer has told another, who has told another."
Quality Shades & Shutters only sells products that are made in the U.S. This is something that is very important to Reneau not only because it supports the local economy, but also because it
ensures he can get a part for a customer within 24 hours. This way they can get the job done for the customer more efficiently.
"We're keeping jobs home and helping our local economy," Reneau said. "We try to buy local as much as we can. It allows us to have a working relationship with these local companies we work with. They understand our concepts, and it works really well for us."
A shutter that never seems to go out of style for southern homes is the plantation shutter. Reneau says they've been popular for both the interior and the exterior of the home. Quality Shades & Shutters also offers retractable awnings, which can be really useful if you're looking to create an outdoor space to spend time with friends and family. The awning helps provide shade from the sun and remains durable in inclement weather.
Other products that remain popular are geared more toward energy saving. Quality Shades & Shutters sells Hunter Douglas' full line of solar shade systems that offer both privacy and energy efficiency.
Reneau is proud of the business he has built with his wife and son. He enjoys getting to work with his son on a daily basis.
"We do very well working together," Reneau said.
"He knows me and exactly how I measure. We have a routine on how we get things done. My son is probably the best at customer service. It's just a part of who he is."
Moving forward, Quality Shades & Shutters strives to be the first stop for window coverings, and with their premium products, customer service and dedication to the business, it seems they are well on their way.