Community
Revisiting the 1980 Murder of an Innocent
Garland and Ann Lewis share the pain of their loss
On July 2, 1980, Garland and Ann Lewis lost their 7-year-old son Shawn to murder by a 12-year-old boy down the street.
Shawn was found by police in a drainage pool near Garden Valley in southwest Shreveport, less than a half a block from his home. Johnny Damon Connor eventually admitted responsibility.
After such a high-profile case, many may wonder how has this couple coped with their marriage and religiously?
Differently from one another, they said. Garland has forgiven the murderer, but it was not until 15 years ago. "My Lord and my God tells me I have to forgive," he said. "But I don't have to forget." He said he was angry at God at first.
Ann has tried hard to forgive and prays about it. "God is perfect; I'm not," she said. "He gave up his son for us." She said knowing that has helped.
She wants to speak to Connor on the "Dr. Phil Show" to see if his wife and children know what he did. A detective told her he lives in San Jose, Calif., and works for NASA. "It is my desire and dream to meet him face to face," Ann said. He has not answered her phone calls.
"He (Conner) has never suffered," she said. Connor was a juvenile of fender and details were confidential because of state laws, however, in Caddo District Court was his admission of guilt. The admission is part of an exhibit attached to a petition filed in a wrongful death suit brought by the parents of Shawn to get a better reason on why the murder happened. The Connor family had nothing to give financially, they said.
"I lost a son, and Damon got nothing.
He took our life away," Ann said.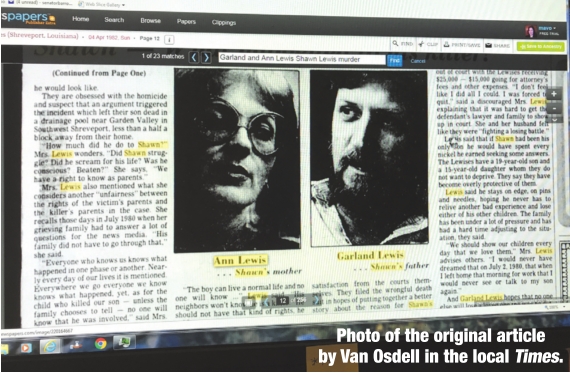 According to an extract from juvenile court minutes, Connor said he killed Shawn "in sudden passion or heat of blood" and choked and abandoned him. The coroner affirmed asphyxiation.
The Lewis family faced questions from the media, but the Connor family did not.
Ann still wonders how Connor could join the service and took court papers to the recruiting office once she found out he did.
Shawn had an older brother and sister, ages 19 and 15. His sister has texted Connor to no avail.
At one job, Ann's boss called her in to say her son was in a serious car wreck. He survived and has given them a granddaughter who is the light of the Lewises' lives. They also enjoy their three dogs.
Garland had nieces and nephews born one day before Shawn and 30 days after him. He's watched them grow up, but Connor took watching Shawn grow up from the Lewis family. "My name Lewis will go no further," Garland said. "My son and his children would have brought us happiness."
They said their marriage has not been easy. They moved to a different home in 1990 to get away from the reminders and make a change. Garland will flare up over Ann wanting revenge.
"One day Damon will have to pay," she said.
They had to sell items to pay for their son's funeral three days after he died. They said Connor's mother and stepfather attended the funeral. They also said his biological father and brother were in jail at the time.
"Something reminds you every day," Ann said. At first, it was a bike like Shawn's. She said Shawn was a loving and funny child who always went barefooted. He attended Westwood Elementary School.
Garland will often wonder if maybe he did not do enough. "Everything registers on you about something," he said. They stayed up all night when Shawn was missing. Connor was interviewed three times before the body was found and had ample opportunity to tell the truth, Garland said.
They said Shawn was tortured, and when Garland saw him, bream had eaten his lips and ears. "I will never get that out of my mind until the day I die," he said. "I remember it just like yesterday. I never could have made it if I didn't know where he was."
Ann said they at least had closure when some parents of missing children don't.
The family received a letter from John Walsh since the story went national. Walsh is a victim rights advocate and creator of "America's Most Wanted" after the murder of his son, Adam, in 1981.
The week of Shawn's death anniversary is still hard for Ann. "She cries all day the week before," Garland said. "I will know his birthday and death day forever," Garland said, but he is not spending as much time at the cemetery. For 20 years, the mother and father were regularly at Forest Park West mowing and caretaking.
They have had counseling, and Ann participated in Compassionate Friends. They have now been married 55 years.
Ann changed from the job she was in at the time of the murder and spent more time with her other children. Garland went back to work a week later to keep his mind occupied. He eventually went into business for himself when he needed to be with his wife, who was "very skinny and on edge."
Ann said Independence Day was always special for the family when Shawn was alive, and they were to be headed for Six Flags that holiday in 1980.
This July 4 was the hardest one yet. In May, a man called to tell them his son was having emotional problems for 37 years because he was at the scene before Shawn was murdered, told Connor to stop and left. He came to speak with the couple for several hours. The boy was 8 at the time and had said no one in his family believed him. He left with a scrapbook to show his parents and sister clippings and pictures of Shawn.
The Lewis couple has advice to others in similar situations. "Do not listen to others, but to your own heart." They say you learn to cope.
Ann said to fight for what you believe in. "Be conscious of what you do with your life," Ann said.
They say the murder is not discussed as much at family reunions or since Garland's mother died in 2002. "Love while you can," Garland said.
– Mary Ann Van Osdall (Editor's note: Mary Ann Van Osdell interviewed the parents of Shawn two years after the murder and recently reconnected with them.)