Startup Prize Recently Awarded to PathEx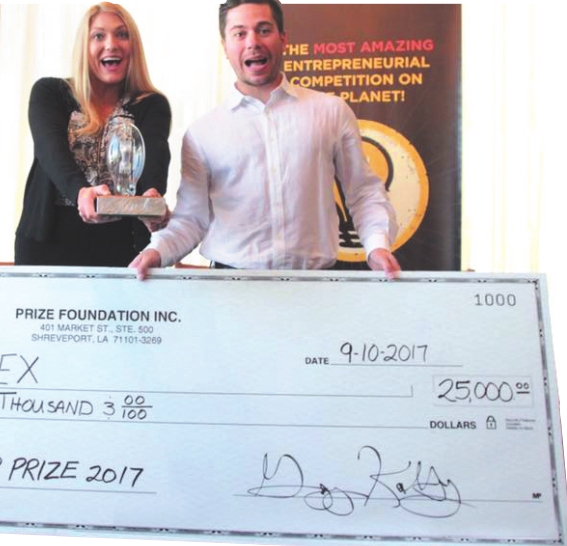 A Tennessee-based company has won a Louisiana-based Startup Prize that may someday save lives around the world.
Shreveport's Louisiana Startup Prize recently awarded $25,000 to Sinead Miller and Alex Weisler, co-founders of PathEx, an extracorporeal bloodcleansing device designed to selectively remove bacteria, including multi-drugresistant strains and endotoxin from circulating blood.
"This will be a treatment for infection where today the only treatment is still antibiotics," Miller said. "What we would offer is early or even in some cases a later-stage treatment with a device that you would hook up to the patient very similar to how a hemo-dialysis machine would be hooked up, and we use our device to continually filter the blood and remove all the bacteria that are causing the infection and sepsis."
It will work regardless of pathogen type or drug resistance, she said.
At this point, however, PathEx, as a Class 3 medical device, must run the obstacle course of the Federal Drug Administration.
"We hope that within four to five years down the road, people will be able to use our technology in the hospital," Miller said. "We are moving toward clinical trials."
And while the money won in the LA Startup Prize was important to Miller and Weisler, that was not the most important aspect of the entrepreneurial event that connects competitors with mentors and experts.
"The money is really important to help us with operations and all those things, but the most important thing was meeting all the people in Shreveport involved with the program because we need help," Miller said. "We need mentorship, we need guidance, we are going to need additional funding down the road, so making those connections, networking and just getting the feedback was really just one of the biggest helps for us – it was just so important for us."
Miller said they will continue to nurture those connections and keep them strong.
"Hopefully, all the people we met in Shreveport will be able to stay involved in our project and our technology, and we will be able to use their guidance and mentorship going forward," she said.
And, even though PathEx is a medical device, not all of the educational sessions and advice came from the medical field.
"There were also investors in the Shreveport area that are interested in early-stage startups like ours," she said.
"They were really helpful for us, as well as others who are in early business development, biotechnology areas. They were able to help us a lot as well."
Miller said she and her partner look forward to working out of the Shreveport area in the future, having found the people here to be some of the friendliest.
"We have been through a lot of programs, and over the summer we were at one in Memphis. In fact, Sabrina (Adsit, with Louisiana Startup Prize) came up to Business Accelerator Course in Memphis and talked to us and told us about LA Startup Prize, and we were sold on it at that point," Miller said. "We wanted to come down and experience it for ourselves.
"We appreciate everything LA Startup Prize has done for us," she continued. "We are really honored to have been invited to participate and to have won the award. We are so thankful that all the people involved with the program continue to lend a helping hand."
It is fairly early in PathEx's process to determine a definitive production value, Miller said.
"To get our device from now to market will cost multiple millions of dollars, and we are definitely going to need a strategic partner to help us get our device to the market down the road," she said. "It's like anything, whether it's a drug or a medical device, all these years of development add up, and there are a lot of associated costs, so we will need significant capital down the road, but we foresee that as not being the biggest problem for us. As long as we continue to make progress, we will be able to raise the money we need and get a partner and get through the FDA."
However, in the long run, using a device like PathEx may prove less expensive than staying several days in the hospital on antibiotics.
According to Miller's information, the average length of stay (LOS) of a septic patient in the ICU is 8.8 days, with an average cost per day of $2,272. Implementing PathEx486 in the ICU would potentially reduce the average LOS to 2.1 days, while also improving patient survival and result in savings of $2.9M annually for each acute care hospital.