13 FRIGHTENING EVENTS TO THRILL YOU TO THE BONE
October brings some scary fun with everyone trying to out-Halloween everyone else. Nobody throws a party like we do here in Shreveport-Bossier and our Bucket List of Booooo! contains our top 13 events to add a little fright to your night and some pumpkin spice to your October.
Number One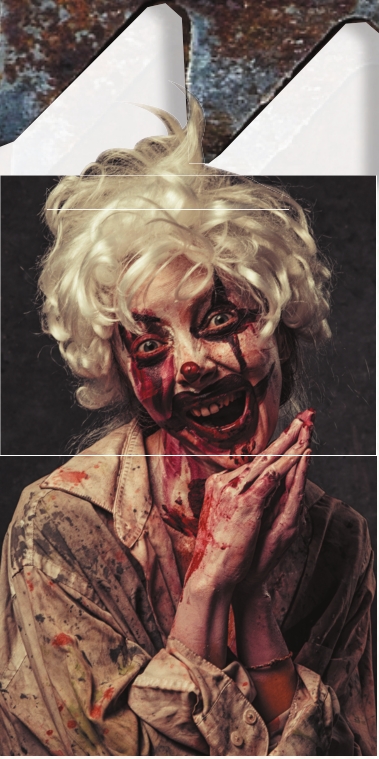 Shreveport Opera presents: QUEEN OF THE NIGHT: A HALLOWEEN PARTY
Everyone wants to be Queen of the Night, but no one does it like the Shreveport Opera's own Queen of the Night Sarina Styles. The area's only professional opera company is hosting a killer Halloween party and fund-raiser this year on Friday the 13th, no less.
Nate Wasson, director of patron services and company manager for the Shreveport Opera, says that's just part of the fun. "Sometimes people are luckiest in the unluckiest of circumstances," Wasson said.
"When we began planning this event, we realized that Friday the 13th fell in the month of All Hallows Eve. How lucky for us?" "We don't want partygoers to fear the date of our party or the opera," Wasson said. "On this day of bad luck and superstition, we want the revelers of Queen of the Night' to join us for one of the hippest and most entertaining holiday events. Goblins, ghouls and things that go bump in that night will be sure to provide a memorable experience."
"We wanted to come up with something new and unique that lent itself to the world we live in – opera," Wasson said. "Dramatic, over the top and entertaining. We then asked Sarina to host the event. In trying to settle on a name and theme, we dove into our season to see how we could tie it all together, and one of the main characters in The Magic Flute,' Queen of the Night' popped out. It just seemed to make sense."
DETAILSNumber One
Where: JR Gallery & Performance Space in the old Riverfront Billiards/Sports Bar/Deli, next to The Warehouse at 624 Commerce Street in Shreveport.
When: "Friday the 13th" October 2017, 8 p.m.

Admission: $30 available at www.shreveportopera.org or by calling (318) 227- 9503 (21 and up only!)
Number Two
Where: The Engine Room Theatre at SRAC's Artstation
When: October 25-26-27-28-30 at 7:30 p.m. and October 29 at 3 p.m.
Reservations: www.brownpapertickets or (318) 868-5888

Ticket prices: $35 general admission $20 military and college students $10 high school students all with valid ID
Number Three
When: October 6 – November 1

Where: Louisiana Boardwalk in Bossier City 505 Boardwalk Boulevard (near Hooters)
Tickets: Prices vary from $13 to $15, more info at www.necromanor.com
Number Four
When: Sunday-Thursday, 10 a.m. – 7 p.m.
Fridays and Saturdays, 10 a.m. - midnight
Where: DixieMaze Farms north of Shreveport

Directions: www.dixiemaze.com
"There will be a smorgasbord of delicious food provided by local favorite Marilynn's Place," Wasson said. "Lady Sarina Styles will host the event, as well as perform throughout the evening alongside her partner in crime, Aubrey Synclaire. The area's hippest DJ Jay Whatley will be spinning the hottest hits and mixing in some holiday favorites. There will also be a costume competition, with door prizes and a raffle to win season tickets to the opera and surprise entertainment throughout the night."
As for costumes, there is no going too far for Queen of the Night guests. "We're hoping that in the realm of over-the-top and dramatic – that that's what we see at this party." Wasson said. "In the one holiday season where you can let loose and really be anything you want to be. We want our partiers to blow us out of the water with their costumes. No holds barred, the sky is the limit. And, of course, the more creative and outlandish, the better chance you have to win the costume contest. Each door prize is made up of multiple items, all of them including season tickets to Shreveport Opera's 69th season. The productions in the 69th season include Mozart's 'The Magic Flute' and Disney's 'Beauty and the Beast.'"
Number Two
THE ROCKY HORROR SHOW
River City Repertory Theatre, North Louisiana's only professional theatre company, will open its 12th season with a live production of the most popular scary musical cult favorite of all time, "The Rocky Horror Show." Millions of fans know the original film adaptation line per line. The midnight showings of that film have been thrilling audiences for decades, as fans dressed in character costume – in what surely must have been the birth of cosplay – while trashing local movie theaters across the country with toast and water guns.
The River City Rep production features Jonathan McVay in the role of Frank 'N' Furter. The show is directed and costumed by Patric McWilliams, artistic director of River City Rep, with musical direction by Daniel Ley.
Don't be caught dead going in your boring, everyday clothes. Audience members are encouraged to come dressed as their favorite character. Bloody Marys, "frankenfurters," popcorn and concessions will be sold in the theatre lobby. The cast and crew says this show deals with adult themes and is not suitable for anyone under 15.
Number Three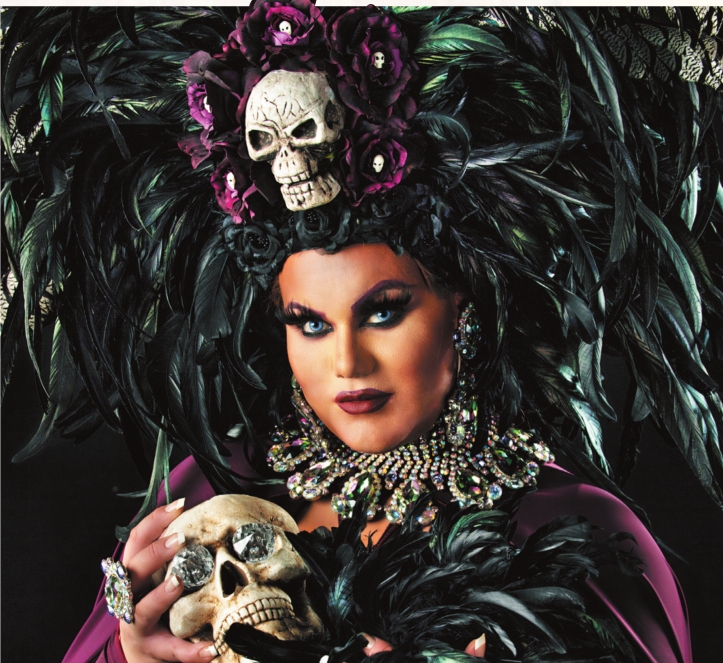 NecroManor Presents: FUTURE SHOCK ON THE BOARDWALK: A POST- APOCALYPTIC MAZE OF NIGHTMARES
NecroManor is taking terror to a new level with an entirely new performance this year and a new venue at Louisiana Boardwalk.
Douglas Cobb is the owner/operator at NecroManor, and he's thrilled with the new location. "I think it will make things a little easier on our guests," Cobb said. "They can come see the show, grab a bite to eat and find other activities at the Boardwalk, giving those that are too scared to go with their friends other things to do while they wait.
Overall, it's a safe, familyfriendly environment."
NecroManor's terrifying post-apocalyptic theme brings the opportunity to include levels of nausea-inducing thrill like the area has never seen. "We have been tossing around the post-apocalyptic idea for a while now," Cobb said. "With the relocating of our haunt, it seemed to fit what was happening, kind of like a destruction/ rebirth vibe. There will be lots of different things to see this year, and we will keep adding things as the season progresses."
Cobb didn't want to spoil any surprises.
"We're trying to keep most of it under wraps," he said, "but I can say this is a 3D haunt, and there will be lots of new creatures popping up this season."
Just what is it that makes people want to put themselves in a position of fear and shock to such a degree? "I think for the most part it's just like any other amusement," Cobb said. "It's the same principle as a roller coaster. It's all about adrenaline. But it's different for everyone. Mostly, it's an escape from your ordinary world, a way to release some tension. I think everyone can use a good scream!"
Number Four
DixieMaze Farms: HAUNTED MAZE AND TRAIL OF TERROR AND FALL FAMILY ACTIVITIES
For many people it's just not October without a visit to DixieMaze Farms and a run through its awesome corn maze. Danni Coe is one of those people. "We have been there on scout trips, but now we like to go as a family," she said. "One of the main things I love about it is that it's all outside. People just don't get outside enough anymore."
DixieMaze Farms features a giant corn maze as a primary attraction, along with activities such as the corn silo (think kids in a ball pit but with corn kernels instead), duck races, a bounce feature and a hayride into the pumpkin field to learn about farming and pick a pumpkin. There are also events, such as outdoor movie nights.
But owner and self-professed "farm hand" Mike Billings said things get a bit different after dark. "There is a big crowd that comes out after dark on Friday and Saturday nights," he said. "Behind the levee there is another corn maze that's haunted, a haunted trail in the woods and a new haunted attraction called The Gauntlet, where you climb through a tube with live snakes and rats. The three haunted attractions are all included with your ticket."
When asked if he's ever lost anyone in the maze, Billings replied, "People get lost every day, but don't worry, we check thoroughly every morning for anyone still stuck in the maze from the night before," he said with a twinkle in his eye. "Truthfully, we have 'corn cops' that are in the maze to help should you need them."
Experiencing fright outside away from city lights is completely different than anything most people have experienced on Halloween. "After 18 years we have seen just about everything," Billings said. "It's always a good laugh when you see a big, strapping man run like a little girl right over the top of his wife or girlfriend, as he forgets all about protecting her and runs for his life from a spook. It's a nightly occurrence."
Number Five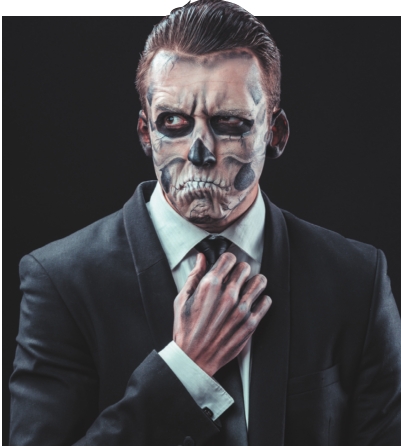 SHREVEPORT-BOSSIER ZOMBIE WALK:
BRAIN GAINS
When you get right down to it, zombies are really all about the love. "Everyone loves zombies, and when October rolls around, that love multiplies," said Alex Richardson, coordinator/organizer of this year's Shreveport-Bossier Zombie Walk. "We provide so much from great vendors, guests, door prizes, costume contests and more."
Zombie Walk was actually started to raise awareness of global hunger issues and to collect nonperishable goods for the Food Bank of Northwest Louisiana in Shreveport. The event has now grown to include other nonprofits, vendors and artists.
"We have our new guest list this year, all of which are local and talented artists," Richardson said. "Ben Moss is a wellknown graffiti artist in the area. Wendy Leaumont is a talented sculptor of all things Halloween and macabre and will be just returning from a show in California before the event. And Jasper Price is a fun children's book author who created a fun zombie book for kids to enjoy."
Turns out, the walking dead don't move that quickly. "Contrary to popular belief, the Zombie Walk isn't a 5K of sorts or anything like it," Richardson said. "It's more akin to a small festival. The walking part comes from a point in the event where everyone dressed as a zombie shambles around as one great horde of zombies!" So what can we all expect at the Zombie Walk? "Lots and lots of zombies!" said Richardson, laughing. "There will be a lot of vendors out there, too, as well as food trucks and charities."
Richardson also offered some advice on how to become a zombie. "Have some big ol' clothes you just don't care about anymore? Tear 'em up! Throw some fake blood on it! Personally, I find paint to be more vibrant, and the color lasts longer after it dries."
All that zombie love will be helping more nonprofits this year than ever before.
Food Bank of Northwest Louisiana will be accepting non-perishable food donations, and LifeShare blood center will be accepting volunteer blood donations (they assured us there would be no forced blood-lettings). Other nonprofits include Renzi Education and Art Center, Bossier Arts Council, Bossier Parish Libraries and the National Multiple Sclerosis Society.
"Donating to a participating charity will get you door prize tickets," Richardson said, "and you can submit those tickets for a chance to win any of our amazing door prizes. And finally, for those 21 and up who want a little more zombie love after the event, the Queue Tavern will be hosting an after party that seems to be gearing up to be a Monster Mash.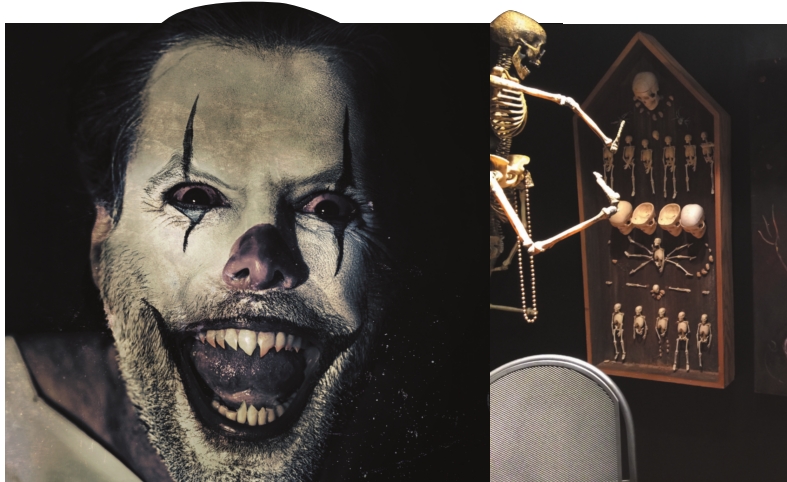 Number Six
PUMPKIN SHINE ON LINE
It's nice to know that there's something you can do with a butcher knife for Halloween that doesn't hurt someone. Pumpkin Shine on Line is probably THE best event for those looking for the nostalgia of Halloweens past. As darkness sets in, hundreds of people descend upon Betty Virginia Park to walk the pumpkin-lined paths. It seems like the entries get more elaborate each year. Many are decorated – or built – in area classrooms. From traditional jack-o-lanterns to the hauntingly frightening to downright side-splitting hilarious, the creativity and sheer number of entries will make you proud to live in Shreveport – and happy you ventured out.
If you'd like to enter a pumpkin, set-up begins at 9 a.m., but you need to follow the guidelines. For more information, contact Denise at denisejoffrion@hotmail.com.
Number Seven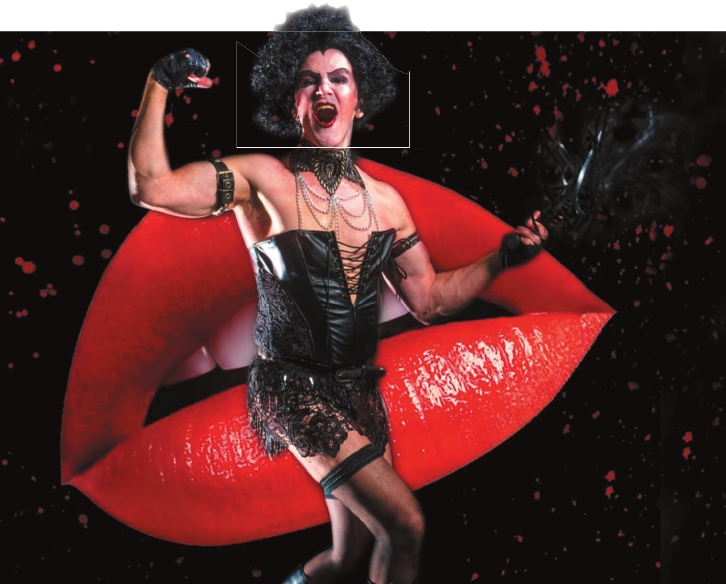 KREWE OF CENTAUR HALLOWEEN PARTY
The Krewe of Centaur is calling all ghosts and ghouls, witches and wizards – and anyone else who wants to have a spooky good time the Saturday before Halloween. The party kicks off at 7 p.m. and will feature a signature cocktail and costume contest. You can even bring your own poison, as B.Y.O.B. is allowed.
The Krewe of Centaur is one of the largest single parading krewes in the State of Louisiana with over 500 members, and puts on the biggest Mardi Gras parade in North Louisiana.
Number Eight
Faith Farms and Gas Light Players present: GENTLEMAN DEATH S SHOCKTALE SHOW
This farm's invitation had us at "Gentleman Death's Shocktale Show and Mortuary of the Macabre, a Burial Experience." Say no more. The Gas Light Players always surpass our expectations, but there's so much more to do at Faith Farms. From the Corn Maize of Mysteries to the Haram-Scarum Hayride, this is definitely worth a road trip to Elm Grove. And a zombie shoot CQB course? Get outta' town! There are also tons of children's activities from the petting zoo to a pumpkin patch and concessions. Definitely add this one to your Boo Bucket List.
Numbers Nine, Ten and Eleven
Shreveport Regional Arts Council and artspace present:
THE WORLD OF WILLIAM JOYCE & THE FIRST AND ONLY 2017 GLITTER ZOMBIE APOCALYPSE BALL
The Shreveport Regional Arts Council invites you to enter the weird, wacky Halloween world of William Joyce at artspace in what is really three events in one.
Award-winning short-film maker, artist and author William Joyce is famous for his legendary Halloween parties and has enlisted SRAC to help him throw what's sure to be the biggest Halloween party he's ever designed.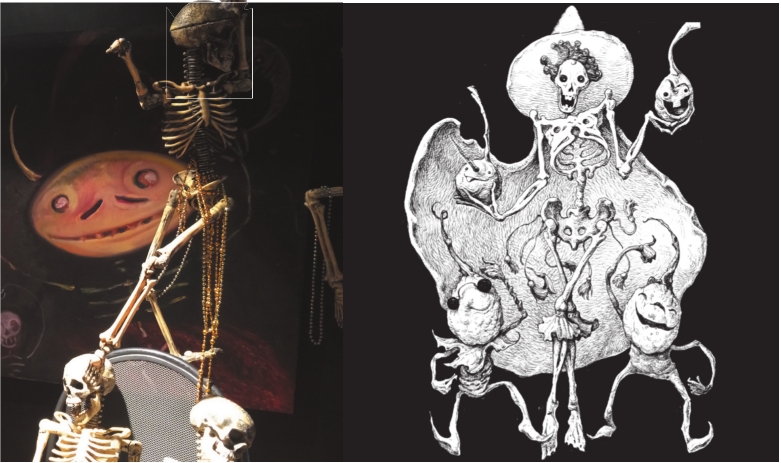 Casey Jones, marketing director for the Shreveport Regional Arts Council, explained, "The First and Only 2017 Glitter Zombie Apocalypse Ball is Bill Joyce's idea, from the decorations that he used in his very popular family Halloween parties that were made famous by Martha Stewart, to the dazzlingly intriguing name for this fun event.
Bill himself has said that people missed his parties, but he is making a new movie and could not do the party by himself. SRAC Executive Director Pam Atchison offered to resurrect the fabulous arachnid, skeletons and other spooky stuff and put it all in artspace for a fabulously freaky party."
'It seemed like the perfect place," Jones said. "It is an added bonus that Joyce's decorations will remain up until Nov. 4 for other people to host their own celebrations, homecoming parties, and birthday bashes. All they have to do is contact artspace about a booking."
So get your glitter on! Joyce has woven a web of Halloween magic at artspace with his collection of stupendous spiders, spinetingling skeletons, spooky skulls and generally scary stuff.
INGRAVED EXHIBIT
Nothing approaches the Day of the Dead like artful images of grave sites and tombstones. And of course, the Shreveport Regional Arts Council loves when local businesses support the arts in a big creative way. It all started when the chairman of the board of Forest Park Cemeteries and Funeral Home, Mr. Robert Lomison, wanted to celebrate 100 years of the history of Forest Park, as well as to pay tribute to the visual, literary and performance talent of Northwest Louisiana artists. Artists in 10 parishes were invited to tour the cemetery with local historian John Andrew Prime, with the hope that they would be inspired by the souls interred there. They were inspired, and they did create. The results of their creative labor will be exhibited and performed in a special InGRAVED exhibition opening at 6 p.m., Friday the 13th of October, upstairs in Cool- Space at artspace.
Where else can you enter the mind of William Joyce, view juried art AND be a glittery zombie for a night? Dance the Monster Mash under Bill Joyce's giant spider, croon a little Scare-e-okie, sample skeletal snacks and do Jell-O shots. Don't be scared!
Number Twelve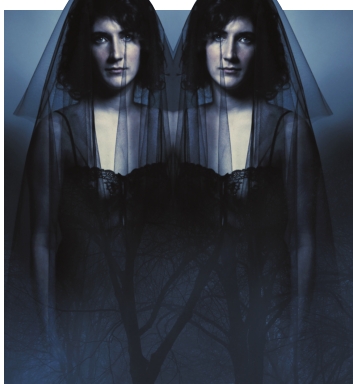 THE MONSTER BALL
Rumors of sightings of the Creature of the Dare Lagoon have been reported recently. The creature probably just wants a front row seat at The Monster Ball by the Dare pool at Horseshoe Casino so he can dance to Chee-Weez.
This five piece tribute show band performs the best of the decades, from '70s funk, '80s cheeziness, '90s rock – and maybe a few surprises, too. A party in a band, Chee-Weez is world famous for crazy costumes, giant video walls, lasers, lights and a "KISS-worthy pyro." We just hope the Frankenstein monster doesn't get too close to the pool in those shoes.
Number Thirteen
FREAK SHOW MURDER MYSTERY
Stem Events says to "Hurry, Hurry, Hurry!
Step right up to Ms. Prissy's Wondrous Chest of Curiosity." This murder mystery promises "the freakiest freaks of nature you've ever seen." Join Charlene Chardonnay, June Cleavage and Irma Gird as they take in the wonders, whimsy and whackjobs for this whodunnit of Halloween proportions! Grab your popcorn and cotton candy and get ready to crack the case of the Sideshow of Suspicion. Stem offers some advice: "Just don't feed the Panther-Man!" Stem will also have a murder mystery dinner food menu available for purchase, along with adult beverages.
DETAILSNumber Five
When: October 21, 4 p.m.
Where: Pierre Bossier Mall in Bossier City For more information: www.facebook.com/pg/ sbczombiewalk
Number Six
When: Wednesday, October 26, 4:30 p.m. – 8:30 p.m. Where: Betty Virginia Park in Shreveport
Admission: Free
Number Seven
When: Saturday, October 28, 7 p.m. to the witching hour (midnight)
Where: Krewe of Centaur, 351 Aero Drive in Shreveport Admission: $5 donation For more information: www.facebook.com/pg/ KreweOfCentaur
Number Eight
When: Through October 31, Open rain or shine Where: Faith Farms & Arena, 1145 Hwy. 527, Elm Grove For show times and activity times:
www.TERRAPLEX.net or call (318) 349-1327
Numbers Nine, Ten and Eleven
Where: artspace
When: Friday the 13th, 6 p.m. – 10 p.m. Admission: $10 or $8 with a military ID For more info: (318) 673-6535
Number Twelve
When: October 27 at 8 p.m. Where: Dare Pool at Horseshoe Casino in Bossier City
Admission: $5 with a Total Rewards Card; $10 without Must be 21 years old to party.
For more information: (318) 741-4382
Number Thirteen
When: Friday, Oct. 13 at 7:30 p.m. – 9:30 p.m.
Doors open at 6:00pm
Where: Stem Events, 1513 Line Avenue, Suite 115 in Shreveport
Admission: There is no guarantee large group seats will be together. Please call in advance to secure seating for parties over four.