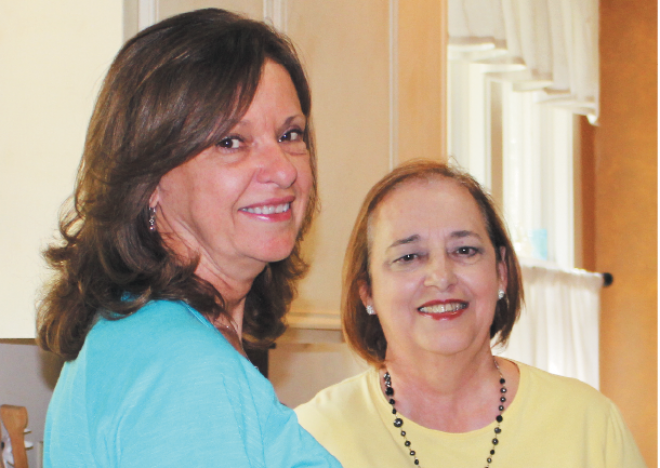 Local Foodies at Harness the Power of Hot Air
Best friends Susan Laborde and Elizabeth Hickman write the book on the air fryer, "The Air Fryer Bible." Beautifully illustrated, it features more than 200 recipes. (Recipes reproduced with permission of the publisher.)
It seems like everyone wants an air fryer! Friends are always talking about them on social networking, but what's really behind the popularity of the countertop appliance that's changing the way Americans cook? More importantly, what can you do with your air fryer once you take it out of the box?
Two best friends, Susan LaBorde and Elizabeth Hickman, who are long-time foodies and writers – and also happen to live right here in Shreveport – have come to the rescue by compiling and writing "The Air Fryer Bible: More Than 200 Healthier Recipes for Your Favorite Foods." The book was just released this week by Sterling Epicure Publishing in New York (which is owned by Barnes & Noble) and is being distributed around the county at such stores as Walmart, Sam's Club and BJ's Wholesale Club. "The Air Fryer Bible" can also be ordered at Amazon.com.
"Air fryers are simple to use, fast, produce great results, and are very easy to clean," LaBorde said. "I am still amazed that I can cook a perfect ribeye in my air fryer."
Hickman said that in a nutshell, it was the versatility that won her over. "You can do just about anything in an air fryer that you can do with every other appliance in your kitchen. You do it without the mess of deep frying so clean up is easy, and you use a minimum of oil, which is beneficial for people who prefer a lower-fat diet."
In addition to over 200 recipes using foods from a wide variety of cultures and regions, the book contains tips and other information about air fryers. There is an air fryer buying guide, useful terms and techniques and lots of full-color photos. "There are also lists of some ingredients that you might use in your air fryer," Hickman said, "and some special equipment that might be needed. The last chapter is called 'Just for Fun,' and it includes menu ideas using foods from the air fryer, ways to make food more appealing to your family and ways to celebrate with food."
"I think the key to its popularity is that anyone who likes fried food is fascinated by the idea that you can cook a healthier version of your favorite foods," LaBorde said. "I was very skeptical – until I bought an air fryer. I always enjoy a new kitchen 'toy,' and the air fryer turned out to be downright fun. I tried cooking a few different foods, and it all turned out so well that I found myself cruising grocery aisles thinking, 'Hmm, what else can I cook in that thing?'" Hickman and LaBorde had been friends for years before they decided to write the book together. Hickman remembers her first impression of LaBorde. "Our children went to the same school," Hickman said. "We would pass in the hall, nod and smile, then go on our way. Susan entered a writing contest that I chaired, so when another writer and I wanted to start an informal local writers' critiquing group, I thought of Susan. The group didn't last long, but our friendship did."
More recently, LaBorde had been writing about small appliances and other kitchen tools on her website, www. TheHealthyKitchenShop.com. "It is an informational site designed to help consumers save time and shop smart," she said. "The main focus is on small kitchen appliances that make healthier cooking faster and easier for today's busy home cooks."
"I was interested in writing a cookbook because this is an unfamiliar cooking method to most people, especially Americans, and there were very few good quality air fryer cookbooks available," LaBorde said. "I approached Elizabeth because I am a good cook, but she is an awesome cook. She is also a talented writer, and we have been friends since our kids were in grade school together, well over 30 years ago. I just knew that combining her strong points and mine would make us the perfect team for writing a cookbook."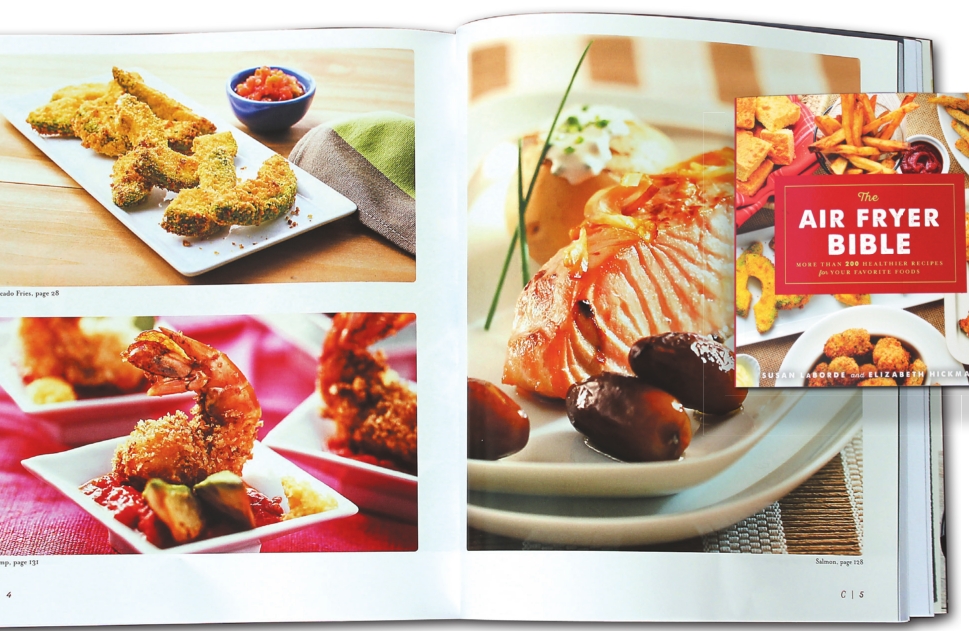 It took six months for the pair to test all the recipes for the cookbook. "It was great fun," gushed LaBorde. "Instead of sitting down at my desk first thing in the morning, I was out grocery shopping or in the kitchen cooking. It was work that didn't seem like a job!" Hickman said she learned a lot during that process. "In fact, I learned the whole concept. I had heard of air fryers and seen infomercials and thought, 'There's just no way you can fry without two cups of oil. But I found that you can do much more than fry. We bake, we steam, we grill – all in an air fryer. One of my favorite recipes is a center-cut pork chop that we air cook. It's so good I cook it at least once a week. The texture is very tender, moist and juicy."
"We also found that we got a crisper breading and more crunch on breaded foods," Hickman said. "You can do just about everything in the air fryer. Susan and I felt that for a single person living alone, all they really need is an air fryer and a microwave."
And it certainly seems that way. With choices like Egg Muffins, French Toast Sticks or Spanish Bacon Roll-ups for breakfast, the choices for snacks, meals and desserts just get more enticing as you progress through the book. Falafel, Buffalo Egg Rolls and Pork Tenderloin Salad are just the tip of the iceberg. Pies, cakes, even Fried Oreos can all be prepared in the air fryer.
"Our air-fried baked goods can take 45 minutes to an hour," Hickman said. "Our Southwest Corn Bread and Chocolate Cake are really good."
Both are experienced cooks, but the air fryer has helped them re-discover some old favorites all over again along with the new. "I love grilled cheese sandwiches and French fries," Hickman said. "I make the French fries with fresh potatoes, use a teaspoon of oil, and they come out crisp and brown. They're not greasy at all. And I was surprised at avocado fries. I'd never tried those before, and they were crispy on the outside and tender on the inside."
LaBorde was delighted with how eggplant turned out in their test recipes. "When deep fried, eggplant is bad about soaking up tons of grease," she said. "However, in the air fryer it is very light and delicious. Ditto for fried mushrooms, but tons of other foods work great in this appliance."
"We worked very hard to create a high-quality cookbook, and I sincerely hope that people will enjoy using it," LaBorde said. "Hopefully, they will learn to air fry all their old favorites plus discover some delicious new recipes."
"The Air Fryer Bible: More Than 200 Healthier Recipes for Your Favorite Foods" (ISBN 978-1- 4549-2707-5) can be ordered from Amazon.com. For more information on air fryers and the book, visit www.thehealthykitchenshop.com/best-airfryer-cookbook.
You can also visit Elizabeth Hickman's blogspot at www.elizabethsjoyfulkitchenblogspot.com.
Fried Green Tomatoes Yield:
4 servings |
Prep Time:
18 minutes |
Cooking Time:
10–15 minutes per batch |
Total Time:
58–60 minutes Fried green tomatoes are a summer delight.
Drizzle on a bit of horseradish cream, and you have a gardener's dream.

2 eggs

1 ⁄4 cup buttermilk
1 ⁄2 cup cornmeal
1 ⁄2 cup breadcrumbs

1 ⁄4 teaspoon salt

11 ⁄2 pounds firm green tomatoes, cut in 1 ⁄4-inch slices oil for misting or cooking spray
Horseradish Drizzle
1 ⁄4 cup mayonnaise 1 ⁄4 cup sour cream 2 teaspoons prepared horseradish 1 ⁄2 teaspoon Worcestershire sauce 1 ⁄2 teaspoon lemon juice 1 ⁄8 teaspoon black pepper 1. Mix all ingredients for Horseradish Drizzle together and chill while you prepare the green tomatoes.
2. Preheat air fryer to 390°F. 3. Beat the eggs and buttermilk together in a shallow bowl.
4. Mix cornmeal, breadcrumbs and salt together in a plate or shallow dish.
5. Dip 4 tomato slices in the egg mixture, then roll in the breadcrumb mixture.
6. Mist one side with oil and place in air fryer basket, oil side down, in a single layer.
7. Mist the top with oil. 8. Cook for 10 to 15 minutes, turning once, until brown and crispy.
9. Repeat steps 5 through 8 to cook remaining tomatoes.
10. Drizzle horseradish sauce over tomatoes just before serving.
Tip:
Lay a few Fried Green Tomatoes atop chopped romaine lettuce for a delicious side salad that goes great with grilled steak.
Nacho Chicken Fries Yield:
4–6 servings |
Prep Time:
20 minutes |
Cooking Time:
6–7 minutes per batch |
Total Time:
32–34 minutes
Kid Pleaser
Kids of all ages love nacho cheese-flavored chips. Choose a healthier organic brand, and they make a tasty coating for slim-cut chicken fingers that are tender inside with a nacho-flavored crust.

1 pound chicken tenders salt

1⁄4 cup flour

2 eggs

3⁄4 cup panko breadcrumbs
3⁄4 cup crushed organic nacho cheese tortilla chips oil for misting or cooking spray
Seasoning Mix
1 tablespoon chili powder
1 teaspoon ground cumin

1⁄2 teaspoon garlic powder

1⁄2 teaspoon onion powder
1. Stir together all seasonings in a small cup and set aside.
2. Cut chicken tenders in half crosswise, then cut into strips no wider than about 1⁄2 inch.
3. Preheat air fryer to 390°F.

4. Salt chicken to taste. Place strips in large bowl and sprinkle with 1 tablespoon of the seasoning mix. Stir well to distribute seasonings.
5. Add flour to chicken and stir well to coat all sides.
6. Beat eggs together in a shallow dish.
7. In a second shallow dish, combine the panko, crushed chips and the remaining 2 teaspoons of seasoning mix.
8. Dip chicken strips in eggs, then roll in crumbs. Mist with oil or cooking spray.
9. Chicken strips will cook best if done in two batches. They can be crowded and overlapping a little but not stacked in double or triple layers.
10. Cook for 4 minutes. Shake basket, mist with oil, and cook 2 to 3 more minutes, until chicken juices run clear and outside is crispy.
11. Repeat step 10 to cook remaining chicken fries.
Coconut Macaroons Yield:
12 macaroons |
Prep Time:
5 minutes |
Cooking Time:
8–10 minutes |
Total Time:
13–15 minutes
Super Easy, Taster Favorite, Vegetarian
Store these cookies in a tightly sealed bag or container so they stay nice and crispy.
For an easy dessert, serve a macaroon with a scoop of peach or cherry sorbet on the side.
11⁄3 cups shredded, sweetened coconut
41⁄2 teaspoons flour
2 tablespoons sugar

1 egg white
1⁄2 teaspoon almond extract
1. Preheat air fryer to 330°F.

2. Mix all ingredients together.

3. Shape coconut mixture into 12 balls.

4. Place all 12 macaroons in air fryer basket. They won't expand, so you can place them close together, but they shouldn't touch.
5. Cook at 330°F for 8 to 10 minutes, until golden.