Sudden Impact: Educating sophomores about consequences of poor choices
Unintentional trauma is the leading cause of death among people ages 1 to 44, with motor vehicle crashes the number one mechanism of the fatal injury. Seven hundred, sixteen people lost their lives in motor vehicle crashes last year in Louisiana. Unfortunately, 42 percent of the crashes were alcohol-related and, therefore, preventable.
Three years ago University Health Shreveport began to participate in Sudden Impact. Sudden Impact is an awardwinning community program designed to prevent fatalities and injuries resulting from impaired driving, distracted driving and/or being unrestrained.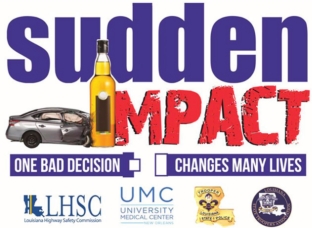 The Sudden Impact program consists of presentations and experiences for multiple age groups and audiences to lessen the number of injuries and fatalities related to motor vehicle crashes. The program is supported by the Louisiana Highway Safety Commission and DOTD Destination Zero Deaths.
The program is active in all nine LSP Troop areas and in 16 hospitals statewide.
The foundation of Sudden Impact is a seven-hour, multi-disciplinary, hospitalbased program that educates sophomores about the consequences of poor choices and offers alternatives to risk-taking behaviors. University Health Shreveport provides the space for this class. Collectively, State Troopers Frank Kuba and Matt Harris and UH Injury Prevention Coordinator Holly Liles, RN, offer a day that includes some fun-fact games, interactive distraction exercises and participating in a field sobriety test wearing impaired goggles. Throughout the day students are encouraged to develop a plan to avoid bad choices and talk to their parents.
The day is also mixed with more serious approaches, including stories of local teens impacted by poor choices, a visit from a trauma victim and a tour of the hospital Emergency Department and Trauma Intensive Care Unit. During the tours, students are given the opportunity to speak with nurses who provide care to trauma patients on a daily basis. This allows them to get a more comprehensible view of the magnitude of the consequences of driving impaired.
While the initial target audience was sophomores, over the past years Sudden Impact has developed presentations and experiences for multiple age groups. The Sudden Impact Mock Crash is a large collaboration of law enforcement, local medical personnel, first responders, local coroners, parents and a group of that high school's student actors. It is a performance about the immediate aftermath of a crash presented to all-level high school students. The student actors portray the both the emotional and the physical pain experienced while awaiting first responders. One student actor portrays the deceased teen, a consequence of a bad choice to drink and drive and not wearing a seat belt. A state trooper arrests the intoxicated actor and then notifies the family of the tragic and preventable death.
A mock trial follows the mock crash and focuses on the judicial consequences of vehicular homicide. The student from the crash is put on trial. Students participate and observe while local attorneys and judges bring real-life experience to this mock trial.
If you have interest in attending a Sudden Impact event as a parent or student, please e-mail holly.liles@uhsystem.com