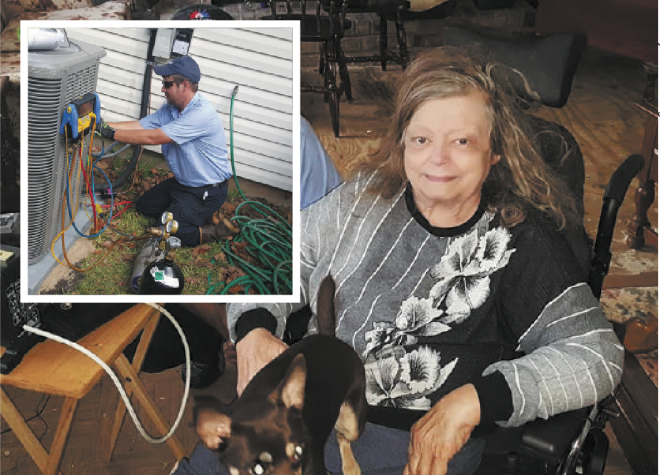 Woman in need receives complete home comfort system, thanks God
Gail Dzvornick had been praying for a miracle, and it came in the form of a guy named Love.
Chris Love, a service technician with Shreveport Service Experts Heating and Air Conditioning, arrived at Dzvornick's house last winter on a routine service call because her heater was not working, he said.
What he discovered was a 28-year-old unit barely hanging on. "The unit was in really bad shape," he said. When he checked on her air conditioning several months later, the situation had deteriorated. He discovered that not only were the motor and electrical components bad, the capacitors were almost completely out.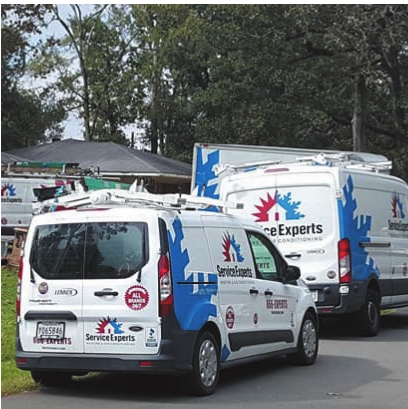 "I told her that basically the unit was pretty well done and that I couldn't tell her how much longer it would keep running before it caused her issues and problems," said Love. "She started crying and told me she couldn't afford to even put a part on it much less anything else. She was on a very fixed income."
"I can take the hot summer, but in the winter, my body gets stiff, and I can't function if I don't have heat," said the 74-year-old. Dzvornick, who is wheelchair-bound, was born with cerebral palsy and has undergone 22 different orthopedic surgeries in her lifetime, she said.
Though he didn't tell her then, Love said he went back to the office and began trying to discover what could be done for her.
"We could have repaired it, but it would have been throwing good money after bad," said Love's general manager, Lee Savage. So, the whole office decided to pitch in to see how they could help.
"We all got involved with trying to get the company we do most of our business with, which is Lennox, to donate a system to her," said Savage. "We were successful, and all the guys were on board to help out."
"They called me one day and told me they just couldn't leave me like this, and they decided I needed a new unit, and they were going to give it to me at no charge," said Dzvornick.
Dzvornick received a complete home comfort system from Lennox, valued at nearly $8,500, which technicians with Shreveport Service Experts installed free of charge on a recent Saturday.
"Honestly, I was willing to pay them to do it one Saturday, but they all said nope," said Savage. "They wanted to donate their time. It makes you happy as an employer to have people who are willing to do that."
"She was just absolutely beside herself," said Savage. "I just can't explain to you the level of excitement and appreciation she had. She had basically said that she had been praying for help and said, 'There is a God, and He answered my prayers.'" "She started crying and told me that she felt like she won the lottery," said Love. "She said these types of things don't happen to people."
"I feel like God really has blessed me," said Dzvornick. "I'm really thankful for everything they've done. I won't forget it."
Shreveport Service Experts has been serving the community since 1952 with six NATE-certified technicians. The center also collects care packages for the homeless and maintains the Do Good Project, a Facebook page that raises money and repairs homes in the area for those in need.
This year alone, the Do Good Project has collected and distributed more than 500 care packages and completed three service projects repairing, painting and upgrading homes for those who can't afford to.
The page, founded by Savage, recently formed as an official 501(c)3 to facilitate an annual campaign to raise money to pay the bills of local cancer patients.
Located at 8932 Jewella Ave., Suite B in Shreveport, Shreveport Service Experts Heating and Air Conditioning can be reached at (318) 588-8163 or www.serviceexpertsla.com.