It's not every day you can get within inches of fish, sharks and octopi. It's not every day you can touch sea stars, shrimp and rays. On second thought, it is every day. And you don't even have to get wet.
The Shreveport Aquarium—which opened Nov. 1 – is home to 275 species of sea life. Three thousand live creatures occupy the 21,000 square feet that used to be the Barnwell Center on the Downtown Riverfront.
The early response "has been absolutely incredible," said Jake Wood, the aquarium's director of marketing and public relations. "We opened on a Wednesday in the middle of the day, and we were packed. We moved into the weekend, and we had lines that were wrapped around the building. It's heartwarming to see Shreveport embracing something that is as new and exciting as an aquarium coming to town."
Built during a 10-month period and at a cost of $4.5 million, the aquarium consists of different areas:
Wow Gallery
"It's supposed to wow you right when you walk in," Wood said. "You will look to your right and your left and you will see that you're almost splitting the earth as the bodies of water are concerned. You'll look to your right and see the Caribbean tropicals. These guys came to us all the way from Marathon Key, Fla. On the left, we have our Great Barrier Reef collection. These guys came all the way from Australia to Dallas, and we brought them here.
You can see what the fish look like and how they are similar and how they are different on opposite ends of the earth."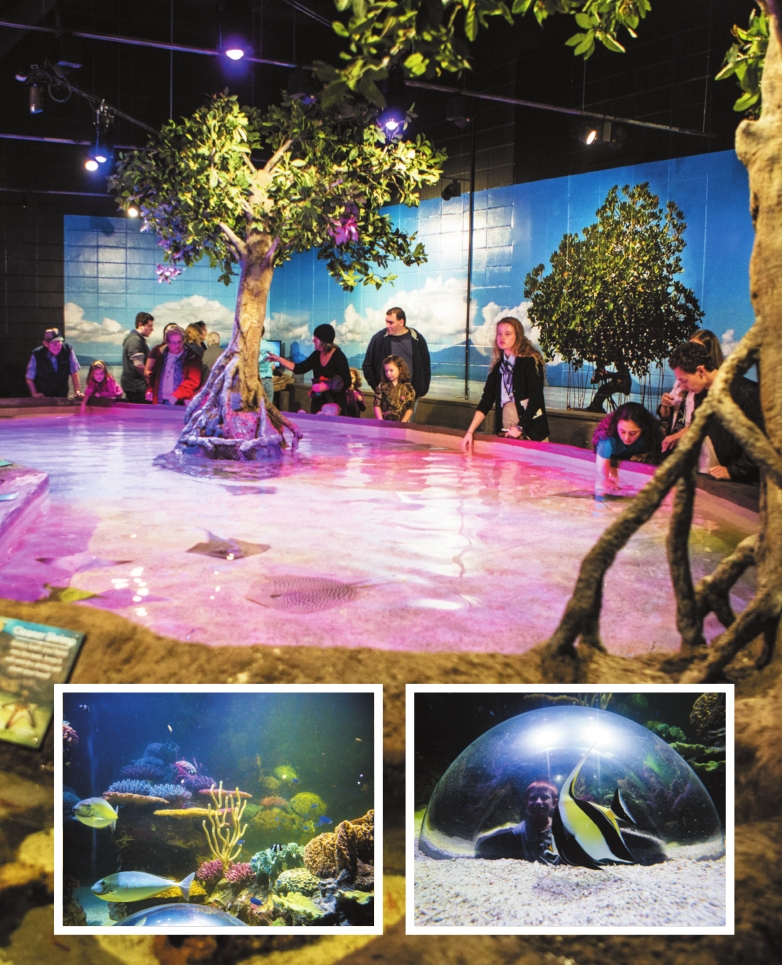 Shipwreck Gallery
Caribbean tropical fish and lionfish are featured, but the highlight of this section is the wood that is above the walkway and around the various tanks.
"They were across the street tearing down the (Salem) set at StageWorks," Wood said. "Salem" was a television show shot in Shreveport. The show was canceled after its third season, which ended earlier this year.
"We were walking through one day and said, What are you guys doing?' They said, We're tearing this down, and it's going to the landfill.' We asked if we could have it. 20th Century Fox donated all of the wood to us. We took the wood and repurposed it into this shipwrecked set."
Dome On The Bayou
This spacious area is best summed up as a "cross-section of Northwest Louisiana."
"We've taken what you would typically find in areas like Caddo Lake and put them right into the Dome," Wood said. You will see community tanks that have the fish here in Northwest Louisiana that we are used to catching—our catfish, our crappie, bream and gar.
There is also a special tank that showcases paddlefish. "They look like prehistoric creatures because they are," Wood said. "They pre-date the dinosaur. They have this really long nose that looks like a paddle. We get them as small paddlefish, and we will raise them to maturity. Then, they will be released into Caddo Lake to help continue to build the population."
The Dome's greenery is also tied to our area.
"These are all plants that were indigenous to Louisiana. You will see the oak trees, you will see the magnolias and you will see the cypress. We wanted to really take everything you see in here and teach you about what's found in your backyard."
Shore Explorer
"You can go from Northwest Louisiana to the Pacific Northwest through a series of two doors," Wood said. Here you will find the aquarium's first "Touch Exhibit." You can put your hand in a 55-foot-long Tidal Pool "that experiences its own tidal fluctuations with cold water that simulates the Pacific Ocean."
"We have sea stars in here," Wood said.
"We have some crabs, some anemones, to really give you an idea of what you might find in a rocky tidal pool off the coast of Oregon."
Cave
"We have the only cave in Northwest Louisiana because we built the only cave in Northwest Louisiana," Wood said proudly. "The Cave is where you will typically find the dark-water creatures. This is where the octopus is. This is where the flashlight fish are. Flashlight fish are found deep in caves, and they have bioluminescent cheeks that glow."
Ocean Tank
Everyone wants to see sharks when they visit an aquarium, and there are several sharks to see at the Shreveport Aquarium.
"A lot of the creatures you see inside the Ocean Tank are from the Great Barrier Reef, including our Great Reef Sharks," Wood said. "They are four feet long, but they will grow up to eight feet long. The same goes for our Zebra Shark that is hanging out in this tank as well."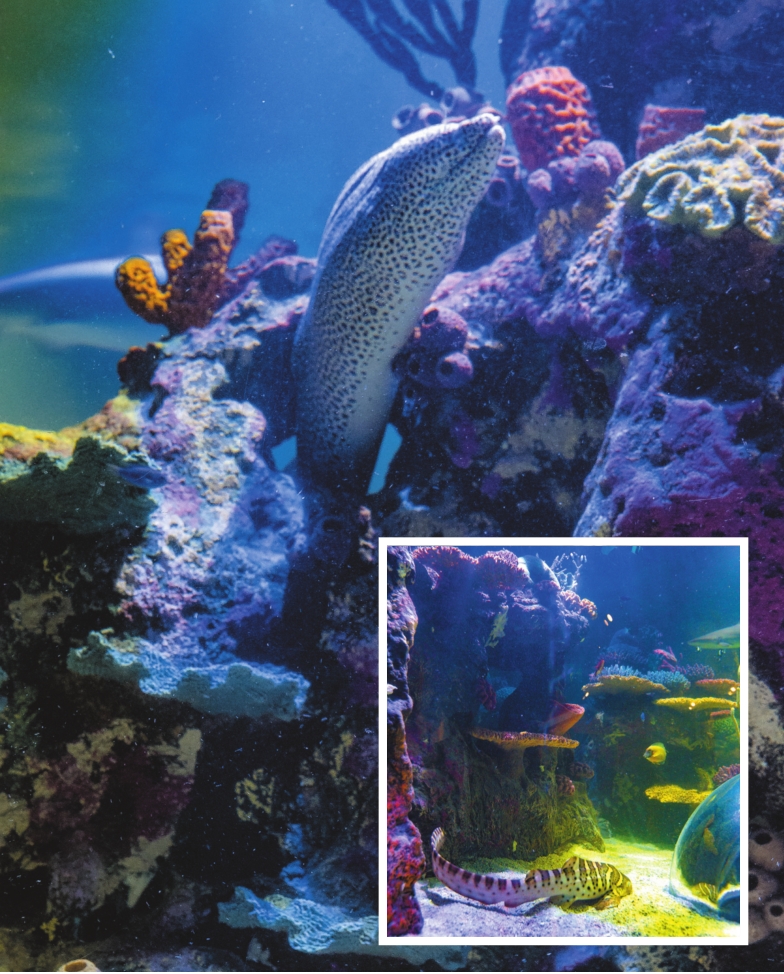 Contact Cove

This is where you will find the aquarium's second Touch Exhibit. You can feel a variety of rays, and let the Cleaner Shrimp swim up and "clean" your hand.
Submarine Gallery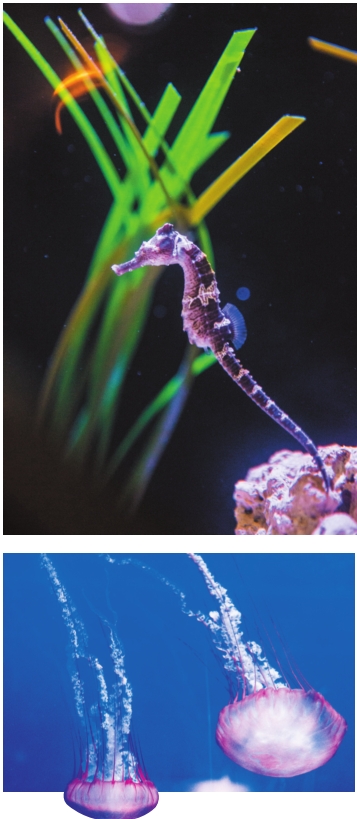 The aquarium's third Touch Exhibit lets you feel jellyfish without fear of being stung.
(Moon Jellyfish) "have the equipment to sting, but they don't have the ability to break skin," Wood explained. "So this really gives you an up close and personal experience on what jellyfish feel like, because it's not really describable what they feel like."
One species of sea life is so big, it has its own tank.
"Our deepest dwellers are also in this gallery, and that is the Japanese Spider Crab," Wood said. "While they may look large right now with a five-foot wingspan, these guys grow up to 15 feet wide, and they live up to 2,000 feet deep."
While adults will no doubt enjoy their visit, classes from several schools have already taken field trips to the aquarium.
"We have a full-time education manager who works directly with the school systems to not only book field trips, but to also build curriculums for our educational programs that correlate along with what the students in Caddo and Bossier parishes are learning not only in sciences, but the rest of the STEM spectrum as well."
From 9 a.m.-noon each weekday, the aquarium is closed to the public—allowing students on those field trips the opportunity to learn in a more relaxed atmosphere.
"We want to be able to put together an educational program this is immersive for these kids," Wood said. "We're not mixing it up and having 200 kids come at the same time as several hundred members of the general population. We want to make sure we can cater to these school kids and we can answer their questions and we can make sure they're learning along the curriculums they are learning in school."
The aquarium is also available to host special events. The Dome on the Bayou area is spacious by design, with room for guests to move freely.
"We've already had a few weddings here," Wood said. "We can have proms. We can have corporate meetings, retreats, team building—really any event you can put in a normal exhibition space, we can have it here."
And, Wood said, that is in keeping with the building's original purpose.
"When they opened the Barnwell Center in 1970, it was imagined as a place for Shreveport to come together," Wood said. "We want to continue that mission and make this not only an aquarium, but also still a place where Shreveport can come together and enjoy themselves."
You may wish to plan your visit to the aquarium around lunch or dinner. Open six days a week (closed Mondays), SALT Restaurant is inside the aquarium and prides itself on serving "sustainable food"—food that is produced in ways which protect, among other things, the environment and animal welfare.
"All the seafood comes from Louisiana fishermen," Wood said. "We have a fish house from where we buy all of our fish. We call them every week, and they tell us what the fishermen are bringing in this week. We order that fish, and it's overnighted directly to us. That way, we have the freshest fish on our menu. More importantly, it's coming from those Louisiana fishermen and Louisiana families because we want to keep that investment within the state. We want to teach people what they can make with ingredients that are found in their back yard."
To learn more about Shreveport Aquarium, visit www.shreveportaquarium.com.
To learn more about SALT, visit www.saltshreveport.com.