WALK-ON'S INDEPENDENCE BOWL PREVIEW
The Walk-On's Independence Bowl.
It's more than a game.
Yes, two college football teams will pop pads Wednesday, Dec. 27, at 12:30 p.m. in Shreveport's Independence Stadium.
But if you're not a fan of either school – even if you're not a football fan – the Bowl offers something for you.
Want to see the players up close and personal, competing in a game other than football? Check. Wish there was a Mardi Grasthemed parade without having to wait for Mardi Gras season? Check. Feel like singing and swaying to the music at an outdoor concert? Check.
"We've made a concerted effort this year to have events for every age group," said Missy Setters, now in her 13th year as executive director of the Independence Bowl.
"Events that will appeal to a wide range of interests and ages."
Starting Dec. 23, there are several official Independence Bowl activities available to the public. The "Big Game Show" in Riverview Theatre kicks things off, featuring players from both teams against one another in "Family Feud-style" competition.
"It's an absolute blast," Setters said.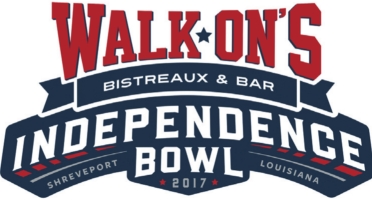 "Bring your families out to this. Bring your kids out to it. I promise your kids will have a tremendous time. It's great entertainment, and it also gives you a chance to be around the players, teams, coaches and administrators from the two schools and welcome them to our area."
Traditionally, a pep rally has been held the night before the game. That tradition will continue. However, this year's event will expand to include a parade. Royalty from the Krewe of Gemini – riding on some of the krewe's Mardi Gras floats – as well as both schools' bands and spirit squads will travel from the Louisiana Boardwalk in Bossier City to Shreveport's Red River District (via the Texas Street Bridge). You can watch the parade from the Boardwalk, the Texas Street Bridge Walkways and the District.
But when the parade and pep rally (featuring the annual Battle of the Bands) end, the night will still be young. New this year is a free concert in the District featuring the Toadies. The '90s rock legends are owners of number one hits such as "Possum Kingdom," "Away" and "Tyler."
Bowl activities will end with two events immediately following the game. Your family can enjoy free skating on George's Pond at Hirsch Coliseum. There will also be an "After Party" at Great Raft Brewing until 10 p.m.
"We want to offer both locals and out-of towners events that appeal to different ages, so young adults, families and long-time bowl attendees feel like they can participate in at some level. We also want to engage more locals, so we are offering events that give them a reason to take part."
In its 42nd year, the Independence Bowl is college football's 11th oldest bowl game. However, until a couple of months ago, its future past this year was in doubt. Camping World – the game's title sponsor the previous two years – and the Bowl were not able to reach an agreement to extend the partnership.
But in early October, Walk-On's Bistreaux and Bar – based in Baton Rouge and with locations in Shreveport and Bossier – became the game's title sponsor. The agreement is for five years, with Walk- On's able to "opt out" after three years.
"As a proud Louisiana-based brand with our roots firmly planted in college sports, partnering with a Louisiana bowl game has always been a dream," Walk-On's founder and CEO Brandon Landry said. "We are so proud to make that dream come true by partnering with the Independence Bowl in the great city of Shreveport. Our entire team is thrilled that the game will now be known as the Walk- On's Independence Bowl!"
If bowl officials had their choice, the game would not take place in the middle of a Wednesday. However, ESPN – the network that will broadcast the Independence Bowl – decides when the game will be played. While not ideal, the 27th is an improvement from the past two years, when the game was played the day after Christmas.
"You get the 26th for your pep rally, parade – all your big events you can have the night before (the game) and you're not trying to schedule anything on Christmas night, which is an impossibility here," Setters said. "You're also giving fans from outside the area – from the two schools – an extra day to travel, so they're not leaving Christmas morning or Christmas afternoon."
ESPN is available in more than 86 million households. That means an opportunity for a lot of people to get a glimpse of what Shreveport-Bossier has to offer.
"It gives us a three-and-a-half-hour window to showcase our community to the rest of the country," Setters said. "We want to put our best foot forward in doing that. If you paid for that advertising time and you bought a three-and-a-half-hour window of advertising, you're going to pay millions of dollars.
We see that as an opportunity to showcase what we have to offer."
The Independence Bowl is long thought to have provided a significant economic impact to our area. Visitors spend money to stay in hotels and eat at restaurants. But it's been 20 years since the game set an attendance record of 50,459 (LSU vs. Notre Dame), and at five of the last 10 games, official attendance has been less than the year before. Last year's official crowd count of 28,995 was the smallest since 1988 and the fifth smallest ever. Despite the roller coaster numbers, Setters believes the game still plays an important role in generating revenue.
"I think it's important to look at the entire previous 41 years in the history of the bowl. If you look at it and see the ebbs and flows that are a part of the 41 years, I think, yes, it still has a solid economic impact on the community. It typically averages anywhere from seven to nine million in direct and indirect spending, so that's pretty significant."
To buy game tickets, as well as see a complete list of bowl events, you may visit WalkOnsIndependenceBowl.com.