Jolly old St. Nick has been spending time in Shreveport- Bossier and has even been spotted shopping! Your best shot for your holiday magic? Book a visit and photo with him at Retro 521 Coffee, Cafe and Venue in Bossier at the newly completed East Bank District. Several settings and backdrops are available, and children and adults alike will be charmed! You'd better believe it.
Santa needs a lot of helpers, and one of them lives right here in town. Jason Coffel, RBS (Real Bearded Santa), is one local man who might just love his job more than anyone else. "The suit chose me on Dec. 18, 2015," Coffel said.
He became Santa at the Greenwood Flea Market at the request of his boss's wife.
"When my family does something, we go all in," Coffel explained. "I asked my mother-inlaw if she could help with a custom Santa suit, and the next thing you know, I had a beautiful, custom-made, one-of-a-kind suit that gave an old-world Victorian look. If it weren't for those two people, I don't think the suit would have chosen me the way it did."
Coffel visits a lot of homes for private Santa appearances. He also frequents several corporate Christmas parties. This year is extra special, however, as Coffel has partnered with Retro 521 Coffee, Café and Venue – a new coffee shop in the East Bank of Bossier.
"Retro 521 is having Santa available several days this season," Coffel said. "They have seven different Christmas themes available as photo settings. So if you want Christmas pictures for your family with unique backgrounds, that's what we'll have. Retro 521 has become a sort of Santa's Headquarters this year!" Coffel, who grew up in a military family and is married with four teenage daughters, can't pick just one favorite part of being Santa. "So many things about being Santa are really special," Coffel said. "Seeing the faces light up when I walk in the room is awesome."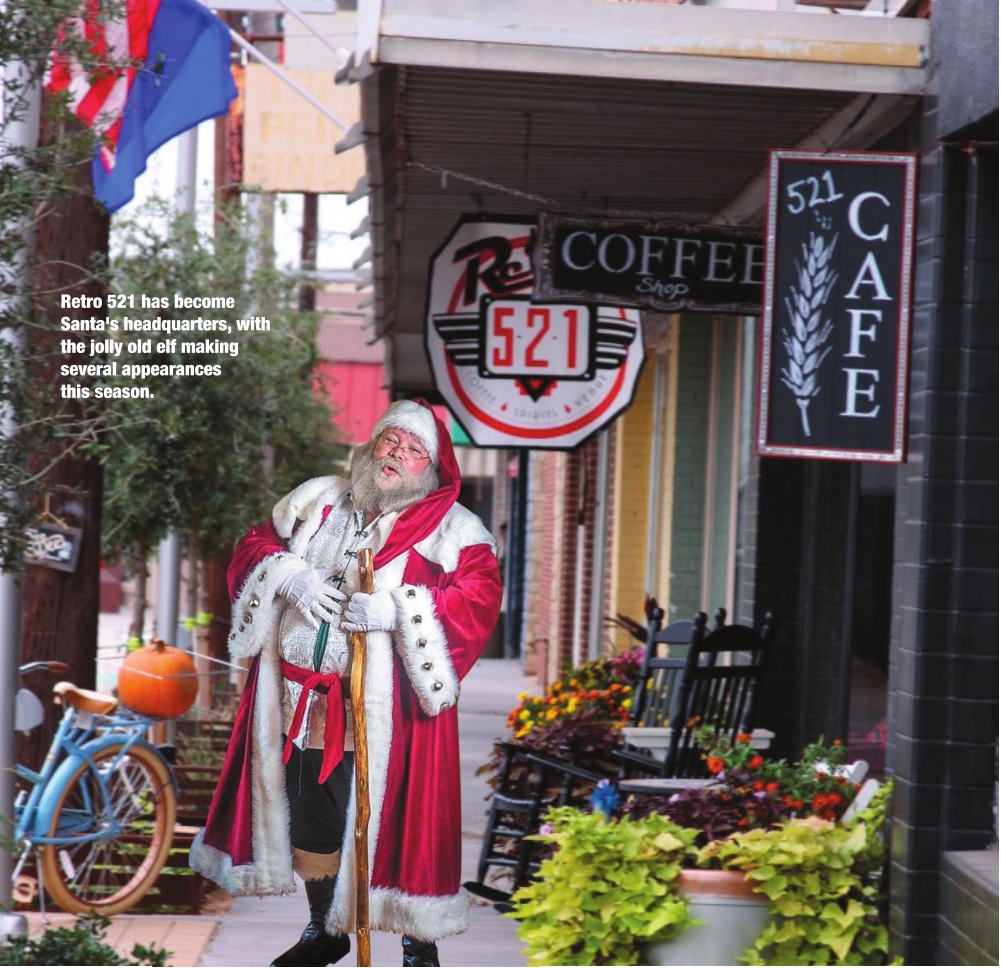 He's got endless stories to share. "The other day, I was walking through a parking garage and turned a corner," Coffel said. "I was wearing a red sport coat and a Christmas tie at my regular job. When I came around the corner, a little girl was getting out of a car with her family. She's the only one that saw me."
"Immediately, she started trying to tell her parents that 'Santa just went that way'," Coffel laughed. "You could tell they didn't believe her. I snickered a minute, then left the garage and passed the family. As I went by, I put my finger 'aside my nose,' and said Merry Christmas."
One of the most special times of the season for Coffel is when adults begin to find the Christmas spirit again. "Ultimately, when I leave an appearance and I can tell that the parents are really starting to believe again, that's the best part,' Coffel said. "If I can get the adults to believe that I'm Santa, then that makes the family conversations even more special for them."
"Santa doesn't really get days off," Coffel said. "Of course, during the off-season he does have some spare time, during which he loves to play music. Did you know Santa plays guitar? That really comes in handy since so many children ask for guitars for Christmas."
This particular Santa also enjoys doing leather work. "It's a new hobby of mine," Coffel said. "I've built toys for so long, now I like to build things for big people, too."
Coffel also enjoys spending time with his church family. "A lot of people try to separate the two, but really, Santa Claus is a tip of the hat to St. Nicholas, who was a prominent church figure from the past," Coffel explained.
Sometimes, Santa is blessed more than the children. "Last year, I got to visit the home of a terminally ill child," Coffel said. "We took time to open her gifts together and sit down under her tree and play with them."
It meant so much to Coffel to be a part of her life. "Here was this little girl with an uncertain future who has been through more in her eight years of life than I can even dream of, and I was able to give her a memory that will last forever – not just for her, but for her parents as well," Coffel said. "That's what being Santa is all about."
Santa's good deeds don't stop there.
He also plays in the band at River Valley Church in Bossier and is the director of connections for the Warrior Network. "We do our best to offer the airmen at Barksdale a family in this home away from home," Coffel said. "Growing up military, I know what it's like to have to change friends every three years. I love being a part of an organization that helps these guys get through that."
Coffel always believed in Santa growing up. "My parents always told me that if I ever stopped believing, he would stop coming," Coffel said. "So, I just became part of the magic of Christmas and was able to pass that on to my girls. Now, as they are all grown, they have all become a part of the magic along with me!" When Coffel encounters a child who claims they don't believe, he pulls a little Christmas magic out. "If I can offer reasonable doubt, they'll come back for a second look," Coffel said. "When they do that, I can hook them."
Coffel gets invited to many corporates parties for adults. "Usually, the adults want to believe," Coffel said. "It gives them a chance to relive their childhood for a few minutes. That's another fun part of being Santa – I love to watch full-grown professionals talk about Lincoln Logs!" Sometimes, Santa's best laid intentions don't go as planned. "On my very first appearance, I was completely disorganized," Coffel said. "I was driving from Haughton to Greenwood, and made it all the way to the gig before I realized that I had left my red robe back at home."
He didn't let the potential disaster throw him off for long – Santa has to be a professional. "My loving wife and kiddos drove really fast – I mean, took the sleigh – and brought the robe back to me just in time!" Coffel said. "That day, I learned to always say five words before I leave for an appearance: Boots, Hat, Robe, Bag and Glasses! That's Santa's real checklist."
While Santa can't claim a favorite reindeer, he does claim his favorite Christmas movie is "The Christmas Story," and his favorite Christmas song is "The Christmas Song" by the Carpenters. "Christmas is like a great big package," Coffel said. "It's all my favorite!" For more information or to book, contact Coffel at MyLouisianaSanta@ gmail.com or visit:
https://www.facebook.com/oldworldsanta/ https://www.facebook.com/Retro521/ (schedule for the Retro 521 appearances) www.santaofthesouth.com