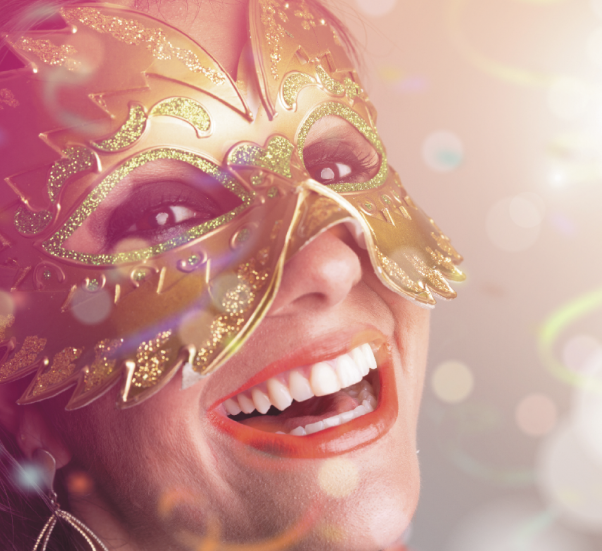 Fun, Community and Philanthropy
You can absolutely feel the excitement in the air when Mardi Gras comes around in the Ark-La-Tex.
The celebration first came to Northwest Louisiana in 1989, and now it is something the community looks forward to each year. From the vibrant and colorful parades to the festive Grand Bals, there is a whole lot to love about Mardi Gras.
The parades have become a staple for the holiday, drawing at least 400,000 visitors to the Shreveport-Bossier area. This has had a significant positive impact on the local economy, according to Chris Jay, social media and public relations manager for the Shreveport-Bossier Convention and Tourist Bureau.
"It [Mardi Gras celebrations] has a huge economic impact," Jay said. "Everyone from the smallest mom-and-pop bakery to the Shreveport Convention Center makes money off of the parades, masquerade bals, parties and other seasonal events. Also, local Mardi Gras celebrations contribute to our sense of identity as a community."
The community's sense of identity can be seen represented by the local krewes in the area. While these krewes know how to have a good time, they also know how to help the community when it is in need. Each krewe has dedicated time and money to help many local non-profit organizations over the years. This philanthropic tradition paired with the family-friendly parades are what help set the Shreveport-Bossier Mardi Gras celebration apart from others.
Jay believes that Shreveport-Bossier's Mardi Gras is a great entry level for those new to the celebration. He hopes that some visitors will experience Mardi Gras for the first time in Shreveport-Bossier, fall in love with it and return to explore Mardi Gras celebrations elsewhere in the state.
"I hope that visitors and locals alike will experience our local Mardi Gras celebrations as a way to begin 2018 with energy, joy and togetherness."
Meet the Krewes
Krewe of Gemini
Holding the title of the oldest parading Mardi Gras krewe in Shreveport-Bossier, the Krewe of Gemini has been very active in supporting the needs of the community since 1989. They have helped the Food Bank of Northwest Louisiana and Toys for Tots, in addition to holding a school supply drive in which the krewe donated more than $3,000 in school supplies to Plantation Park Place Elementary School. They continue to grow, with 342 members as of January 2018. It's interesting to note how the krewe got its name. Gemini is the third sign of the zodiac that comes between Taurus and Cancer and has a pair of twins as its symbol.
Therefore, the krewe is named "Gemini" representing the twin cities of Shreveport-Bossier. The Krewe of Gemini will rock out with this year's parading theme, "For Those About to Rock, Gemini Salutes You!"

2018 Captain: Tracy Myers Herrin
2018 King and Queen: King Herb Doughty and Queen Sue Moses Cooksey
Krewe of Centaur

With over 700 members, the Krewe of Centaur is the largest Mardi Gras krewe in North Louisiana. They are named after the half-man, half-horse creature from Greek mythology. The name pays homage to Northwest Louisiana's horse racing and gaming industry. Since its establishment in 1991, this krewe has supported many organizations including Operation Santa Claus, the Shreveport Memorial Veterans Home, the Shreveport Homeless Shelter, Bossier Sheriff's Lifesaving Vests Program, ricane relief for Houston and Katrina and hurmore. This year, their parading theme will be "Centaur Goes to the Library."
2018 Captain: Brian Hammons
2018 King and Queen: King of Centaur XXVII Randy Long and Queen of Centaur XXVII Page Porter
Krewe of Barkus and Meoux

Animal lovers and pet owners come together to create this unique group. The Krewe of Barkus and Meoux currently has 67 members. Since its creation in 1999, this krewe has worked hard to promote responsible pet ownership with public education about voluntary spay/ neuter programs in the community. Their parade draws over 13,000 patrons each year, and all money raised is donated to develop, foster and promote programs to benefit abused, neglected and homeless animals. The krewe's goal is to continue to help local rescue groups as well as animal awareness groups. This year their parading theme is "Pawrets of the Cattabean."
2018 Captain: Dave Frye
2018 King and Queen: Eric and Daphne Childress

Krewe of Atlas

Established in 2006, the Krewe of Atlas is named after the mythological Titan warrior Atlas. Just as the world encompasses people from all walks of life, so does their krewe, and in the spirit of Atlas, they strive to lift up their "area of the world" through community service projects. They've supported many organizations throughout the years, including Northwest Louisiana Food Bank, Shreveport-Bossier Rescue Mission, St. Jude Children's Research Hospital, among many others. Currently, they have 60 members in their krewe. This year, the captain has selected an aquatic theme, "Atlas Going Deep."
2018 Captain: Brent Lavergne
2018 King and Queen: King Harry Druckenmiller and Queen Leslie Hankins

Krewe of Elders

Established in 1998, the Krewe of Elders currently has around 100 members.
The group is made up of adults that are 50 years of age or older, hence the name of the krewe. They support community and non-profit organizations by either donating monetarily or devoting countless volunteer hours. Over the years they've provided support for groups like American Legion, Red Cross, Holy Angels, Cancer Society and the Alzheimer's Association. Their parading theme this year is "Murder at the Masquerade Bal."
2018 Captain: Julia Collins

2018 King and Queen: Michael and Pamela Brown

Krewe de les Femmes Mystique

This Krewe's name translates into "Women with an aura of mystery," but it is no mystery how the Krewe de les Femmes Mystique has helped out the community over the years. Established in 1999, the krewe has provided volunteer hours to support the non-profits program at the Boys and Girls Club and My Sister's Keeper Event in Shreveport. They currently have 47 members, and they provide support for Gertrude's Gifts. In addition to Gertrude's Gifts, they also donate clothing items to Dress for Success, prom dresses to Cinderella Project and volunteer hours to the Renesting Project. Their parading theme this year will be "Diamonds are a Girl's Best Friend."
2018 Captain: Helen Phares

2018 Queen: Diane Allen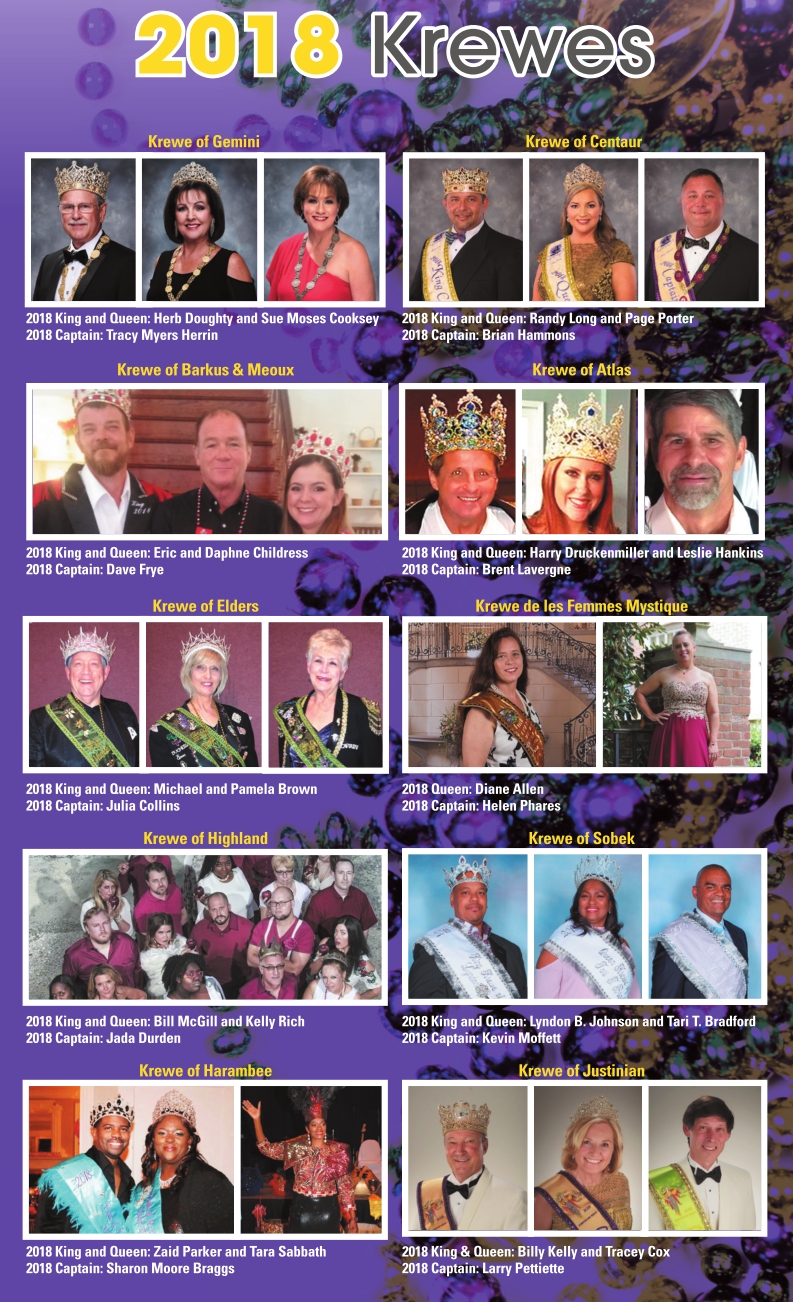 Krewe of Highland
This krewe is known for throwing unusual items at their parades like hot dogs, moon pies and even packs of ramen noodles. Established in 1994, this group was established when Highland resident, Commissioner and local business owner Matthew Linn approached the Highland Area Partnership with the idea of a neighborhood Mardi Gras parade. Now the Krewe has grown to approximately 80 members. They've provided support and fund-raising for Heritage Baptist Church, Byrd High School Band, Talented Art Program, Highland Center Ministries, Highland Restoration Association and the City of Shreveport among many other groups. Their parading theme this year is "Highland Ever After."
2018 Captain: Jada Durden
2018 King and Queen: King Bill Mc- Gill and Queen Kelly Rich
Krewe of Sobek
This krewe got its name from Sobek, the god of water, also known as "crocodile god." He is symbolic of strength and fortitude to overcome obstacles. The Krewe of Sobek was established in 2003, and currently the group has 122 members. They continue to support the Boys and Girls Club.
They also assist in providing scholarships to students who plan to join HBCU Marching Band programs via auditions upcoming to the parade. They've recently established a scholarship fund in addition to the band scholarship. They encourage all walkers in their parade this year to wear attire representing their favorite sports team to support their 2018 theme, "Sports Mania."
2018 Captain: Kevin Moffett

2018 King and Queen: King Lyndon B. Johnson and Queen Tari T. Bradford
Krewe of Harambee

The Krewe of Harambee began as an idea after two Mardi Gras parties were organized in 1998 and 1999. Clifton Davis, Theron Jackson and Lynn Braggs discussed the idea of formulating an African-American krewe. In the fall of 2000 the Krewe of Harambee was officially formed. Since then, they've grown to 150 members. Harambee is a Swahili word meaning "let's pull together." This krewe has come together to help provide support for many local non-profit organizations. They've donated more than $30,000 in aid to help African-American students pursue a higher education. Scholarships are given each year at the Martin Luther King Hopes and Dreams Breakfast. The scholarships are for African-American students from a single-parent home. They also support the Northwest Louisiana Sickle Cell Anemia Foundation. Their theme this year is "Harambee Salutes Music Royalty."
2018 Captain: Sharon Moore Braggs

2018 King and Queen: King Zaid Parker and Queen Tara Sabbath
Krewe of Justinian
Established in 1994, the Krewe of Justinian is a group that is passionate about justice. They are primarily made of dedicated lawyers, but over the years they've opened membership up to non-lawyers as well. The krewe currently has over 200 members. Through their various events and fund-raisers, this krewe raises money for the Shreveport Bar Center, which houses many services that benefit the community. The center houses the pro-bono project, which provides free civil legal assistance to low-income clients. More recently, they've started a new program to provide legal representation to women and children who are victims of domestic violence. Their theme this year is "Welcome Back Cuba."
2018 Captain: Larry Pettiette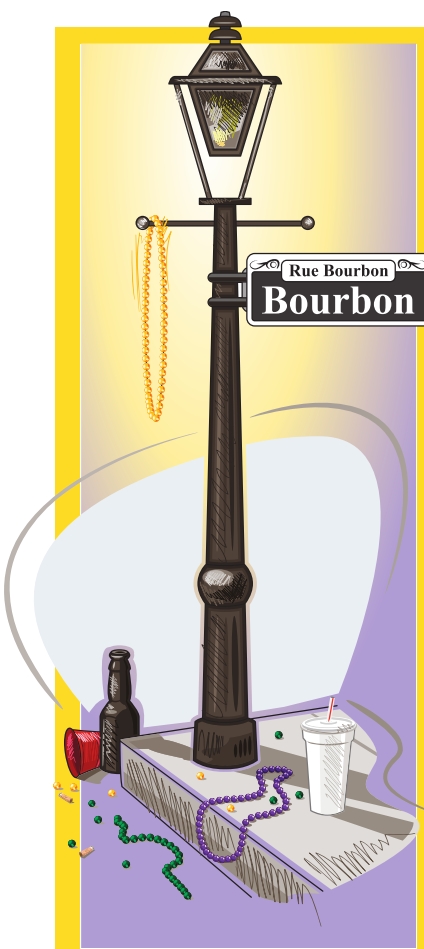 2018 King and Queen: King Bill Kelly and Queen Tracey Cox
Parade Route Details
Krewes of Centaur & Gemini Parades
When: Saturday, Feb. 3, at 4:30 p.m. & Satur-day, Feb. 10, at 4 p.m. Begins at the corner of Lake Street and Clyde Fant Parkway in downtown Shreveport. Continues down Clyde Fant Parkway toward Shreveport-Barksdale Highway. Left turn on East Kings Highway. Ends at the corner of East Kings High-way and East Preston Street.
Krewe of Highland Parade
When: Sunday, Feb. 11, at 2 p.m. Begins at Gilbert Drive and Gregg Avenue. Continues straight on Gilbert Drive. Left turn on Gladstone Boulevard. Right turn on Creswell Avenue. Right turn on Herndon Street. Right turn on Highland Avenue. Left turn on Olive Street. Right turn on Centenary Boulevard.
Right turn on Gladstone Boulevard
Parade Schedule
Laissez les bon temps rouler at these Shreveport-Bossier Mardi Gras parades:
Krewe of Centaur Parade XXVII
When: Saturday, Feb. 3, at 4:30 p.m.
Where: Begins at the corner of Lake Street and Clyde Fant Parkway in downtown Shreveport
What to Expect: The Krewe of Centaur is a large group, which means you can bet their parade is going to be a big celebration. You'll see large vibrant floats as this parade rolls through.

Krewe of Barkus and Meoux Pet Parade
When: Sunday, Feb. 4, from noon to 4 p.m.
Where: Events on the Red (2000 Reeves Marine Drive, Bossier City)
What to Expect: You can expect to see adorable pets in festive costumes at this parade. All pet owners are invited to participate in the celebration.
Krewe of Gemini Grand Parade XXIX
When: Saturday, Feb. 10, at 4 p.m.Where: Begins at the corner of Lake Street and Clyde Fant Parkway in downtown Shreveport
What to Expect: This year's parading theme for the Krewe of Gemini is "For Those About to Rock, Gemini Salutes You!" You'd better believe you'll be rocking out as this parade rolls by.
Krewe of Highland Parade XXIII
When: Sunday, Feb. 11, at 2 p.m.
Where: Begins at Gilbert Drive and Gregg Avenue.
What to Expect: The Krewe of Highland's parade has a reputation for throwing some unique items from their fl oats each year. Be prepared to catch hot dogs, moon pies and other fun surprises.

For more info on Mardi Gras 2018 in Shreveport-Bossier, you can check out the Shreveport-Bossier Convention & Tourist Bureau's The Gris Gris Guide to Mardi Gras on their website, www.shreveport-bossier.org.