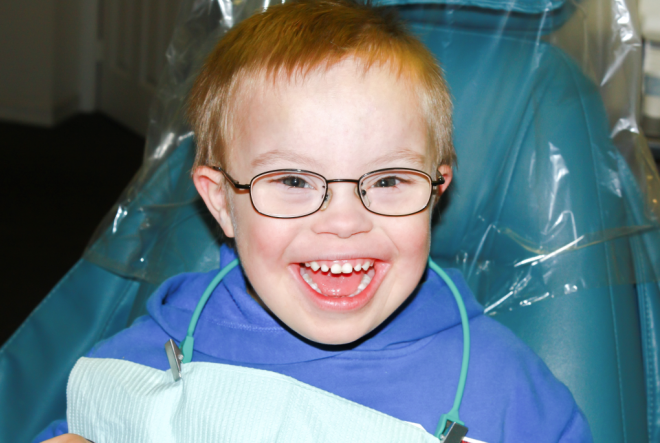 Children and Oral Health
It is often challenging for parents of children with special health-care needs to find health-care professionals who are trained to more appropriately address their child's unique behavioral and medical needs. Parents may find that many general dentists are uncomfortable treating children who are very young, have special medical or mental health considerations, or a combination of the two. Pediatric dentists are uniquely qualified to care for children with special health-care needs. After dental school, pediatric dentists receive an additional two to three years of training related to the oral health care of infants, children and teenagers. This training includes attention to the medical and psycholog- ical differences between younger patients and adult patients. They obtain unique skill in handling children with behavior issues as well as the specialized care of medically compromising conditions in children.
What do parents/caregivers need to do to help their child have a healthy mouth and a positive dental experience?
The American Academy of Pediatric Dentistry recommends a dentist see your child by their first birthday. The goal of these early visits is to ensure children receive appropriate preventive and routine oral health care. This is especially true for children with special health-care needs. The pediatric dentist will be able to begin an individualized dental health program based on the child's needs, including specialized dietary and preventive dental health counseling along with information about proper care of teeth and gums.
Some children with special needs may require extra care to feel comfortable in the dental office. Pediatric dentists work in conjunction with parents/caregivers to find the best approach for a positive dental experience. Some children require more frequent visits while others may require specialized behavior management techniques.
It is important to begin preventive care early to help avoid cavities and other dental problems. If your child does require dental work, pediatric dentists have training in sedation techniques for treatment in the office setting. Most pediatric dentists are also associated with a hospital or outpatient surgery center and can utilize general anesthesia administered by a trained anesthesiologist for a child when necessary. They will also work in conjunction with your child's pediatrician and other medical specialists to ensure the safest treatment possible.
Emily Neeley, DMD, is board-certified through the American Board of Pediatric Dentistry. Her focus is the treatment of children with special needs and those who are not able to receive care in a traditional dental setting. Dr. Neely is an assistant professor at LSU Health Sciences Center – Shreveport. She can be reached at 318-675-8063 located in the Oral Surgery Department at University Health, 1503 Kings Highway, Shreveport, LA.