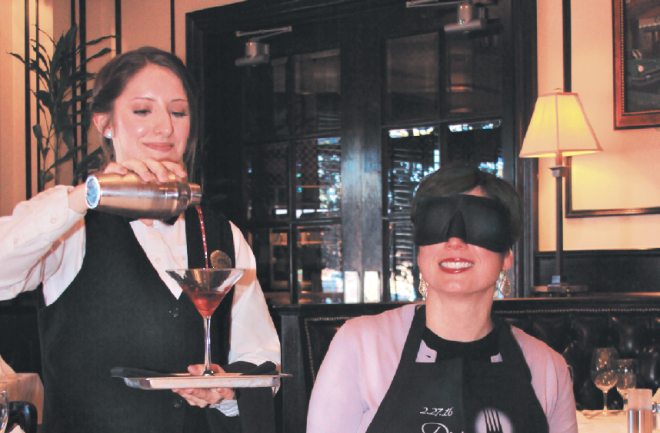 Louisiana Association for the Blind Hosts immersive experience
Imagine you are sitting at a dining table and you're about to enjoy a delicious meal. You can smell the dish you are about to eat. You can hear the other guests around you. You can feel the silverware placed around your plate. This sounds like a normal dining experience except for one thing—you are blindfolded.
The event hosted by the Louisiana Association for the Blind (LAB) is an immersive experience. Guests will be blindfolded as they enjoy a fivecourse meal at Superior's Steakhouse. The lights will dim throughout the experience until there is a complete blackout during the dessert course. The event will take place on Saturday, Feb. 24. There will be a champagne reception at 6 p.m. followed by the dining experience at 7 p.m.
Audra M. Hicks, community development manager for LAB, has done a lot of research to put this event together. She reached out to other blind agencies in the United States that have found success with their Dining in the Dark events. She says the experience is great because it directly ties in with their mission. The experience gives people a small glimpse at what life is like for those that are visually impaired.
"We had the desire to do something different – to host a different kind of event for our community, but one that ties in directly with our mission," Hicks said. "They can come and relax all while supporting a really wonderful cause."
For 90 years, LAB has been improving the quality of life for the blind through training, services and employment. All proceeds from the Dining in the Dark event will go toward their programs and services. Hicks wants the community to know that there are resources available for them.
"If you're affected directly by visual impairment or if you have a loved one that is affected and you don't know where to go, we want you to know we're here," Hicks said. "We're here to serve you and to serve the families of our community. We have amazing resources to help."
These resources include the Low Vision Rehabilitation Center. The center provides a full range of services and low-vision products for people at all age levels, who are legally blind or low vision. They offer services like orientation and mobility, independent living, children's programs and assistive technology.
"Just because you have a visual impairment doesn't mean your life stops," Hicks said. "There are tons of programs and services available to you and your loved ones to put you back on that path to independence."
This year, the Dining in the Dark event will have Hoby Wedler, who has a Ph.D. in chemistry, as the guest of honor. Wedler has been blind since birth. He has created a career for himself as a sensory designer and expert. Wedler found a passion for food and drink and how they relate to the senses when he began hosting blind wine and beer experiences.
Recently, he co-founded Senspoint LLC, a sensory advising and education company. For this event, Wedler has worked with the team at Superior's Steakhouse to design the Dining in the Dark dinner and wine pairing. Each course was designed to mix texture and aromatics in order to create a unique experience.
Wedler will also be working with the kitchen and wait staff to train them on the proper way to serve the guests during the experience. He will teach them that the dinner plate represents the face of a clock.
When they tell the guests where their wine glass is, they will say where it is in relation to a clock face.
Hicks says they should slide their hands on the table to feel the end of their silverware instead of just reaching their hand out to grab them. It'll be something the guests will have to adjust to, but Hicks hopes it will help them understand what people who are visually impaired go through.
"For some people it's uncomfortable, and that's OK because that's part of the experience. This happens to people every day," Hicks said. "Millions of lives are affected by visual impairment every day."
She is hopeful this year's event will be just as successful as the Dining in the Dark event held in 2016.
"People didn't know what to expect, and quite frankly, none of us did. I think for a lot of guests because it was unexpected they were excited about it and probably a little nervous because it was something new, but they really got into it. I think they walked away with a better sense of what we do here [LAB] and how lives every day are impacted by blindness."
Cocktail attire is suggested for the event.
There will be black aprons provided so guests can enjoy their dinner without worrying about making a mess.
MORE INFORMATION:
Tickets for the Dining in the Dark experience are currently on sale. You can purchase them online at www.lablind.com.