Dedication to Workplace, Community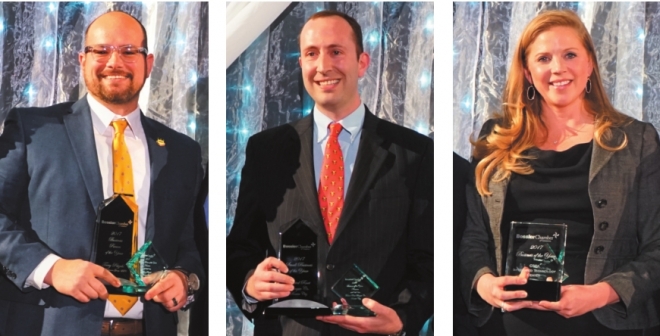 Bossier Chamber of Commerce names top leaders
When Terry Petzold heard his named called at the Bossier Chamber of Commerce's 70th Annual Gala on Jan. 30, he thought it must've been a typo. Petzold was awarded Bossier Chamber's 2017 Business Person of the Year for his accomplishments as the managing partner of Magee Resource Group. If you look at the dedication Petzold has put into his work and into the community, then you'd know he is just being modest.
"I was quite humbled," Petzold said. "I thought it was a typo. When you're up against Dr. Ghali and Trey McGuire and Greg Kallenberg – when you look at the profiles and backgrounds of those other three gentlemen and see what they've done for the community – I really was shocked. I did not think I would win, but I'm very grateful that I did."
Petzold was given the award for his work toward helping build a workforce for the region. With Magee Resource Group, a global technology, cybersecurity and health-care recruiting staffing firm, Petzold was able to market Northwest Louisiana as a great place to live, work and play.
While working at Magee Resource Group, Petzold has been able to have a huge positive impact on people's lives. He recalls a time when he was able to relocate an executive in the IT industry to another state because the executive's wife needed to be closer to her terminally ill mother. A year later, Petzold received a thank-you note in the mail.
"That's the kind of thing that really changes someone's life because you're able to impact their life directly," Petzold said.
Alongside Petzold, the Bossier Chamber of Commerce named Twisted Root Burger Co. – Bossier City the 2017 Small Business of the Year. They also named CSRA Integrated Technology Center the 2017 Business of the Year.
The Chamber hosted more than 500 business professionals at the CenturyLink Center for the Gala.
All three award recipients have shown a consistent determination in helping the local community. Grant Nuckolls, franchise owner of the Twisted Root Shreveport and Bossier locations, has made it a mission to host community events at his restaurants. In 2017 alone, the Bossier City location was able to host over 30 groups, which generated over $5,000 for the organizations.
"In the end, we're here 90 hours a week, so if you're not having fun, it's easy to burn out quick," Nuckolls said. "Having fun and giving back to the community are two ways to keep it fun and interesting."
Twisted Root Burger Co. Bossier City is also a large supporter of Barksdale Air Force Base. When Nuckolls gave his acceptance speech at the Gala, it was important to him that he thank those in the audience that have served our country. He says he just wanted to tell them again how important they are.
After the Twisted Root location in Shreveport became successful, Nuckolls decided to open a second location in Bossier. With the opening of the Bossier location in 2016, Nuckolls became the first multi-unit franchisee within the Twisted Root family. He had a vision for the Twisted Root franchise in Louisiana and knew the brand would be a good fit for this region.
"I'm a local person and really believe in supporting the local economy by buying local and shopping local," Nuckolls said. "It was important for me to get out there and tell people even though we are a part of a national brand that we are most definitely locally owned and operated."
Another award recipient from the Chamber's Gala saw potential for their business endeavor to thrive in Bossier City. Out of 135 sites nationwide, Bossier was chosen as the location for CSRA's Integrated Technology Center. In less than four years, CSRA has recruited and hired more than 700 employees between their two Bossier facilities. In 2017, CSRA hosted four job fairs to hire hundreds of employees.
Mimi Hedgcock, senior principal of external affairs at the Integrated Technology Center, attributes CSRA's success in the region to their partnership with the state and the community.
"The community came together and said, 'We want to be your partner, and we want to share in your success to create a workforce pipeline.' They helped create that opportunity."
Although some might think CSRA is an acronym, it actually isn't. The billion-dollar company was formed when Computer Science Corporation and SRA International came together, and that's where the name comes from. CSRA has over 18,500 employees across the globe.
"We partner with the federal government to help them find solutions to their technological challenges and help them combat the continual threat of cyber terrorism."
Hedgcock says that CSRA's partnerships with the state of Louisiana, Louisiana Economic Development, the City of Bossier, Bossier Parish, Cyber Innovation Center and local higher education partners have all been critical to the Integrated Technology Center's success.
Winning the award for Bossier Chamber's 2017 Business of the Year has been a huge honor for CSRA.
"CSRA is honored to receive this recognition from the Bossier Chamber of Commerce," said CSRA Chief Information Officer John Dancy. "CSRA's ITC facility has become a next-gen growth engine for top talent to support the federal government and the American people. Our work in the Shreveport-Bossier City area is growing, and we are excited to be part of the tech boom taking place along the I-20 corridor."
In September of 2017, CSRA saw how powerful the Bossier community could be when they worked together. They were contracted by FEMA to help survivors of Hurricane Harvey. CSRA reached out to their local partners letting them know they needed to hire hundreds of temporary employees at the call center. Everyone, including local media, worked together to help get the word out.
"By the next day we had received over 400 applications online, and we had over 700 people walk through the doors to help the call center," Hedgcock said. "They were retirees that wanted to help the survivors of Hurricane Harvey. They were stay-at-home parents that said they wanted to help. … I saw people in scrubs from the hospital after their shift had ended that wanted to help. So the outcry of support we had was amazing. It showed CSRA was a partner in the community and a part of the community."
Through the call center, CSRA has helped over one million survivors of the seven most recent natural disasters.
"The community is what brought us here, and the community is what helped us get where we are today."
Looking ahead, CSRA will continue to partner with local higher education institutions to ensure students are work-ready upon graduation. Many of their employees come from a variety of higher education institutions in Louisiana, and 35 percent of the current employees at the technology center are military veterans.
"CEO Larry Prior and our board approved ITC [Integrated Technology Center] being down here, and they've invested a lot in this partnership, which we are very grateful for," Hedgcock said.
"We are here to provide jobs in the workforce for the region – provide great economic impact and to provide excellent customer service to our customer which is the federal government. … We've developed an amazing ecosystem through this partnership to develop a workforce pipeline, provide quality service to our federal customers and bring jobs back to Louisiana."