Disiere Foundation generosity provides low-dose radiation X-rays at local childrens hospital
Thanks to fund-raising efforts and a generous donation from the David & Teresa Disiere Foundation, children in the Shreveport area are much closer to having a safer option when it comes to X-rays. Shriners Hospital for Children in Shreveport will use the Disieres' $50,000 donation plus $16,500 raised at an event sponsored by the foundation to purchase an EOS System, a system of medical imaging devices that provides clear anatomical views while exposing patients to lower doses of radiation than traditional imaging methods. The EOS System will be the first in Louisiana. Currently, the closest one is located in Little Rock, Ark., over 200 miles from Shreveport.
The Disieres presented a check for $25,000 to Shriners Hospital for Children in Shreveport in December of 2017 to honor the legacy of David's late father, Francis Disiere. A longtime member of the El Karubah Shrine in Shreveport, it was his wish to support the hospital. The same evening of the check presentation, the Disieres sponsored a fund-raising event where they announced they would match all donations up to an additional $25,000. People from across the Ark-La-Tex donated $16,500. Although they fell shy of their goal, the David & Teresa Disiere Foundation proceeded to match the funds raised with their full pledged amount of $25,000, bringing their total donation to $50,000. Altogether, Shriners Hospital received $66,500 toward the EOS System.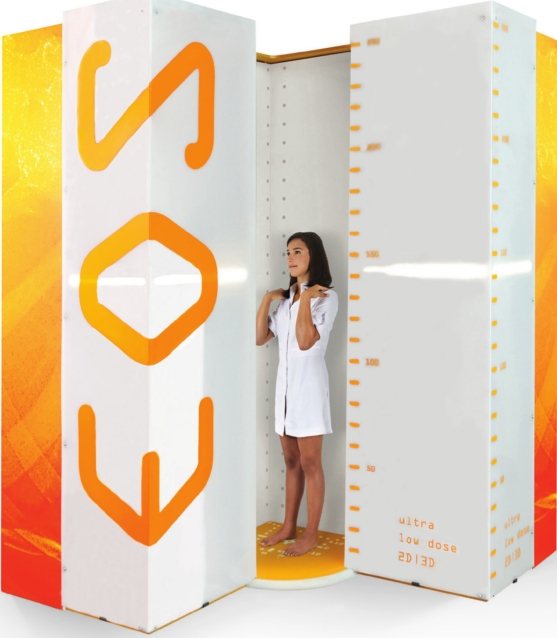 The EOS System, which is based on a Nobel Prize-winning invention in physics in the field of particle detection, is able to provide 3D surface reconstruction of the skeletal system using a special software. Parts of the skeletal system appear in true 1:1 scale for size and volume, allowing clinicians to make very precise measurements and calculations. This provides revolutionary possibilities in orthopedic surgery, especially spinal surgery. Additionally, with EOS, a patient can be in a standing, weightbearing position, which allows for better assessment of, for instance, limb alignment compared to imaging methods in which the patient is lying down.
Just as importantly, the EOS System is able to provide accurate, reliable imaging while using a considerably (85 percent) lower dose of radiation than typical X-rays or CT scans. "Clinicians must balance the need for accurate measurements with the need to minimize radiation. This concept, known as ALARA (as low as reasonably achievable), is particularly important in children who may be as much as 10 times more sensitive to radiation than adults," according to Hospital for Special Surgery (hss.edu). Since Shriners Hospital for Children in Shreveport treats patients with bone, joint and muscle issues, those patients must have frequent X-rays and other imaging techniques over the course of their treatment. The EOS System will provide a much safer option for pediatric patients, and the process takes about four to six seconds. However, it won't replace conventional digital X-rays for injuries like broken bones or when a standing image isn't necessary.
Shriners Hospital for Children in Shreveport is a specialty hospital that treats children from birth to 18 in the areas of orthopedics, cleft lip and cleft palate. It is part of a health-care system that has 22 locations in the U.S., Mexico and Canada. No family is turned away because of an inability to pay. Shriners Hospitals for Children is the philanthropy of Shriners International, "a fraternity based on fun, fellowship and the Masonic principles of brotherly love, truth and relief" (beashrinernow.com). Begun in Manhattan in 1870 when a group of Masons decided they wanted an organization based on fun and fellowship, the Shriners are known as much for their trademark red fezzes, tiny parade cars and annual circus as they are for their philanthropic efforts. But the fact is "[they] have helped more than 800,000 children – at no cost to the parent or child – since the first Shriners Hospital opened in 1922" (elkarubah. org).
There are a number of easy, convenient ways to donate to Shriners Hospital for Children in Shreveport, including specifically for the EOS System. To learn more about how you can give or volunteer, visit www.shrinershospitalsforchildren. org/shreveport/ways-to-give or contact Jill Burda, director of development, at jburda@shrinenet.org.