after your spring cleaning
I want to equip you with the knowledge to help make your home as energyefficient and comfortable as possible – and what better time to make these improvements than during your spring cleaning?
Did you cringe when you read "energy efficient"? I don't blame you if you did; the concept of making your home more energy-efficient bears the myth of it costing you an arm and a leg. That's simply not the case; there are easy and affordable upgrades you can make to your home to save you money on your energy bills.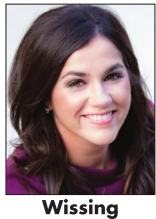 First things first: I encourage you to visit SWEPCO.com/Save to calculate your home energy profile. When I used the tool, I was given five ways to save on my energy bill, including $26 a year by replacing my refrigerator, another $26 by setting my water heater setting to low, up to $30 a year by trading some of my old appliances in for Energy Star ® appliances and up to $41 per year by upgrading my water heater.
"While that may not seem like huge savings at first glance, over the life of these appliances it can really add up," said SWEPCO's Energy Efficiency & Consumer Programs Manager Paul Pratt.
I wanted to know what else I could do to help lower my energy bill and make my house more comfortable at a reasonable cost while I save for the higher-budget items.
"Sometimes we can point out some of the smallest things that will make a big difference on the bills," said David Langston, manager – customer services and marketing for SWEPCO.
Whether you're making improvements to an existing home or building a new home, Langston and Pratt say to keep these tips in mind to help lower your energy bill:
Check the insulation levels in your attic. SWEPCO recommends a minimum of R-30 to R-38. Insulation can settle over time in an older home, and allow more of the attic heat to transfer into the living space of the home. Adding a little insulation in the attic is one of the easiest ways to increase comfort and lower the energy bill.
Make the switch to LED lighting in your home. These bulbs use significantly less energy, last literally years longer than incandescent and CFLs (some up to 25.), and emit practically no heat.
Set your thermostat to 78 degrees in the summer. Each degree lower can increase the bill by approximately five percent. If you cool your house to 70 degrees, you can expect to pay approximately 40 percent more on your cooling portion of the bill than if you had set the temperature on 78 degrees.
Take a look at your windows and exterior doors. Do the doors have any light coming around them when they are shut? Weather-strip and insulate all the windows and exterior doors to prevent cool air from escaping or heat from entering.
Use clothes dryers and washing machines with full loads; it takes just about as much energy to dry one pair of jeans in a dryer as it does a full load.
Is there a pool at the house? Use timers on the pumps and realize that when the pumps on the pool are running, the electric meter is working, too. A 2 HP pump running 24 hours per day will easily add over $100 to $130 more to a monthly energy bill.
Are the air-conditioners' filters routinely cleaned? Dirty filters slow down the air flow and make the unit work harder and run longer.
Finally, make sure your A/C unit is serviced in the spring to prevent costly problems in the summer.
"There is only so much you can suggest in an existing home to upgrade the efficiency with reasonable cost," said Langston. "But when building a new home you can eliminate many future energy related problems from the start if you invest a little more money into energy savings features."
Also, visit SWEPCO.com/Save to find several more tips on making your home more energy efficient for little to no cost.
Karen E. Wissing works in Shreveport-Bossier City and loves her community. E-mail your questions, comments or suggestions to editor@theforumnews.com.