without cutting corners on your bathroom remodel
When homeowners get the urge to remodel and renovate their homes, two rooms immediately top the list: the kitchen and the bathroom. In the last decade, we've seen something of a renaissance in home bathroom design. From an innovative use of materials to radically reimagined bathtubs and toilets, today's bathrooms offer a dream space with comfort and convenience in a stylish package.
Kristina Hatfield of Plumbing Warehouse in Shreveport is seeing a lot of new trends in 2018.
"Matte black, matte gold and polished nickel finishes are really popular right now," she said. "Also, freestanding tubs are the new thing in bathrooms. Regarding lighting, thoughtful simplicity paired with LED is very desirable right now."
The remodeling or renovating dream, however, comes with a price tag. A midrange bathroom remodel that includes a steel tub, a pressure-balanced shower, ceramic tile floor, vanity and integral sink could cost almost $20,000, and that's for a 5-by-7 room. An upscale remodel might cost as much as $60,000.
But before this sticker shock scares you away, know there are secrets to saving money and still getting a beautiful bathroom. We sat down with Lynn Schrage, interior designer at Kohler Co., to learn some of her tips and tricks. Here are five of the best.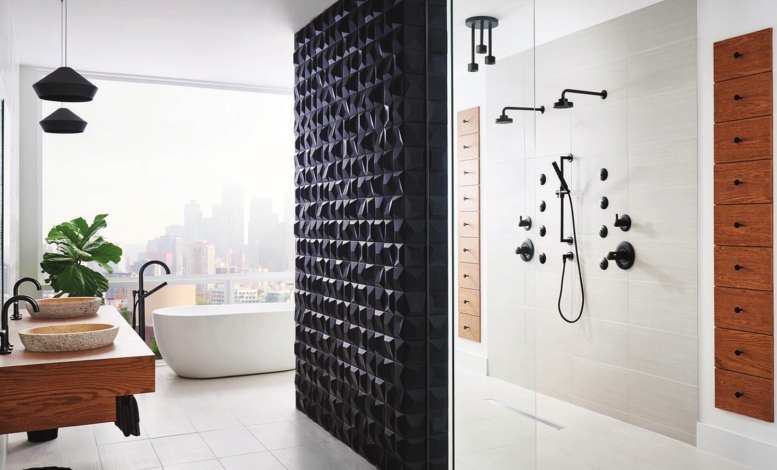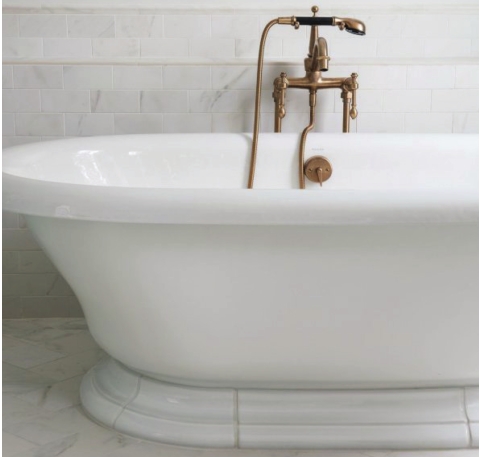 1. Find a focal point: You don't need to have top-ofthe-line everything to create a stunning bathroom. Think in terms of what piece you want to be the star of your bathroom. Maybe you want it to be the sink, a freestanding bathtub or a spa steam shower. Pick one fixture that will draw the eye in and take center stage. You'll be amazed at what this does for the overall effect.
"We try to get our clients everything they want or need without blowing their budget," Hatfield said. "Sometimes they have a certain piece that they can't live without, so we will plug in other items for the rest of the project to make it all work together."
2. Incorporate creative storage solutions: In remodeling a bathroom, it's always exciting to stumble upon a solution that brings together the practical and the beautiful. This happens a lot when you try to figure out how to store toiletries, towels and more. Wall cabinets, wicker baskets, storage ladders and storage towers create charm and keep your essentials orderly.
"Clever rollouts and design tactics make use of slim spaces," Hatfield said. "As do recessed medicine cabinets. A 'niche' in the wall above a freestanding tub can hold towels, toiletries or anything else you need for your bathing experience. Some of our Kohler vanities have optional plugs built in to the inside of the cabinet."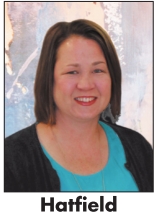 3. A touch of luxury goes a long way: One of the most effective ways to create a stunning overall effect is to mix a touch of luxury with quality materials. For instance, coordinate wooden cabinets with a tiled paneling treatment around the bathroom. Also ripe for coordination are corrugated shower panels with stone or porcelain tiles. Focusing and investing in these luxury elements while using quality material will help offset costs and give you the look you've dreamed of.
4. Select an integrated vanity top sink: Looking through your many choices of sinks, showerheads, toilets and other fixtures is downright inspiring, but sometimes it can be hard to know where to start. Of all the options available, consider setting your eye on a vanity top with sink mounted on any number of vanity styles you like. This combines style with functionality in a timeless design and cuts down on clean up and your installation cost.
5. Work with a professional: Many people who want to save on a bathroom remodel think the most economical way is to go it alone and take the DIY route. However, a professional designer can help you discover the style that fits your personality and budget – and help you avoid costly mistakes. For instance, Kohler's Bathroom Design Service provides expert advice, 3-D bathroom renderings and logistical guidance.
Plumbing Warehouse encourages using a designer when possible. "There can be a lot of stress involved with picking out everything you need to pull a room together," Hatfield said. "A designer is experienced with marrying style and function, while keeping the client's wishes in mind."
To discover more inspiration for your bathroom, visit ideas.kohler.com, where you'll find the ideas and advice that will get you started on your journey to your dream bathroom.
– (BPT) and Betsy St. Amant Haddox