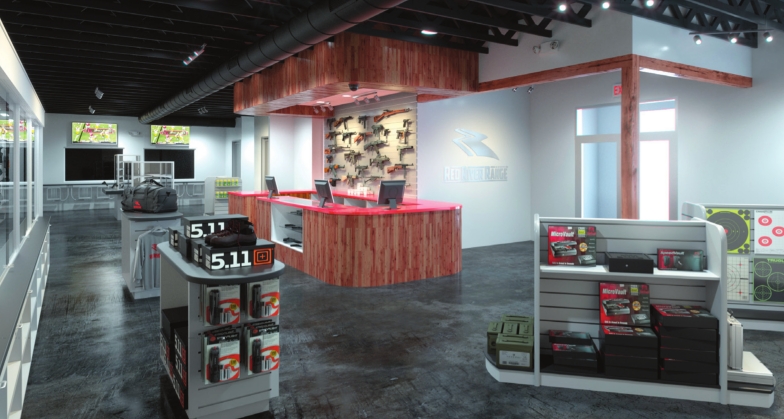 Entrepreneur aims to create shooting range
Louisiana is known as the "Sportsman's Paradise."
If C. Bradley Simon has his way, Shreveport will soon be known as the "Shooter's Paradise."
Red River Range, billed as "Louisiana's premier indoor shooting range and training facility," is under construction on 6.5 acres off Line Avenue. Expected to open this summer, the facility will feature a year-round, climate-controlled environment for gun enthusiasts to practice and learn.
"People love to shoot, and they love their guns," said Simon, president of Red River Range. "But there has never really been a place to go and train as far as an indoor facility – where weather doesn't matter. You can go in the summer when it's 110 degrees. You can go in the winter when it's 20 degrees. Rain or shine, it doesn't matter."
Simon suggests thinking of as a "Guntry Club."
"You take away the tennis court or the golf course, and instead you have a shooting range."
Red River Range will feature 19 shooting lanes – two eight-lane pistol bays at 25 yards and one three-lane rifle bay at 100 yards. Those lanes will feature advanced, programmable, turning targetry systems.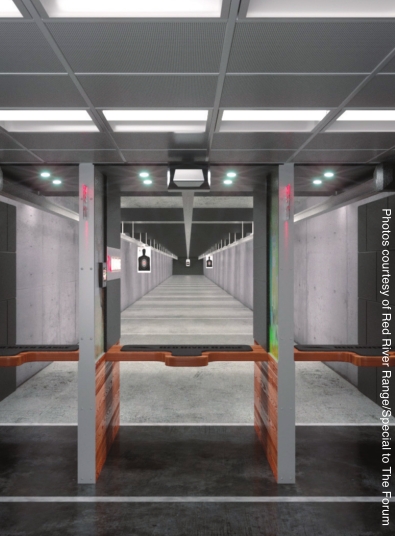 However, Simon says those bays will provide a much more pleasant experience than if you were at a "traditional" shooting range.
"Our ventilation equipment is over half-a-million dollars," Simon said. "It will pump in 100 percent fresh air, so while you're shooting, there's no smoke. There's no lead hazard. There's no gunpowder smell. Just a nice, gentle breeze at your back, and it will be 68 degrees year-round."
Other features of Red River Range are expected to include:
• Granular rubber bullet trap that minimizes sound and lead pollution
• Custom shooting stalls with more room than standard stalls and designed to reflect the rich history and heritage of our area

• Retail pro shop
• Full-service gunsmith

However, Red River Range will be more than a place for you to shoot. A training academy will have classes on how to handle specific types of firearms.
"We'll offer everything from the Louisiana concealed carry applications to advanced and basic pistol, rifle, precision rifle, emergency preparedness and medical training, self-defense classes, ladies' familiarization classes, youth and hunter safety classes, and reloading," Simon said. "Basically, we'll offer a whole gamut of training opportunities for people who want to learn."
At Red River Range, "shooting" won't be limited to guns. There will be an outdoor static archery range and a 3D interactive archery range. And adding to the "family-friendly" environment, there will be a pond stocked with fish, and there will be a picnic area.
Simon has had the idea for Red River Range for several years. While on active duty (including two deployments to Iraq), the Shreveport native had time to visualize the details.
That was the easy part. "Finding investors was the hardest part," Simon said. "Everybody around here is used to oil and gas, so you show them this kind of project, and people really don't understand it. Finally, I was able to find some guys who could see the vision. I showed them other facilities in other parts of the country, and they kind of got an idea – an understanding – of what we were trying to do."
For Simon, Red River Range is an extension of his love for the outdoors.
"I've always enjoyed shooting sports, hunting and getting outside," Simon said. "I am a strong supporter of the Second Amendment and want to pass that on to people. The best way to do that is to provide a safe, family-friendly environment where the entire family can come and participate in it, and we can continue to cultivate the sport."
While Simon expects Red River Range to draw people from Shreveport-Bossier, he also expects to attract gun enthusiasts from surrounding areas.
"The draw on this facility will not be just Shreveport," Simon said. "It will be south Arkansas, east Texas, all the way over to east Louisiana. The average person drives 34 and a half minutes to participate in the shooting sports. If you take a circle 30 minutes' drive time around Shreveport, that's a big area, and that's just the average. There are people that actually drive further to do it. We want to give them a facility that will encourage people to drive that distance."
For more information, you may visit www.redriverrange.com.
– Tony Taglavore