Eclectic Style for Modern Living
Justin and Heather Penn make Frierson their home
Nestled on a tranquil 22 acres in Frierson is the stunning family home of Creed Contracting owners Justin and Heather Penn. Built to suit the lifestyle and needs of their young family and to serve as a model home for clients, the couple crafted a home they intend to live in forever.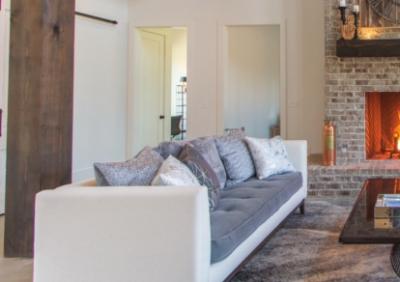 Justin is a second-generation builder and grew up in the home-building industry. "People always want to see a builder's home, so we use our home as a model home," said Justin. "Each room is supposed to be a different experience, so we tried to do different things in every room."
The home includes an office for Justin with a separate entrance for clients and a game room/conference room where he can meet with them. He says building a home is the biggest investment many people will make during their life. "When people come to talk to us about building their home ... we want them to get to know us and see who we are, see what our house is like so they feel more comfortable with us."
Justin and Heather have three young children and two dogs, so easy-to-clean polished concrete floors by Custom Concrete Designs were an easy choice for Heather. The cabinets in Justin's office, as well as throughout the rest of the home, were made by American Woodcraft. Justin built the stained cedar countertop with leftover pieces from the beams on the home's fireplace. "On all my jobs, I try to use up every bit. People are paying for this, so you might as well try to use it somewhere," he said.
An unusual feature of the home is its exposed ductwork. It runs in the back hall and into Justin's office, then through the game room/conference room and into the pantry, and finally terminates between the kitchen and living room. Heather wanted the exposed ductwork, but it wasn't a priority because of cost. A hitch in the home's floor plan made the exposed ductwork a reality.
The hallway between Justin's office and the game room/conference room features a mudroom with lockers for the children that Heather designed. She wanted them to have a metal insert, so they had some sheets cut from roof flashing, and Justin installed them. Justin also built the bench from leftover cedar. Waters' Specialty Countertops put in the Leathered Absolute Black granite counters and also installed the majority of the counters in the home.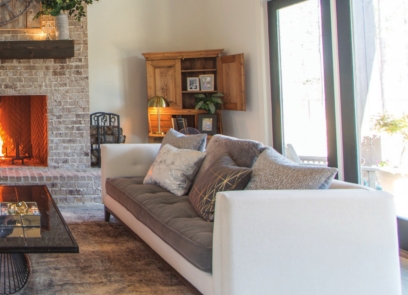 "A lot of stuff in this house, I physically did myself, because it's our personal home, and I wanted it to have a little more sentimental value," said Justin.
The couple found the barn doors to the game room/conference room at Canton Trade Days. The doors came from a wedding hall that burned down. The pipe door handles are authentic gas pipe from Home Depot. Heather did the cabinet design for the bar, while Justin made the cabinet fronts from galvanized grill mesh. He also built the liquor bar shelf, and Heather stained it. Ark-La-Tex Glass and Mirror made the mirror above the bar. "It's a sheet mirror. They built the frame to go around it, so I could have the exact size I wanted and the frame I wanted and not have to shop for it," said Heather.
A large glass sliding door by Custom-Bilt Cabinet & Supply dominates a wall. The conference table – previously purple and yellow – was refinished by Milling Around Interiors.

Heather wanted a modern couch and purchased it from allmodern.com, after a consultation with Space:interiors. The bathroom is handicap-accessible. Justin and Heather's middle son has Down Syndrome, and Heather is on the board of directors for the Arc of Caddo- Bossier. They enjoy hosting Easter egg hunts and other fun events for children and families they have met through the Down Syndrome community.
All of the kitchen appliances are from The Kitchen & Bath Cottage – the oven and industrial refrigerator are Kitchen Aid, and the cooktop is Thermador. The pot filler and sink faucet came from Facets. Heather designed the vent hood, and TNR Metalworks created it. "I wanted it to be as industrial as possible and wanted it to be a focal point," she said.
The countertop and solid white backsplash are quartz. Heather wanted something with no grout lines that would be easy to clean. The kitchen cabinets are Alabaster, and the island is Peppercorn Gray and topped with Fantasy Brown marble.
The dining table is from allmodern.com, while the couches came from Designer's Showroom. "I found one of them when Designer's Showroom was going out of business," she said. "They had one on the floor, and they ordered another one for me."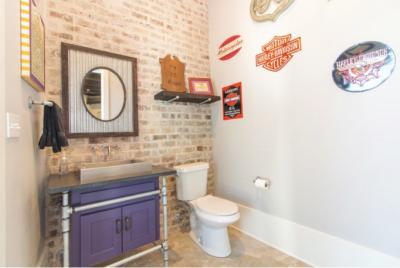 The couple chose not to place a washer and dryer in a centralized location, though the pantry does have hook-ups for them. Instead, there is a set in the closet in the master bath and another set on the second floor. The pantry has tons of storage for both goods and appliances. "When you live this far out, you need places for storage. You need to be able to shop at Sam's Club, because there's no place to go if you run out of toilet paper," said Heather.
The fireplace commands attention in the living room. Heather designed it based on photos she saw on Houzz. It is a freehand-laid fireplace with faux beams to accommodate lighting. More faux wood beams adorn the ceiling. A playroom for the children is located off the living room.
The master bedroom has a golden poster bed from Designer's Showroom. The tub deck, tub front and soaker tub surround in the en suite bathroom are quartzite. The shower tile was purchased from and installed by House of Carpets, and they also did the lighting. The doors, mirrors and mirror frames are from Ark-La-Tex Glass. The light above the tub came from Southwestern Salvage, and Heather stained it.
Two unusual features on the first floor are an aromatic cedar-lined closet under the stairs and a family storm shelter.
The stairwell lights are from Southwestern Salvage and were rewired to hang at different levels. Heather designed the raw metal railing, and TNR Metalworks welded it on-site. "There are three rails for each one of our three kids, and also for safety purposes," she said. "Our middle child has no concept of danger and likes to climb, so all of our railings are excessively tall."
There are three bedrooms on the second floor. The boys' bedrooms are connected with a shared Jack and Jill bathroom. Their daughter's en suite bath features a Calacatta marble countertop, princess crown-style light fixture with a mirror frame made to match it.
A large guest bedroom with a separate staircase entrance was carved out of attic space with their middle son in mind. "If he decides to live with us for the rest of his life, he has this all to himself," said Heather. "He has a back entrance. He has his privacy." The space also has room to add an en suite bathroom and kitchenette if needed.
VENDOR LIST
• B&B AC SERVICE AND REPAIR
• H&H ELECTRIC COMPANY
• WHITLOCK'S PLUMBING COMPANY
• SOUND MINDS
• HOUSE OF CARPETS
• HENSON'S LIGHTING
• CUSTOM BILT CABINET & SUPPLY
• KITCHEN & BATH COTTAGE
• ACME BRICK COMPANY
• ACTION GARAGE DOOR COMPANY
• ARK-LA-TEX GLASS & MIRROR COMPANY
• FIREPLACE SPECIALTIES
• CUSTOM CONCRETE DESIGNS
• M&J ROOFING COMPANY
• LAWNMASTERS INC.
• RICH VILLA BRICK AND CEMENT
• MARTIN MARIETTA
• ROPPOLLO INSULATION