Bringing value to the business of sports
On a March morning in 1965, Richard Welch's mother dropped him off at a Jackson, Miss., daycare.
She didn't come back to pick him up. No one did. At seven months old, Welch had been abandoned.
He wasn't old enough to be scared. He wasn't old enough to know the unknowns ahead. Heck, no one except his mother knew if he had a name. (It would be many years later when Welch found out his birth name.)
But James and Margaret Oswalt knew. They also knew they could not let this baby boy face life alone.
Thus, was born – again. "(They) found out through their church and adopted me," said Oswalt, now a 53-year-old husband and father of two boys.
"She (Margaret) went to see me and had a dress that had a big bow on the front from the '60s. I reached up and untied it, and that was it. She said she had to have me."
From abandoned infant to the new strategic partnerships and sponsorships director for the Shreveport-Bossier Sports Commission. For Oswalt, life has turned out just fine.
"(Margaret) has always told me every day of my life that I am special, and I can do anything I want." Oswalt is proving her right.
"I love what I do," Oswalt said. "I tell everybody I have THE best job in America right now. It's what I was meant to do. It's what I love to do. I have such a passion for the business of sports."
That passion was cultivated while growing up in Mississippi. From the time he was 8 years old through high school, Oswalt and his younger brother, Tony (born to the Oswalts after adopting Ronald), would go to college football games at historic Mississippi Veterans Memorial Stadium.
"You could go see (Mississippi) State and Southern Mississippi at 11, and at night go see Ole Miss and LSU in the same day," Oswalt fondly remembers.
But since their parents wanted to instill a strong work ethic, the Oswalt boys had to earn their ticket money.
"My first job was pushing buggies in a grocery store," Oswalt remembered. "We would cut yards. That's how we generally made our money to go to games. We just had a great time as kids growing up at the stadium."
In high school, Oswalt played football, basketball and baseball. But he soon realized his playing days would end at graduation. "I was a horrible athlete," Oswalt said. "I just loved the game."
But it's tough to make a living on "love," so Oswalt eventually went into medical sales. However, his passion for sports still smoldered. He stoked the ashes by working nights and weekends as a freelance sports writer for various publications.
That experience led to working for several arena football league teams, including becoming vice president and general manager of the Austin (Texas) Turfcats of the Southern Indoor Football League.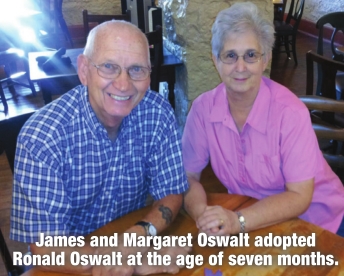 "That's where I learned my true calling was the sales and marketing of sports." Oswalt said. "Putting together media kits, working with area companies to help promote their name through sports marketing. That's where my love is."
After 18 years working and living in Texas, Oswalt longed for the land he loved. Outside of East Texas, Oswalt didn't consider the state to be very "southern."
"You can't always get sweet tea," he said of Texas. "You can't always get Blue Plate mayonnaise. It's just that camaraderie in the South that you usually have with the people you work with and in your church. When I came here and interviewed, it just felt like home."
Since moving "home," Oswalt has been impressed by what the Commission – a fourperson staff – has accomplished.
"They handle so many activities," Oswalt said of his teammates. "We are either sponsoring or run probably 125 events a year in the Shreveport (Caddo and Bossier parishes) area. Everything from state wrestling to past NBA games. Being able to help and volunteer with the Independence Bowl intrigued me because I had already attended it four times before last year. There's so much to do here."
But Oswalt wasn't hired to maintain the status quo. The Southern Mississippi graduate is working on revamping the Commission's website and social media accounts. He believes those platforms can bring value and exposure not only to the Commission, but also to the area and its businesses.
Speaking of businesses, in early April, Oswalt launched his first big project since arriving at the Commission.
"We've already started a networking group called Sports Connectors," Oswalt said. "For the first year, it will be quarterly, then eventually go monthly. We will have luncheons where professional athletes and sports speakers come in. It will be a way for area businesses to network and have a great return on investment by sponsoring with the Sports Commission, yet they are able to network with themselves also – not just the sports and the community. It's like a doubleedged sword. It has double benefits."
Right now, Oswalt is reaping the many benefits of doing what he loves. A happy ending for someone who, at seven months old, wasn't feeling much love at all.
– Tony Taglavore