HOLY ANGELS AUTISM CENTER celebrates its first anniversary this April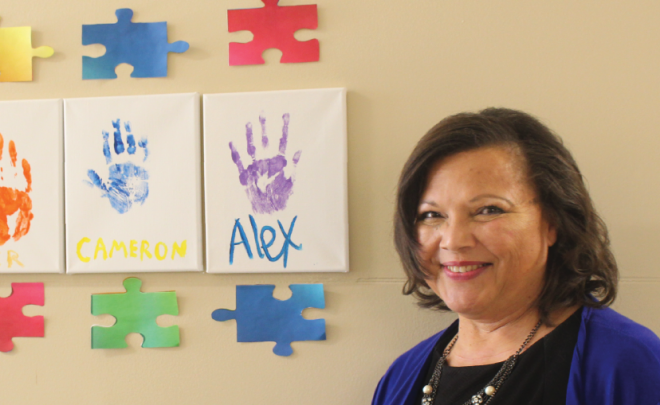 Approximately one in 68 children in the United States has autism. Twelve years ago, one in 150 children in the United States had autism.
"There is a wide spectrum of autism, and those diagnosed with autism are all unique," said Holy Angels Director of Resident Services Mary O'Neal. O'Neal manages the Holy Angels Autism Center, which celebrates its first anniversary this April. April is Autism Awareness Month.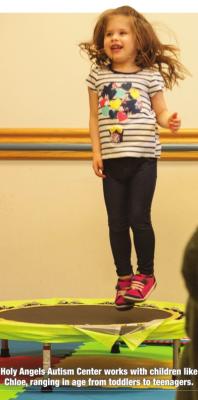 "Holy Angels has worked with individuals with autism since we were founded over 50 years ago. As the growing need for therapy for individuals with autism continued to increase, we knew we had to make changes to help them. We opened the state-of-theart center to offer day services for clients of all ages," said Holy Angels CEO Laurie Boswell. The center is open Monday-Friday and works with children ranging in age from toddlers to teenagers.
One of the cornerstones of care at the center is Applied Behavior Analysis (ABA). ABA is the leading method of autism therapy, and a number of completed studies have demonstrated that ABA techniques can produce improvements in communication, social relationships, play, school and employment for individuals with autism. ABA uses positive reinforcement to improve behavior.
O'Neal is a board-certified behavior analyst (BCBA). BCBAs are experts in this revolutionary method of therapy. There are approximately 250 BCBAs in Louisiana, with only 20 in north Louisiana.
In order to serve the growing population in need of autism therapy, Holy Angels has expanded its services. In addition to O'Neal, Line Technician Supervisor Scott Lepley recently earned his BCBA distinction, allowing the center to grow and serve more individuals.
"We provide training for employees and opportunities to increase the number of professionals certified in the field of Applied Behavior Analysis. We are supervising BCBAs and training registered behavior technicians. We also bring in families and siblings on a monthly basis, providing essential training needed to support parents and caregivers. Awareness of the challenges and methods used to meet the needs of our children will benefit everyone involved," O'Neal said. She stressed that training family members in ABA is key for its success, something unique to the Holy Angels Autism Center.
In addition to ABA, another component of autism therapy is sensory environments. The state-of-the-art SNOEZELEN Multi-Sensory Environment is housed in the center. SNOEZELEN is a relaxing space that helps reduce agitation and anxiety by engaging clients in activities that utilize light, sound, smell and texture. SNOEZELEN helps prevent steady and rapid declines in communication and sensory perceptions in children with autism.
The room also allows individuals with autism to exercise choice and independence, offering empowerment and fun.
The Holy Angels Autism Center will take the power of SNOEZELEN to the community at AngelFest. The center will host a sensory station for all children, but especially beneficial for children with autism, at the outdoor music festival Saturday, April 28. The event takes place from 4 to 10 p.m., featuring live music, and the sensory station will be open from 4 to 8 p.m. Admission is free, but a $25 donation to Holy Angels is recommended.
Individuals interested in visiting the Holy Angels Autism Center or learning more about the admissions process should visit www.laholyangels.org.
– Tara Burton