Shreveport Derby Day returns May 5
A Louisiana spring means one thing: a busy social calendar. Wedding invites, backyard crawfish boils and citywide events abound. Some Shreveport events, including Mudbug Madness, have been around for decades and are loved by locals and tourists alike, while others are new but welcomed with open arms.
One of the newbies is, of course, Shreveport Derby Day. Shreveport Derby Day returns for its fourth year on the lawn of R.W. Norton Art Gallery Saturday, May 5, 2 – 6 p.m.
If you haven't experienced Shreveport Derby Day, here is what you need to know: The lawn is green, the food is delicious, the music is soulful, the mint juleps are pouring, and the annual Kentucky Derby screens on TVs in the tree canopy above the crowd. And don't forget – the derby hats are worn. For this year's event, Drake Catering will add a wholehog, pulled-pork station to its tasty menu, along with a street taco bar. (Tacos at the Derby? The 144th Kentucky Derby falls on Cinco de Mayo.) Nashville-based soul-rock group DeRobert & The Half-Truths will entertain Derby Day attendees, and Wine Country will provide an open bar serving traditional Kentucky Derby cocktails.

Awards for Best Dressed and Best Hat will be given, and the popular Derby raffle will be sure to please.
The event is truly unlike any other event in the area, and the creators behind it – Andrew Crawford, Grant Nuckolls and Matt Snyder – strive to create a different experience with each event the trio manages through PinPoint Events.
"Derby Day is about bringing everyone together," said Snyder. "We put the money [earned through ticket sales] back into [the Derby] to make it as over-the-top as we can."
This year, in addition to the TVs in the trees, a 16-foot-wide screen will screen the Derby for the expected 1,000+ guests.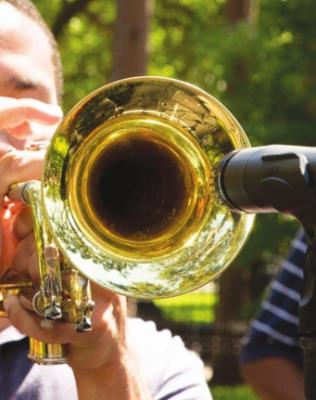 "It's way to another bring a world-class experience to Shreveport," said Snyder.
For Maggie McDaniel, 29, of Haughton, last year's Shreveport Derby Day attracted her for that exact reason and another.
"The fact that it was at [the R.W. Norton Art Gallery] is what really grabbed my attention," said McDaniel. "I was also interested in the fact that it seemed like a departure from most events in Shreveport."
As someone who loves a good excuse to wear a dress and be fancy for a day, McDaniel said she would attend another Derby Day.
General admission tickets for this year's Shreveport Derby Day are $85, and include complimentary food, mint juleps and beer. Triple Crown VIP Package (priced at $1,200) secures you one reserved table and eight Derby Day tickets – each with their own complimentary food, mint juleps and beer.
An additional ticket – the "Southeast Shreveport Jockey Pass" – gives the Derby Day guest round-trip trolley transportation to Derby Day (ticket not included) from Windrush Grill in Provenance Place. To learn more and to purchase your ticket, visit ShreveportDerbyDay.com.
ShreveportDerbyDay.com is also your stop to learn about the other events Crawford, Nuckolls and Snyder have created for the area, including Crawfest, Wheels in the Hills, Tinsel, Bourbon and Bowties, and the Catahoula Wine Mixer.
"We're coming off a very successful year of Crawfest," said Snyder.
The second annual Crawfest, held just last month at Shreveport's Betty Virginia Park, attracted 10,000 attendees.
With the proven success of Shreveport Derby Day and Crawfest, locals looking for events to attend should keep an eye on ShreveportDerbyDay.com to be sure not to miss a unique-to-SBC experience curated by PinPoint Events. It might keep the social calendar full, but where's the fault in that?
– Karen Wissing