MUDBUG MADNESS 2018 PREVIEW
On its 35th birthday, Mudbug Madness isn't getting a complete makeover.
Rather, think of it as a "Mommy Makeover." A little nip here and a little tuck there.
When you visit the annual crawfish and music festival May 24-27 (Thursday-Sunday/Memorial Day weekend) at Shreveport's Downtown Festival Plaza, you will notice some subtle changes:
• The addition of food trucks.

• Artist tents in one area, aligned up and down Commerce Street.
• The "Kids' Area" stage in the center of the corridor behind "The Depot," surrounded by activities.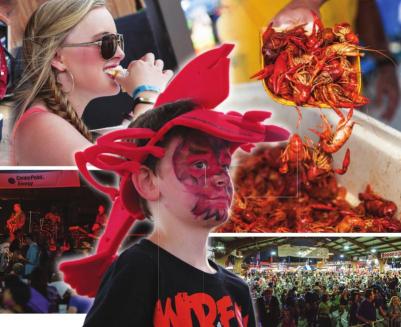 Terri Mathews, now in her 26th year as the festival's chairperson, likes to say, "If it ain't broke, don't fix it." But, traditionally one of our area's most popular events, Mudbug Madness wasn't broke, so there wasn't a need to fix it.
However, there was the need to put a little wax on a classic car to bring out the shine.
"Because rain (the last two years) has hurt us, and it's run people off, we want to be top of mind awareness so when they do come down there, we want to give them a 'Wow!' factor," said Terri Mathews, Mudbug Madness chairperson.
But even with change, two constants remain – constants that helped grow Mudbug Madness from a two-day street festival in 1984 to being recognized as one of the Southeast Tourism Society's Top 20 events.
"We stick with what's tried and true," Mathews said. "Good music and good food."
Admission to enjoy the "good music and good food" will be free Thursday and Friday 11 a.m.-5 p.m. From 5-11 p.m. those days, and all day Saturday and Sunday, admission will be $5 per person. Children under 7 years old and military personnel with ID enjoy free admission all day every day.
"Mudbug Madness has been around 35 years," Mathews said, "so it's the festival your Mom and Dad went to. But we also want it to be the one the new generation comes to. It's a tradition – a tradition of our community. We want to do our part to keep that tradition."
Attracting the "new generation" is a big reason you will be able to order from food trucks this year. Five of them will – in keeping with the Mudbug Madness theme – serve everything from alligator bites to fried shrimp to po-boys.
"We want to appeal to the younger crowd, and the younger crowd – especially the Millennials – love to celebrate and support local," Mathews said. "The food trucks are a big hit with that demographic. We wanted to add that to make sure we hit that demographic and give them something they like, along with some music they like."
The food trucks will be among some 30 vendors standing by to ease your hunger pains. But the backbone of Mudbug Madness – mudbugs – will still be the featured food attraction. Mathews says on a good year, 80,000 pounds of crawfish will be served.
This year, $9 will get you three pounds of crawfish.
"I've been taste-testing," Mathews said in late April. "If the next 30 days hold up, the crawfish are huge and they are good, and there is an ample supply."
Nine dollars is the most you will pay for a single food item at this year's festival, and that's by design.
"We want everyone who comes, at any income level, to be able to have a taste of the festival," Mathews said.
As always, there will be plenty of music at this year's "Madness." Approximately 25 acts are scheduled to perform on two stages – the KTAL Madness Stage and the KTBS Swamp Stage.
"This year, we went all out," Mathews said. "As far as the Main (Madness) Stage – the Cajun and Zydeco stage – we've got the four main performers. Those are your top-notch Cajun and Zydeco artists, and we've got all four of them on all four nights."
The Swamp Stage will feature entertainment tailored to a younger crowd.
The stage will, not coincidentally, be near the food trucks.
"We're trying to appeal to everybody who comes to Mudbug," Mathews said. "The Millennials and younger generation will love the music on the Swamp Stage, and they will even love the headliners on the Main (Madness) Stage because it's more Zydeco than Cajun."
But the festival's desire to skew younger does not mean it has turned its back on the past.
"We have those long-time attendees who love to come for that traditional Cajun music early in the day, so we've got those type bands early in the day for them to come and enjoy.
As always, a variety of artists will showcase their work for you to see and – the artists hope – buy. But this year, instead of being scattered throughout the Plaza, they will be in one area on Commerce Street. The change is part of a bigger plan to make the entire festival simple to navigate.
"I think it's going to make it easier for people to find particular artists because all of the artist tents will now be in one row," Mathews said. "They lead into other areas. For example, the main site where the food and Cajun Zydeco music is, which will kind of lead you into the kids area, which leads you into the Mudbug Market, which is the artist area, which leads you right back into the Swamp. It's more a lead-you-throughthe-site instead of wandering around trying to find things."
Speaking of the "Kids' Area," it, too, is part of the change in layout. The area will all be behind the Depot, with the stage in the middle of the corridor. Attractions such as jumpies and inflatables will be spread out around the stage.
"We hope it will being a little more synergy to the area," Mathews said. "Also, the kids won't feel so removed from the festival. The parents who come over to bring their kids to the kids area will have easy access to the market and have easy access to food."
If you really like crawfish, so much so that you think you can eat more crawfish than anyone else, you will have the opportunity to win cash and bragging rights. Saturday at 1 p.m., there will be a Men's Crawfish Eating Contest ($100 first place prize). Sunday, women (2:30 p.m./$50 first place prize) and children (1:30 p.m./$25 first place prize) will get their turn. There are entry fees for all three contests.
And you've heard of "Calling the Hogs"? Saturday at 4:15 p.m., you can take part in the free "Crawfish Calling Contest."
For more information on Mudbug Madness, including a schedule of events, you may visit www.mudbugmadness.com or see handy brochure in our center spread.