Bossier Innovates Foundation Enhances Community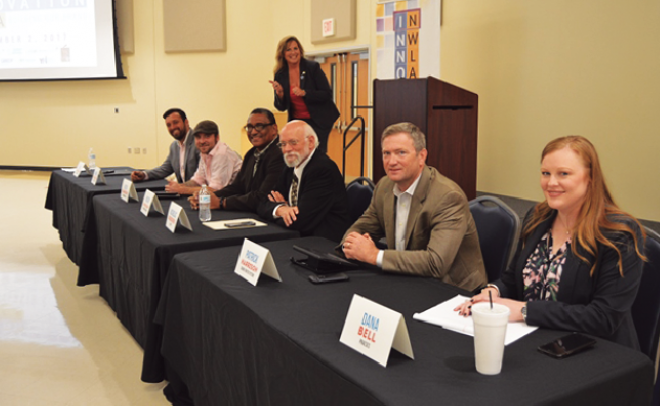 Education, entrepreneurship, innovation and community enhancement key to future
The Bossier Innovates Foundation (BIF) strives to promote programming that cultivates growth and development of a thriving business community in Northwest Louisiana by using three pillars: education, entrepreneurship, and innovation and community enhancement.
Katie Theriot, director of business development and investor relations for the Bossier Chamber of Commerce and staff liaison for the Bossier Innovates Foundation, said one the main focuses of the BIF is workforce development. That is why this particular foundation reaches out to a wide variety of audiences, including kindergarten through 12th-grade students, entrepreneurs and business representatives.
"We want to come full circle within our programming and initiatives, not only target one demographic of people, but all," Theriot said. "Our goal is to diminish the gap that presently exists within the realms of workforce development."
Theriot said the BIF is assisting with this effort by providing scholarships to kindergarten through 12th-grade students for dual enrollment courses, certification costs and AP classes. Through education, the Bossier Innovates Foundation is growing the future leaders of Northwest Louisiana through the Bossier Youth Leadership Program.
The Bossier Youth Leadership Program selects high school juniors from Bossier Parish and trains them on leadership roles. They also gain experience through civic engagement in the program.
The Bossier Innovates Foundation also partners with local school systems to assist in mentoring students.
"Each year the BIF also awards college scholarships to high school seniors who plan to declare a major in an up-andcoming field of study like cyber or STEM," she said. "This foundation houses the Bossier Youth Leadership program, where students learn about civic and business topics. We incorporate our entrepreneurs and business representatives in programming such as Innovation NWLA and E.P.I.C. (Entrepreneurs & Professionals in the Community)."
E.P.I.C. promotes the growth and innovation of professionals and entrepreneurs who will help to build the community's next generation of leaders, as well as improving mentorship and engagement among entrepreneurs and business professionals.
The BIF wants to grow innovation, intellectual property and the entrepreneurial ecosystem within the area, and it aims to educate individuals on all of the entrepreneurial organizations and resources that are present within the community. The foundation also partners with local and regional organizations in order to bring a Regional Innovation Summit to Bossier- Shreveport.
The BIF will bring awareness to the local workforce needs, inspire youth to take the right path toward their future career goals, inspire entrepreneurs and inform them of the resources available in the region to start up a business, and connect businesses and business representatives with all of the aforementioned groups, Theriot said.
"The Bossier Innovates Foundation is enhancing our region by working today on the needs of tomorrow," she said.
Theriot said the BIF also implemented Innovation Northwest Louisiana – the first event of its kind to highlight the innovation and opportunities right here in the region.
The BIF is always seeking partnerships within the community, Theriot said.
"In fact, that is what the foundation is really about – working within the community to address needs in education and workforce, and be an agent for change to find solutions within our region for growth and success," she said. "With the continued success of the Bossier Innovates Foundation, our region would be teeming with a skilled workforce, entrepreneurs and an economy diverse in innovative industries."
Community enhancement – one of the three pillars of the organization – involves the BIF working closely with Bossier City and regional partners to relay business concerns to one another, such as workforce development, workforce training, infrastructure, talent and recruitment.
Anyone interested, whether it be organizations, businesses, citizens or otherwise, can contact Katie Theriot at the Bossier Chamber of Commerce at katie@bossierchamber.com or 318-746- 0252.
The Bossier Innovates Foundation is a 501(c)3 nonprofit organization of the Bossier Chamber of Commerce that began in 2014. Since the beginning, the Bossier Innovates Foundation has managed to define its purpose and increase its productivity and programming. The foundation heads several programs, including Sponsor a Student, E.P.I.C., Innovation NWLA and Bossier Youth Leadership, among others.
The foundation's board of directors is a diverse group of community and business leaders, including Chairman Sandy Cimino, Vice Chairman Bruce Roberts, Finance Chairman Terry Petzold, Terry Talley, Jeff Raley, Jack "Bump" Skaggs, Nancy Knighten, Brian Liesveld, Chris Martin, Keith Hanson and Lt. Col. Mickey Jordan.
– April S. Kelley