Businessman believes in downtown Shreveport
If passion is fuel, Dicky Grieder's tank is full.
Good thing, because he has a long road ahead.
The 67-year-old is driven to do "my little part" to stop the flow of young people leaving Shreveport.
"There's no difference between Shreveport and every other town," Grieder said.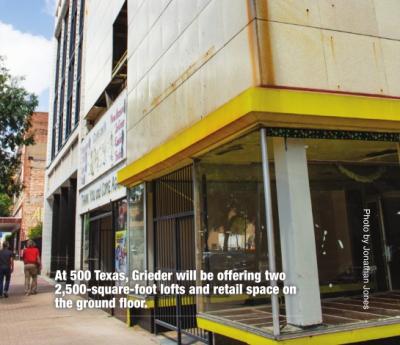 "It's the people in it. We have got to get our kids to stay here and get them to believe in it."
To that end, the San Antonio, Texas, native who moved to Shreveport when he was 13 years old, has bought – and continues to buy – old, vacant buildings in and around the city and renovate them into vibrant places which enhance quality of life. Grieder's current project is "500 Building," which stretches around the corner of Texas Street and Marshall Street. When finished, the top floor will be home to two 2,500-square foot lofts. The bottom floor will be have retail shops.
Grieder believes in Shreveport – in particular, downtown Shreveport. And he's putting his money where his beliefs are.
"For some reason, our young people that are my kids' age – 30-45 – they're negative on downtown and Shreveport. We're asleep. We're asleep because they're (young people) not doing something with it. Maybe we can get this next Millennium group to do something with it if we build apartments down here. If you live downtown, right across the river you've got one of the best shopping areas (Louisiana Boardwalk) and a few good restaurants and a good movie theater that's within three or four minutes."
Grieder is no stranger to the buying and renovating process. His first project was 20 years ago on Line Avenue. Grieder bought a piece of land with a convenience store and built "Corner Collection on Line," an outdoor store which sells – among other things – patio furniture, fountains, fire pits and pottery. At the same time, Grieder also built "Counter Culture," which serves fresh yogurt and healthy food items.
"Everybody thought we were crazy because that's where the Cedar Grove riot was," Grieder said, referencing the part of town where, on a night in 1988, several stores were looted and two stores were set on fire. "Everybody thought we were nuts then, but it's Line Avenue. Line Avenue is Line Avenue."
His next ambitious project was outside the city. Grieder took an expansive piece of land where sat the old Palmer Country Store – and an attached house – and turned it into Hill Country Village. HCV provides a unique country setting for wedding ceremonies, receptions and other special events.
Next, Grieder set his sights on downtown Shreveport. He bought the old Jordan & Booth building and turned it into "421 Texas." The venue is billed as "Shreveport's Premier Downtown Event Center."
On a recent tour of "500 Building," Grieder was downright giddy – using his words as the brush to paint a picture of how he envisions the finished product. One thing Grieder did not use, however, was a set of plans. He is his own architect. His "set of plans" is his imagination.
"When I see something, I act. I do it," Grieder said. "I'm just not a procrastinator. If I see something and I want that to change, I'm going to change it. I'm going to try to get it and make it happen. I don't sit back and contemplate it."
For 30 years, the husband, father of four children and grandfather to 10 grandchildren, traveled the South as a garment salesman. He saw first-hand the rise of cities like New Orleans, Baton Rouge, Jackson, Little Rock, Memphis and Nashville.
"I've seen a lot of towns in the infant stages, and they've grown and we've stayed stagnant," Grieder said. "It's because we lose our kids. We send them off to school and then they to go Austin – which Austin is great and Dallas is great – but they built that town just like we could have built Shreveport. So we lose our bluebloods – our money people – to other towns. Their parents give them the money, and they go over there and live and spend all their money there and don't come home. But, that might be changing. I'm hoping that's changing."
Something else Grieder would like to see changed is Shreveport's Mardi Gras parade route. Instead of its current path along the Clyde Fant Parkway, over the Shreveport-
Barksdale Bridge, then along East Kings Highway, he would like to see the parade roll through – you guessed it – downtown.
"If you did it in a downtown area from Municipal (Auditorium) to the (Red) River, it would be a pretty cool place," Grieder said. "Just close off some streets and have thousands of people in your downtown area if you're really wanting to build up your downtown. I could see that happening one day."
Grieder can also see the day Shreveport's young people – when faced with an opportunity to move away – decide to stay home.
"I want my kids to stay in Shreveport and be in Shreveport, and I want my grandkids to stay here," Grieder said. "It's a great community."
A community Grieder is determined to help remain "great" – one "buy and renovate" building at a time.
– Tony Taglavore