Man carves over 3,000 wooden hummingbirds in memory of his father
There was never enough time. Years ago, Michael S. Gable remembers his father asking him to carve hummingbirds from wood with him in his workshop. It was his father's new hobby after he found a hummingbird that someone else had carved in Artist Point, Ark. But Gable was working two jobs, raising kids and building a house – he just couldn't find the time to learn to carve hummingbirds with his dad.
Then in 1994 when Gable's father passed away, it seemed like time had run out.
"He said, 'One day I'm going to be gone, and all this information will go with me.' Well, that means something to me now, but it didn't back then."
While spending time in his father's workshop, Gable found hummingbirds that were in different stages of completion. With his father's spirit guiding him, Gable picked the birds up and began working to finish them.
"He was so adamant about me learning how to do these, but I never did find the time until after he passed."
Over the years, Gable continued to carve the birds in his spare time when he wasn't working. He would give them away as gifts whenever he felt compelled to. Gable recalls going to a Living Bible Tour show and feeling bad for the woman who played Ruth. He said it was sleeting outside, and she endured the cold weather to finish her presentation. Gable gave her a hummingbird that he carved, and it moved the woman to tears.
"It meant a lot to me that I was able to pick up where he left off and continue carving," Gable said. "That's why I gave them away as gifts. I honestly believe that my gift of working with wood is a gift from God."
In total, Gable has carved over 3,000 hummingbirds since he started in 1994. Puerto Rico, Colombia, Brazil, Belgium and Italy are just a few places to where his hummingbirds have traveled. He says his family hosted exchange students for a couple of years, so all of their families received a carved bird as a gift.
The creation process begins with finding the perfect piece of wood. Gable finds wood that has already been cut in someone's yard, looks for wood that has fallen after a big storm and has a few tree surgeon friends that give him wood. He says he will never cut down a tree for his projects.
"I won't cut a live tree for my woodwork. I don't think that's right."
Gable says he tries to show off the beauty of the wood because each tree species creates a different looking hummingbird.
"Different species of wood have different looks to them once you open the tree up. I look for something with unique grain or pretty colors. Dogwood is amazingly beautiful inside."
Once the perfect piece is chosen, Gable will work the tree trunk down to a block of wood with the correct size and dimensions. He draws a front and side view of the bird onto the block and cuts it. Then he'll use a rotary tool to shave the figure down so that it looks more like a hummingbird. The final touches include sanding the figure and putting lacquer on it for a smooth finish. The whole process requires a great amount of skill and a history of working with wood.
"I call it wood sculpting," he said. "I've tried to show other people how to carve my birds, and they don't seem to get the gist of it. You have to understand the wood. Each species of wood reacts differently to cutting tools, so you have to be mindful of that."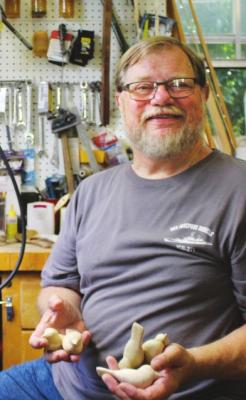 When Gable is carving the hummingbirds, there is one goal in mind.
"I try to show the beauty of wood in the shape of a hummingbird."
Gable knows that his father would be proud of what he has accomplished. He says that he could feel his father's spirit with him when he carved.
"When I started carving his birds, he was beside me every time I sat down to carve. I could feel his presence up until my mother passed in 2005. He has not been back to visit me since … evidently, he is showing Mom around up on the Golden Streets."
Their bond was an unbreakable one. Both men worked as carpenters – they even did woodwork at the same architectural mill. When Gable asked his father to be the best man at his wedding, his father told him that was usually reserved for the best friend.
"Well, Dad, you are my best friend," he said.
His father didn't want to have to wear a tuxedo, but he did it for his son. Now Gable is continuing his father's legacy by teaching his daughter to carve hummingbirds, too.
"He was very much a family man, and for him to know that I was carving his hummingbirds and continuing his legacy, he would be very, very proud. He is smiling in heaven right now."
After giving away his birds for over 20 years, Gable has finally decided to start selling them. Even though it was almost sacrilegious to him, he says that they've made such a big splash in town. It has encouraged him to become a registered artist through the Shreveport Regional Arts Council along with his daughter.
She has started to carve comfort birds, and they continue to find time to work on projects together.
"It has gotten us closer on a personal level. Life has a way of getting very busy and keeping us away from those we love. This gives us time for learning and teaching projects. It has gotten us closer than we've ever been."
Now that he is retired, Gable has started doing restoration woodworking for his church. He enjoys donating his time and materials to complete various restoration projects for them.
"God gives us all a gift, and mine is working wood with my hands. It's not something I created, I feel that it is something that God has bestowed upon me. That's why it's important to me that I give back."
For more info on how you can purchase a carved hummingbird, contact Michael S. Gable or Kimberly Gable via Facebook.
– Jessica Carr