NEW SENIOR HOUSING OPTION
The Blake to open in Bossier City
The Blake at Bossier City is a new assisted living and memory care community in Bossier City, La.
The Blake offers seniors and their families a unique senior lifestyle option that addresses their expectations for the highest level of technology, innovative apartment designs and unique offerings, such as a full-service coffee shop, restaurant and lounge, expansive courtyards, media theater, chapel, full-service salon and spa, outdoor fireside seating situated in a beautifully landscaped courtyard with putting greens and an unmatched activity program.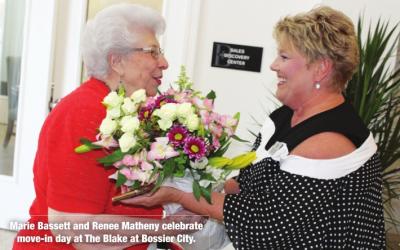 In addition, the property offers a full continuum of wellness and personal care supportive services, including 24-hour nursing, housekeeping, transportation, on-site primary care practitioner services, home health and outpatient rehab therapies.
"The opening of the Blake at Bossier City brings a level of service and amenities that is not currently available to the area's older adult population," Glenn Barclay, co-founder of Blake Management Group, said. "The community is specifically designed to meet the expectations of our independent residents, as well as those residents that may require more assistance with their activities throughout the day. Our philosophy of aging in place is evident throughout our residences and common living areas, as well as throughout our program and service offerings."
Barclay was inspired to start The Blake when the need hit home personally. "When my mother-in-law was aging, my wife and I couldn't find any senior housing options that provided enough socialization, care or supervision to provide us with peace of mind," Barclay said. "This personal dissatisfaction was a major catalyst for us to create our brand."
Blake Management Group is truly a family-owned and -operated business. The Blake is named after Barclay's son, who had a very special relationship with his grandmother. "We took a lot of aspects that were important to us – my son and his grandmother – and built them into our brand's foundation and culture," Barclay said.
"We're finding that seniors are becoming more and more tech-savvy," Barclay said. "So, we have incorporated high-speed wireless Internet connectivity throughout the community, which is included at no charge to all residents. Additionally, our activities program utilizes an interactive software program called It's Never 2 Late (iN2L) that allows us to create profiles with content customized to each resident."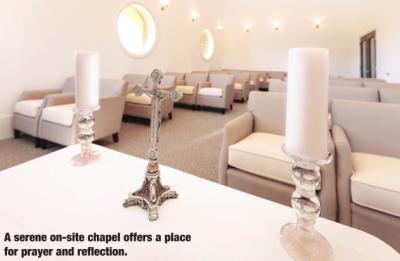 In terms of wellness and safety, the Blake community is designed with a state-of-the art staff call system. "Each resident can utilize a hand-held pendant or watch to summon our care experts wherever they are in the building," Barclay said. "The property also has a secured memory care community with 48 apartments. Each is equipped with an innovative motion sensor system that can be customized to the needs and preferences of the resident."
The system summons care experts to the resident's apartment as needed to provide the required assistance and supervision. "This system is the first of its kind in the Ark-La- Tex," Barclay said.
Their extra effort in regards to memory care is also a comforting element of the Blake. With memory care-designed floor plans, monitoring systems and customized wellness programs, the Blake offers memory care suites that are safe and secure for residents with Alzheimer's disease or other forms of dementia so families can rest easy that their loved ones are in good hands.
Currently, there are 12 Blake communities in operation, with eight more in various stages of development. "We'll open our communities in Pensacola, Fla., and Kingsport, Tenn., later this year," Barclay said. "Also, we'll be breaking ground soon on a community in Harahan, La., a suburb of New Orleans."
Barclay is very pleased with the Bossier location thus far. "Since the very first day that we met with city officials, this market has been by far one of the most welcoming and easy to work with. From the city of Bossier City to the Chamber of Commerce and the greater business and medical community, we have been overwhelmed by the support," Barclay said.
Apartment availability is limited. To reserve or be placed on a waiting list, call (318) 752-6611.
– Betsy St. Amant Haddox
MORE INFORMATION:
For more information, visit: Website for the Blake at Bossier City: https://www. blakeliving.com/bossiercity The Blake at Bossier City on Facebook: https://www.facebook.com/theblakeatbossiercity/