Talented roster of entertainers to perform
The 15th Annual Highland Jazz and Blues Festival, presented by Bistro Byronz and Rotolo's Craft and Crust, will be held from 11 a.m. to 6 p.m. on Sept. 15 at Columbia Park in Shreveport.
This free festival is a great time of good tunes, good food and good fellowship. With over 50 vendors in attendance, there's sure to be something for everyone. A wide variety of food, arts, crafts and more will be available, creating a familyfriendly atmosphere for all to enjoy.
Of course, the Highland Jazz and Blues Festival wouldn't be a real festival without a fantastic lineup of talented jazz and blues bands. There will be a total of eight bands playing throughout the event, bringing unique sounds and energies to liven up the day.
Emerie Eck Gentry, festival coordinator for the Highland Jazz and Blues Festival, is especially looking forward to the big event.
"The Highland Jazz & Blues Festival is an event produced by the Highland Area Partnership, which is a 501 (c) (3) not-for-profit arts organization, dedicated to being a positive force in the growth of Shreveport's historic Highland neighborhood," Gentry said. "Through the festival, we will continue to attract thousands of people into Highland who might otherwise never consider visiting our neighborhood. Some of those people will like what they see and make Highland their home."
"Attendees can look forward to a full day of fun in the park, where we can all celebrate our community in a safe environment with music and merriment!" Gentry said.
Bios of the featured bands include:
Buddy Flett

Shreveport's very own Grammy Awardnominated Buddy Flett. Buddy has played at nearly every Highland Jazz and Blues Festival.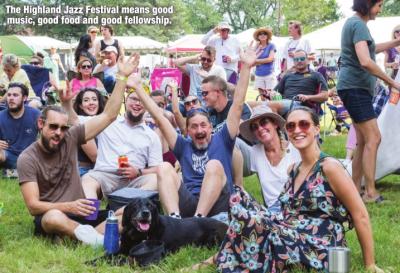 Easy Money

The group has been performing since 2014 and plays original music along with a variety of classic soul, R&B and pop covers. You will find their diverse range of musical inclinations to be both entertaining and refreshing. Easy Money is Sarah Smith, vocals; Chris Boston, guitar; Weldon Stutes, bass; Dirty Redd, trumpet; and Curtis Joseph, drums.
Twang Darkly

Twang Darkly is Michael Futreal's trio based out of Shreveport, specializing in performing and improvising original "rural space music" featuring Futreal's handmade electric gourd, chromatic dulcimers and various flutes made from bamboo and gourds. Joel Boultinghouse adds electric guitar and bass; Lane Bayliss handles drums and percussion.
Tipsey the Band

Tipsey, the house band for Shreveport's Artipsy and Bon Temps Coffee Bar, is not your average cover band. A nine-piece artillery equipped with poets and recording artists, the eccentric, urban Tipsey is sure to provide a high-energy, interactive show like no other. With a vast array of influences ranging from Journey to Cash Money and even originals all the way from "Soulville," you'll definitely dance the night away – whether you're tipsy or not!
Dur-Di Rice

Dur-Di Rice Brass Band is local to Shreveport, and they are shaking and baking and cooking with grease! Dur-Di Rice Brass Band is a traditional Louisiana second line brass band. They've tweaked the old model of a traditional second line brass band by bringing it down to five or six people making it sound more like 40 + people are playing next to you!
Josh Love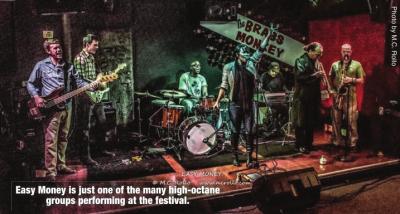 Josh Love grew up in the small town of Crossett, Ark., and didn't pick up the guitar until he was 15. After graduating in 2015, he began playing professionally in the local scene, receiving the Emerging Artist Award for the 2016 NELA Music Awards. He can be heard playing regularly in the Monroe and surrounding areas. Being a fan of music since he was a little child, he channels virtually every genre in his playing and singing – from rock to R&B to gospel to blues. Not being afraid to cross barriers, Josh Love is able to connect with any crowd.
Seratones

The Shreveport, La., natives, Seratones, make a strong case that this little-known corner of our state is fertile ground, musically speaking. A.J. Haynes and the rest of the band serve up a combination of Southern musicality, garage rock ferocity and general bad-assery.
Flow Tribe

Few bands arouse a crowd into a collective shake like Flow Tribe. The sixmember band's onstage chemistry reflects a seamless combination of soul and movement that hits the audience within the first few notes. Virgin listeners and avid fans alike are drawn in by the distinctive sound that feels both familiar and original. Outfitted for each performance in colorful, carefully selected suits, the group's focus is sharp, and attendees know the party has begun.
While music is obviously a highlight, the Highland Jazz and Blues Festival is about more than just good tunes. "In addition to bringing people in, the Highland Jazz and Blues Festival creates free and positive press for the Highland neighborhood," Gentry said. This benefits the entire community.
At the end of the day, the verdict is in. "People of the community should come to the Highland Jazz and Blues Festival to see some great local and regional bands, visit with local vendors and make some great memories with family and friends!" Gentry said.
– Betsy St. Amant Haddox