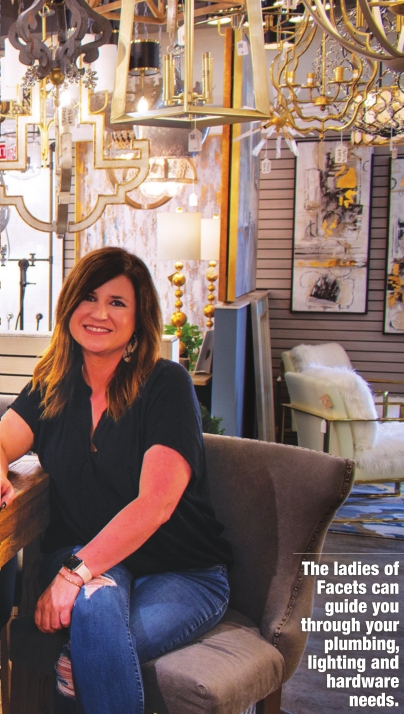 An expanding company, LCR now provides for your lighting and hardware needs with their newest branch
of Shreveport is a local onestop shop for plumbing, lighting and hardware needs. More widely recognized as LCR-The Plumbing Warehouse, the showroom itself is now known as Facets of Shreveport.
"We're another facet, if you will, of LCR," explained team member Holly Donaldson. Facets is a fullscale showroom offering plumbing, lighting, door hardware and cabinet hardware to select for both new construction and remodels.
"Our company is expanding into different facets of the home," Donaldson said. "Where LCR has always been primarily plumbing, we now offer lighting, door hardware and cabinet hardware, as well as home decor. Throughout our various branches across the state, some locations offer tile and appliances, too."
"Each one of our sales associates specializes in different areas," said Donaldson. "While most of us are fluent in the plumbing department, I'm the specialist in new construction and remodels, while Melody is our walk-in tub expert. We each have different strengths we bring to the table. Kimberly is our primary lighting specialist, and Caitlyn is able to help with both lighting and plumbing."
The team genuinely loves what they do. "I'm so inspired by these ladies every single day," Caitlyn Stevenson said. "I love being a part of creating a perfect space for my customers' new homes or remodels."
Kimberly Head couldn't agree more and enjoys getting to know the other side of the industry. "I love partnering with our fabulous decorators!" Head said. "We work with so many decorators that have a vision of each and every project, and that is refreshing."
"Besides the incredible people I work with, my favorite part of my job is simply being a part of the experience. Building a house or remodeling takes a team effort, and I love the feeling of knowing I'm a small portion of that team," said Donaldson.
Each team member brings a personal sense of style and a wealth of knowledge to the showroom.
For example, Stevenson's favorite plumbing fixtures are the Purist line from Kohler in Polish Nickel. She also loves the Savoy House and Capital Lighting brands in lighting. "No matter how traditional or modern your taste is, I can find something in either of those companies to make any customer happy," Stevenson said.
"Hudson Valley lighting with their timeless style is my very favorite," English said. "Classic details render lighting design that will span generations."
"The Jason Wu faucet from Brizo is my favorite," Donaldson said. "It's the little black dress of plumbing. In lighting, I love everything Mitze. They're a little funky and a whole lot of fun!" According to Stevenson, current trends are black-and-white color schemes with a fun pop of color in the room. English is seeing a rise in trends of soft gold and mixed metals in the local area. Head agreed. "They create a comfortable, warm feeling that 'matchy-matchy' just does not create," Head explained.
Looking toward the fall and winter, Stevenson expects to see more earth tones becoming popular. "Leafy greens, relaxing and natural woods, concrete and mixed metals are where it's heading," Stevenson said.
"Gold is hot, but black is the new neutral," Head said. "Less is more. Wood combinations with silver or gold accents are also coming on strong. We've been using black hardware for a while now, but to have the option of black facets is a home run!" "Matte black plumbing fixtures create a sculptural piece that is as beautiful as it is functional," English said.
"Militaristic pieces are also on the rise recently. More natural materials, stones and woods will be making an impact as well," Donaldson said.
Facets of Shreveport is located at 235 Lynbrook Ave. and is open Monday-Thursday 8 a.m. to 5 p.m. and Fridays 8 a.m. to 4 p.m. For more information, call 318-671-1200 or find them on Facebook. You can also visit www.facetsofshreveport.com and shop/browse lighting selections or make a wish list, right from the comfort of your own home.
– Betsy St. Amant Haddox