Texas Avenue joint just dying for your visit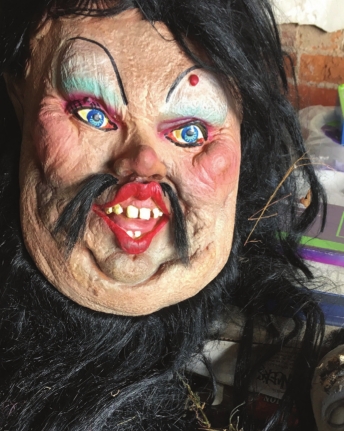 "The haunted house gallows, guillotine, cemetery and zombie feast are there," says Ed Hughens, event designer, "but this scary site, La Louisiane House of Voodoo, has a Bayou-Haitian vibe." It also is situated in a historic building, 1835 Texas Ave., in a neglected and hairy part of Shreveport: the once-happening West End of the avenue.
Hughens, a veteran carpenter/construction coordinator on movie sets – among them "Apocalypse Rising" (2016) and "Daisy Does Daisy" (2018) – and his coowner, Robert Miller of New Orleans, are recycle-minded builders and imaginative users of all kinds of neglected materials. Discarded pallets have become caskets, foam slabs have been re-shaped to become grave tops and crosses, an antique dentist's chair has become an electrocution seat.
Both men have a background in the movie business (together they have credits on over 100 feature films) and are looking forward to using the House of Voodoo as a site for movie production. "In fact, we currently have two movie projects lined up for the site," Hughens says.
Revitalization of the Texas Avenue corridor is part of their effort. "Aside from the presence of Herby K's Restaurant on Pierre Avenue, this part of the avenue has long been neglected," says Hughens.
Visitors to the House of Voodoo might soak up the atmosphere from the remaining empty storefronts on the avenue. It may be the last Halloween that the neighborhood looks quite so lonely.
La Louisiane House of Voodoo will be ready to thrill Oct. 26, 27, 20, 30 and 31. Hours are 7-11 p.m. $15 adults, $10 for ages 12 and under. 1835 Texas Ave., Shreveport. For more information: www.facebook. com/lalouisianehouseofvoodoo/.
– Robert Trudeau