TASTE: A FESTIVAL OF FOOD AND ART
Residents celebrate new chapel with annual fundraiser
Holy Angels residents will celebrate their new All Saints' Chapel with a private ceremony Nov. 1, All Saints' Day. The celebration will continue that evening with friends, sponsors and guests at Holy Angels' annual TASTE: A Festival of Shreveport-Bossier Food and Art at 5:30 p.m. at the Bossier City Civic Center. The fundraiser, benefiting Holy Angels, celebrates local food and art, allowing guests to taste signature dishes from over 30 vendors and bid on unique art from community artists and Holy Angels' Angel Artists.
Amid the peaceful pine trees of the Holy Angels campus in Shreveport, the All Saints' Chapel is nearing completion. This new addition to the 50+-year-old campus will continue to extend Holy Angels' spiritual care to its residents and day program participants.
"Spiritual care is one of our cornerstones of Holy Angels' mission, making the All Saints' Chapel a fundamental project for our residents' spiritual growth. When the O'Brien family saw the condition of our current chapel, they decided to expand their already generous legacy to Holy Angels with a gift to honor their family member, Beth (Boo) O'Brien. The O'Brien family and friends provided their time and gifts to sustain the spiritual center of our mission. Thanks to the O'Briens' leadership, our new chapel will enhance the spiritual care of all who are touched by Holy Angels," said Holy Angels CEO Laurie Boswell.
The All Saints' Chapel will debut to the public Sunday, Nov. 4, with regular Mass at 9:30 each Sunday thereafter. The chapel is located just inside the main gates of Holy Angels at 10450 Ellerbe Road.
The old chapel at the head of the campus has been the beacon of Holy Angels' spiritual service since the residential facility was established, but ravages of time and Louisiana's climate damaged the building's structure. The new chapel will incorporate some of the historic elements from the old structure, such as windows, statues and Stations of the Cross, but it will also afford the opportunity to meet requirements for safety, accessibility and comfort.
The All Saints' Chapel is built in honor of Elizabeth "Beth" O'Brien (or Boo, as many family members called her), whose birthday was on All Saints' Day. Beth O'Brien was one of the first residents at Holy Angels in 1965, where she resided until her death in 2010. The O'Brien family's commitment to the ministry of Holy Angels stems from deep roots, as they were one of three original donors who provided Holy Angels with the 64-acre property where residents and program participants currently live and work. The O'Brien family is heading the All Saints' Chapel project, continuing to invest in Holy Angels.
"Knowing my Aunt Boo and her capacity for unconditional love was the greatest gift God gave me, and I am forever grateful," said Caroline Gardner, a member of the O'Brien family, Holy Angels' Chapel Committee and Champions for Individuals with Disabilities Advisory Committee. "That same love abounds throughout Holy Angels today."
About the fund-raiser: "TASTE truly is a celebration of the community that supports us so much," said Holy Angels Development Director Kristen Powers. "As a nonprofit, Holy Angels relies on our community for support, whether through donations, sponsorships, volunteers or simply spreading our mission through word of mouth. At TASTE, our Angels can celebrate with our supporters, who truly are part of the Holy Angels family."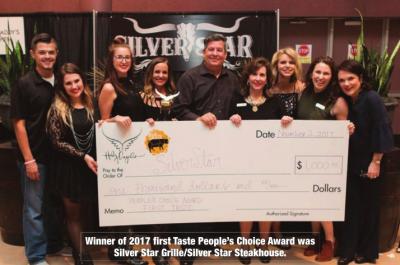 Tickets are $70 and include food, beer and wine samples, entertainment from Windstorm and the Holy Angels Choir and access to the silent auction. Chefs include Frank Harris of Frank's Pizza Napoletana & Louisiana Kitchen, Jessica Comegys of Caspiana Catering, Blake Jackson of Whisk Dessert Bar/Drake Catering and more. Guests can cast their ballot for their favorite dish with the First Taste People's Choice Award. Silver Star Grille/Silver Star Steakhouse won the 2017 first Taste award, which was the award's inaugural year.
The Angel Auction portion of the silent auction features art produced in AngelWorks, Holy Angels' award-winning day program with approximately 100 participants with intellectual and developmental disabilities. This year's Angel Auction will showcase Louisiana-themed art, including mixedmedia pieces with crabs, shrimp and hot sauce.
For the first time ever, Holy Angels will offer silent auction bidding by mobile phone and online. Guests simply text HOLYTASTE to 52182 to register for mobile bidding. Guests must register for mobile bidding if they want to participate in the silent auction.
During this season of new beginnings at Holy Angels, its supporters comment that one thing stays the same: the joy the Angels exude.
"One need only visit Holy Angels' campus once to know that God is ever present on that campus and in the hearts and smiles of each and every resident," Gardner said.
To purchase a ticket or find out more about Taste or the All Saints' Chapel project, visit www.laholyangels.org.
– Tara Burton