A Stylish Living Space in Benton
A peaceful, cozy oasis
A beautiful new home in St. Charles subdivision in Benton, La., is awaiting its first owner.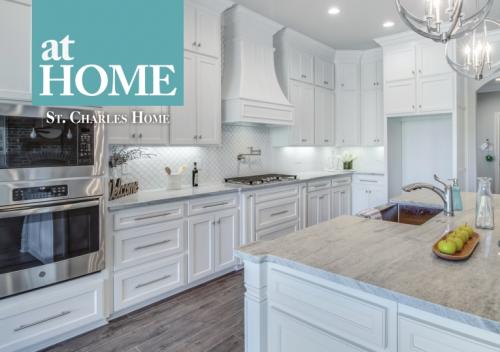 It certainly takes a village to create such a peaceful, cozy oasis. From the open floor plan to the patterned kitchen backsplash to the hardwood floors and elegant lighting fixtures, this house is just begging for its person to find it. Builder Doug Rains of Rains Construction in Haughton, La., went the extra mile in creating such a lovely showcase.
Faith Green, the owner of Wyatt & Willis Designs, was the stager/designer for the house. "The Dumaine property has such a beautiful flow," Green said. "The open floor plan is inviting, the colors are soothing, and the fixtures are simply timeless."
Green, who has been in business for four years, loves the flexibility and creativity that comes with each home she styles. "We started years ago styling homes for one or two real estate agents," Green said. "But I've grown my business in the last four years working with Brittany Shepherd, Tammi Montgomery and Rachel Lawler, among others."
Green can easily be in 25 houses at one time. "The key is to be available – it's my middle name," Green said. "I've collected a lot of inventory over time and repurposed furniture to use in each home, always growing my inventory and looking for classic pieces to use. The idea is to keep it fresh and updated at all times."
Working on homes like the Dumaine property and taking on challenges are among Green's favorite things to do. "I have to get creative with each job to make it work," Green said. "Styling is designing on a budget, so I have to make things work that otherwise may not work. My job as the stylist is to give the potential buyer the feeling this could be the home they have been looking for."
Many things make the Dumaine property home unique, but for Green, it's all about the upstairs. "I love the floor plan upstairs," Green said. "It has a true sense of living space with the bedrooms and bathroom, not just a bonus room."
"The finishes used for this home are seamless," Green said. "Grays and whites and granites are all tastefully done. The kitchen is put together with family gatherings in mind."
Brittany Sanders Shepherd is the real estate agent for the property.
"I love the fact that the builder thought ahead and really made this house a place that a family can grow and transition into," Shepherd said. "He framed out a large bonus room and bathroom that can be finished at a later date. Also, the buyer can customize the home to really make that space what they need as they grow and transition.
It could be an extra bedroom, a media room, a bonus room, or perhaps a game room."
"This home has an outdoor kitchen and backs up to a pond," Shepherd said. "It also has a separate third-car garage that's perfect for storage! The neighborhood also features sidewalks, a clubhouse and pool."
The property is currently listed for sale at $413,400.
– Betsy Haddox