CrossFit competition not a traditional workout
For years, Dr. Kenneth Sanders worked out in a traditional gym – using the usual assortment of machines and weights.
But eight years ago, the well-known Shreveport plastic surgeon found CrossFit, and he hasn't sweated through a "traditional" workout since.
"I walked in (to Red River CrossFit) and was immediately hooked," Dr. Sanders said. "It's just a different type of fitness. It makes sense, whereas sitting on a bench and working on a machine doesn't make sense. Physically, medically, the way our body moves, this makes sense – what CrossFit does. It's fun. It's different every single day."
Something else that made sense to Sanders – a CrossFit competition in Shreveport, which would attract CrossFitters from not only the surrounding area, but throughout the country.
"I asked Kelly Wells from the Shreveport- Bossier Sports Commission, 'Have you ever considered a CrossFit competition?' He said, 'Yeah, I just don't know anything about it. Somebody would have to take the reins.' A week later, I called him and said, 'I'm going to take the reins.'" Thus, "WODGODZ" was born. The second annual event – pitting competitors against a challenging array of CrossFit exercises – will be Dec. 8-9 at the Shreveport Convention Center.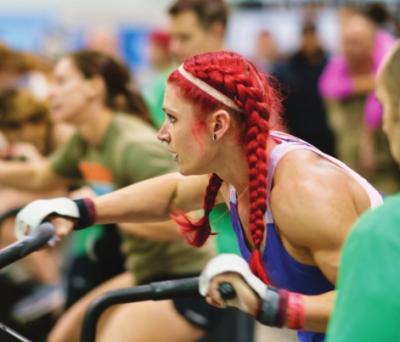 But what about the name – WODGODZ? "WOD" stands for "Workout of the Day" – a staple for all CrossFitters. "GODZ" is a nod to Greek mythology, as the event is billed as "a competition of mythical proportions."
"We felt like there wasn't a good-quality, large-scale competition any closer than Austin, Texas," Dr. Sanders said. "I went one year and won that one in my age division."
Approximately 140 CrossFitters took part in last year's first event – some coming from as far away as Oregon, Michigan and West Virginia. Registration for this year's event is on pace to eclipse 2017.
"I think we're probably going to be close to the 200 mark, if not better," Sanders said.
When the entrants arrive at the Convention Center, they should be prepared to get to "work" sooner rather than later.
"When you register, our competition starts immediately," Sanders said. "Last year, they registered, we handed them their T-shirt, swag bag, their Heat Sheet, and we said, 'Now you need to walk down the aisle, walk into the practice gym, and you have to do something right now.' Last year, they had to 'dead hang' from a bar as long as they could hang. We took that time, then we had them do a 'Skier' (a machine simulating crosscountry skiing) in meters for how many times they hung."
From there – and for the next two days – WODGODZ becomes even more intense. The competition is broken down into a variety of divisions, including PRO and RX.
"One of the big things we do is handstand pushups," Sanders said. "You kick up against the wall and do pushups. Your hand touches the ground and you push up. That would be RX – handstand pushups. The PRO Level would be 'deficits.' Their hands would be on four-inch blocks, and their head actually goes below their hands, so it just makes it harder."
One of the benefits of doing CrossFit is that it doesn't require a lot of your time. Workouts are designed to be short, but intense.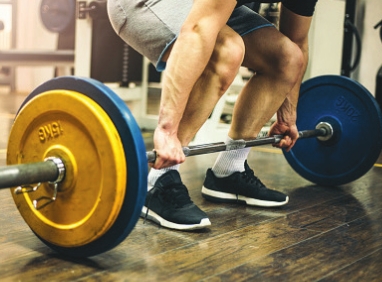 "The shorter (workouts), the more common ones, are six, eight, 10, 12, 20 minutes," Dr. Sanders said. "But you're going 80-90 percent for those six minutes. It's a different feel. It takes a while to get used to that because people have never really done that. You do a onerep lift, you sit there and bench press one rep – that's close to 100 percent. So, think about dropping down to 90 percent and doing that for six minutes. It's a different type of fitness. It has to be developed. People don't have that. They're not born with that."
"You learn a lot about your body," Sanders added. "You learn a lot about how far you can push."
Sanders has "pushed" himself to do more than just get in a good workout. He is a competitive CrossFitter, earning a worldwide ranking in his age group.
"I'm in better shape than I was 20 years ago," the 52-year-old said. "I look better. I feel better. I always wanted to get lean. I couldn't ever do it. My diet is a big part of that, but I discovered the diet that I eat now through CrossFit."
Also through CrossFit, Sanders discovered that wanting to beat the person working out next to you and being supportive of that person can go hand-in-hand.
"I like the competitive atmosphere," Dr. Sanders said. "I like the family atmosphere. You'll see everyone is encouraging. While I'm trying to beat you, if I do beat you in the workout, the next thing I'm going to do is cheer you on to the finish. That's the atmosphere that we have. In fact, the person who finishes last is going to have more people clapping and cheering than the person who finished first."
To learn more about WODGODZ, you may visit www.wodgodz.com.
– Tony Taglavore