Shreveport Chamber Touts Success of Six Businesses
The Forum and the Greater Shreveport Chamber of Commerce are proud to name six local businesses as Businesses of the Year for 2013. Awards go Vintage Realty Company, LLC; TravelHost of Northwest Louisiana; Smith's South-Central Sales Company, LLC; SPF Depot; Loksafe Services, Inc.; and Shreveport Limousine, LLC., for their outstanding success and civic contributions. The nominations for The Forum Small Business of the Year are solicited from the greater Shreveport business community, and The Senior Council of Retired Executives decides the winners.
VINTAGE REALTY COMPANY, LLC
Vintage Realty is a full-service commercial real estate provider, handling everything from land and property development to industrial and office space brokerage and leasing, as well as multi-family property management and more. They offer a multi-talented team approach built on relationships of trust and confidence to meet a client's objectives.
Owner Alvin Childs Jr. and co-owner David Alexander have been in the business for 36 and 30 years, respectively. Childs recently developed the Shoppes at Bellemead, the region's only lifestyle retail center; while Alexander co-developed Provenance, north Louisiana's only Traditional Neighborhood Development. Both men have a long history of real estate experience and have been heavily involved in civic boards such as the Chamber of Commerce, The Shreveport Club, the Downtown Development Authority, the YMCA and the Council on Alcoholism and Drug Abuse of Northwest Louisiana, to name a few.
Vintage Reality celebrates its 25th anniversary this year, making the Business of the Year award even more significant.
"We're very proud of the company we've built," Alexander said. "When we started, there was a real depression here; but that turned out to be a good time for us, because so often you find opportunities when things are tough."
The company has grown to 150 employees throughout Louisiana and Arkansas. "We have good people that have stayed with us, and that's always gratifying," Alexander said.
Vintage Realty's is experiencing large growth in multi-family unit development lately. They currently have about $250 million in 2,500 multi-family units from Little Rock, Ark., to Lake Charles and are in the process of building more in locally as well as throughout the state.
"We put as much emphasis on treating people right as we do on trying to grow the company," Alexander said. "It's very rewarding to have such a great team and a great reputation, and to see the progress of the communities that we operate in."
'TRAVELHOST' OF NORTHWEST LOUISIANA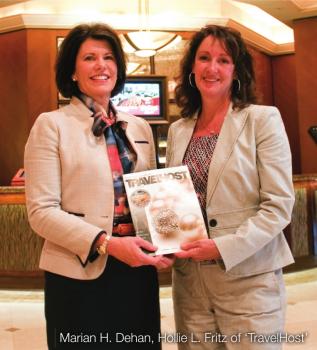 TravelHost of Northwest Louisiana is owned by Marian H. Dehan and Hollie L. Fritz. The bi-monthly publication is placed in casinos and hotel rooms and targets upscale business and leisure travelers visiting the northwest Louisiana market, informing them about entertainment and local attractions.
The two ladies started the publication in 2007 after 20 years working in pharmaceutical sales, and have published more than 38 issues so far. Between them, Dehan and Fritz have backgrounds in marketing, hospitality, product development and more, and have won awards for volunteering and partnering in civic activities.
"Hollie and I both have a love of our community," Dehan said. "The magazine is definitely a labor of love, too, especially during production week with late nights and weekends."
Dehan said their proudest moments are when they walk into one of the locally owned businesses and are told how the business had a great day with new customers who found out about them through TravelHost.
According to Brandy Evans, vice president of communications with the Shreveport Convention and Tourist Bureau, "Hollie and Marian are our community's brightest examples of Southern hospitality."
"We hope to continue to serve local businesses and visitors by promoting what makes our community so special," Dehan said. "We are overwhelmed with appreciation and pride in what we have accomplished over the past six-plus years, and appreciate the businesses who support us, as well as the traveler who comes to our hometown and shares in its economic growth."
SMITH'S SOUTH-CENTRAL SALES COMPANY, LLC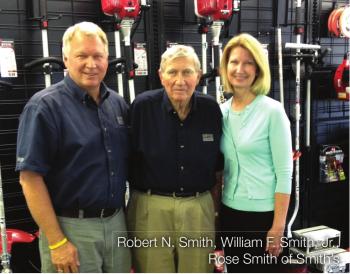 Smith's South-Central Sales Company is a wholesale distributor of lawn and garden parts and outdoor power equipment, serving more than 1,200 independent retail businesses throughout the tri-state region and into Oklahoma and Mississippi. From their facility in Springhill, La., the company distributes from brand names such as Oregon, Maruyama, Efco, Troy-Bilt, Encore and Columbia.
The company was started by W. F. Smith "Billy" Smith in 1972 as a Mobil Oil Company gas and oil products distributor, then transitioned to a new product line in the late 70s and a new name in 1995. It is now also run by Smith's son Robert N. Smith, president, and daughter Rose S. Taliaferro, secretary-treasurer.
"We are very honored to receive this recognition," Robert said. "We're a second-generation business are a very active part of our local community."
After hard work and years of growth, the company went through a potentially devastating loss of a major product line in 2009, but after much prayer and careful thought, the team was able to develop a plan that allowed them both to continue their current product lines and prepare for future expansion.
Today, Smith's South-Central Sales Company has 32 employees and a 27,000-squarefoot distribution facility, supports many scholastic, civic and industry organizations, and is looking forward to plans for major equipment upgrades to their fuel dispensing station that will allow them to be viable for years to come, as well as a 10,000-squarefoot facility expansion in 2015.
SPF DEPOT (PMG SUPPLIERS, LLC)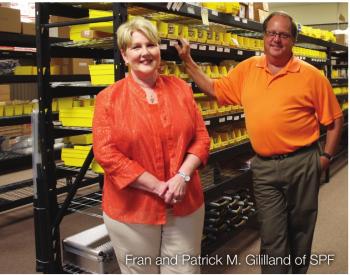 SPF Depot is a manufacturer of aftermarket parts used in the sprayed polyurethane foam industry and also offers solvents and lubricants used to maintain the equipment. They are also a stocking distributor for the products of related companies such as IPM Pumps, 3M Safety Products and Allegro Safety Products. SPF Depot's products are shipped worldwide, though the majority of parts are obtained and assembled in Bossier City.
Owner Patrick M. Gililland started the company in 2007 after working in the spray foam industry with The Weston Company in Shreveport for 12 years. After the company was sold, Gililland went out on his own and soon discovered that his skill in re-tooling his own parts was marketable.
There were some serious fits and starts for the company, though, including an early investment in unexpectedly sub-standard supplier parts that resulted in Gililland having to build the company with no credit.
It took off eventually, and within two years Gililland had expanded out of his garage to a 10,000 building on Bossier City. Today, SPF Depot is a debt-free company with more than $1.5 million in sales, stocking distributors in China and Poland, and plans with a chemical company in France to blend and package SPF products for distribution throughout the European Union.
That kind of success can be largely attributed to faith, Gililland said. "Our growth rate the first couple of years turned out to be around 300 percent," Gililland said. "I guess God just decided it was my turn. I had decided to let it up to Him, and that's when everything turned around. I realized God wants you to be happy. He wants your family to be happy. He wants you to be able to support your family."
SPF Depot has plans to open 10 distributors worldwide over the next three years.
LOKSAFE SERVICES, INC.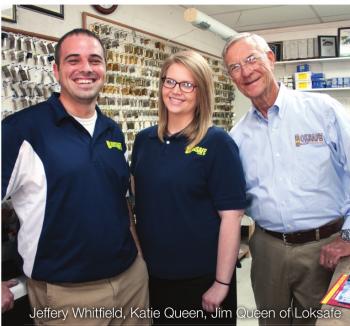 Loksafe Services was started in 1992 by James L. Queen and his wife, Gale, and has grown into the largest locksmith firm in northwest Louisiana. The company provides both commercial and residential locksmith services including complex access control jobs. The staff includes six licensed and insured locksmith technicians.
Loksafe is a three-generation family business that really got started in 1978 when Queen first got into locksmithing after he retired as a disabled Armed Services Veteran.
"I got my business license in 1992 and worked for myself out of my house until my wife told me I had to get all my parts off the dining room table," he said. He opened Loksafe Services & Door Hardware at 1219 Grimmett Drive in Shreveport, and has been there ever since.
The company has won many awards and been part of civic organizations such as the North Shreveport Business Association and the Associated Locksmiths of America, and is owned by Queen, his son Mark, and also Jeffery Whitfield.
Loksafe bounced back after a decline in 2007 when casinos and some top clients had reduced needs during the economic downturn, and have remained the area's top commercial locksmithing company with more than 90 percent of their business in that field, serving all the way to Texas and Arkansas.
"We've increased in size each of the five years since I've been here, and that's a big accomplishment," Whitfield said. "We're a big happy family."
Loksafe is also very involved in helping civic events and organizations such as the NWLA Food Bank, Toys for Tots, Providence House and many more.
SHREVEPORT LIMOUSINE, LLC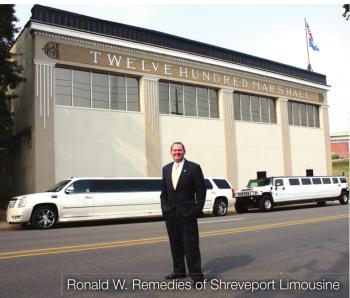 Shreveport Limousine is a limousine and luxury sedan service that provides service for weddings, special events and engagements, corporate travel and celebrities. It is owned by Ronald W. Remedies, president, who actually started his career as a Shreveport Firefighter and Reserve Deputy Sheriff.
Remedies opened Shreveport Limousine in 2001 as a home-based business in his spare time and after 10 years left firefighting to focus full-time on the company.
The company has what some folks might consider one of the more enviable positions in the city: working with the film and entertainment industry to transport celebrities around Shreveport-Bossier City during film shoots. Remedies can't talk about it, though.
"They love us because we're professionals, start to finish, and the employees are under strict privacy agreements and can't talk about anything regarding our clients," he said.
"The film industry loves Shreveport Limousine because they have very high-profile actors that use their services, and the team always maintains a high level of confidentiality," Arlena Acree, director of film, media and entertainment for the City of Shreveport Film Office, said.
After 12 years, Remedies is proud of the fact that Shreveport Limousine has gotten to the stage of being a generational company working with clients who have been with him since they were young, from birthday parties to weddings and more.
"Working in the service industry and in my years working with patients as a firefighter taught me a lot about how to treat people," Remedies said. "I'm probably my hardest customer; I want to give customers what I would expect from a business, and more value than they anticipate. If you offer great service, the business will follow."
Remedies is an active member in numerous civic organizations and business networking groups, holds a state elected position, and developed Northwood Shopping Center in North Shreveport and several other local commercial properties, along with the 50,000-square-foot Shreveport Limousine facility. •