Holy Angels Taste: a festival of Food & Art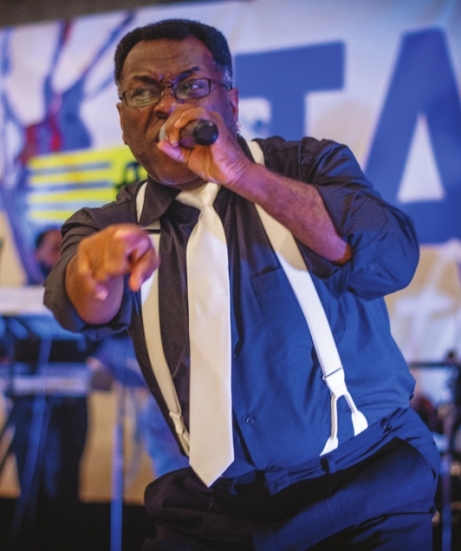 Divine foods, fab auction items and Windstorm rocks the stage
Food, art and a good cause collide to bring a fantastic fundraising opportunity to the Ark-La-Tex. The 38th Annual Taste: A Festival of Food & Art will be held from 5:30 to 9 p.m. on Sept. 26 at the Bossier Civic Center. Guests will be able to sample the delicious cuisine of signature dishes from more than 30 local chefs, battle it out over specialty items in a silent auction, and enjoy the creative, artistic works by both Holy Angels' Angel Artists and community artists — all while shakin' their groove thing to the tunes of local band Windstorm.

Holy Angels is an independent, nonprofit organization dedicated to providing love, support and empowerment for individuals with intellectual and developmental disabilities.

Kristen Powers, development director, is especially looking forward to the big event.
"If you come to Taste, the best thing you can do is just stand back and watch our residents have the time of their lives singing and dancing," Powers said." The joy you will see on each of their faces will make your night! The Angel Auction area is going to a new level this year as we invite our guest to `Take Flight' with our Angel Artists. You'll see what I mean by that if you check out the auction either in person or online."

The first Taste was held in September 1981 in the Holy Angels gymnasium. "The Knights of Columbus hosted local eateries as a way to honor the Sisters of Our Lady of Sorrows," Powers explained. Years passed, and the fundraiser has now grown to include more than 30 local restaurants and vendors, along with the silent auction featuring over 150 items.

This year won't be an exception to quality food and fun.

"I'm so proud of the Taste Team for recruiting several fresh, new vendors who will be serving up some delicious 'tastes' this year," Powers said. She's eager to welcome the handful of new vendors to this year's fundraiser. "Guests can taste specialty dishes from new vendors like The Port Grill and Lowder Baking Company, alongside many return vendors such as Whisk Dessert Bar and Shaver's Catering," Powers said.

There will also be a live cooking show by Shelly Marie Redmond with Skinny Louisiana, who will do demonstrations with an induction cooktop throughout the evening.

And that's not all. Last year, the Taste Team introduced mobile bidding for the silent auction, and it was a hit. "Mobile bidding allows everyone to participate in the silent auction right from their cell phone," Powers explained. "Images of items can be viewed along with the item's description. We'll even push out a notification each time a bidder is outbid on an item."
Another perk is that this year, there's no need for guests to worry about their cell phone's battery life while they're in a bidding frenzy, as the SWEPCO Charging Station will be on hand to keep cell phones full of energy.
"People should come out and support Holy Angels because this is the most fun you will have doing the most good all year long!" Powers said.

The best part is, the raised funds go directly to Holy Angels. "Eighty-six cents of every dollar raised goes directly towards the care of individuals with intellectual and developmental disabilities at Holy Angels," Powers said.

For those wondering what cause to support this year, they should consider the local Holy Angels, whose mission statement is: To provide individuals with intellectual and developmental disabilities a path to self-fulfillment through education, empowerment, spirituality, independence and work.

"My favorite part of my job is that the end result of everything we do at Holy Angels delivers a God-centered community where individuals with disabilities get to focus on what they can do and not on what they cannot," Powers said. "The people who choose to support Holy Angels do so without hesitation. It is our pleasure as staff members to help our supporters find a way to serve our residents that best fits their own personal goals and availability, whether that is an event sponsorship, direct donation, estate gift or volunteer time."
LEARN MORE:
Tickets can be purchased for $70 online at laholyangels.org/taste. Sponsorships are available. For questions, please contact Events Coordinator Kelley Matkins at 318-629-1711 or kmatkins@laholyangels.org. To participate in the silent auction, text HOLYTASTE to the phone number 52182. Don't forget to stay up-to-date with Taste by following @laholyangels on Facebook and Instagram.