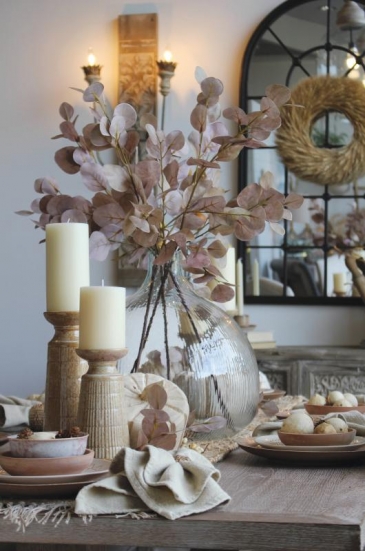 Feathering Your Seasonal Nest
For a bit of seasonal inspiration, 318 Forum dropped in at a couple of local hot spot shops for a look at what's in store. It was a pleasure to drop in at Ivy and Stone (they have a new location at Shoppes at Bellemead on Youree Drive). The ladies were busy prepping for the introduction of Christmas merchandise on Nov. 1, but took the time to create a table setting just for our readers.
And such enthusiastic service! It reminded us how fun shopping local could be.
Our next stop was just up the street at a long-time area fave, Lewis Gifts at 5807 Youree Drive. The store was abuzz and getting ready to kick off their big week for the Shopper's Card and turn fall into winter. We can't wait to see what's hot for Christmas this year!
Both stores are participating in the Symphony Guild Shopper's Card extravaganza offering 20% off. Cards may be purchased at any participating merchant.
The promotion ends Oct. 26, so put some hustle in your bustle for a great deal.
Natural was the key to this beautiful table setting. The dishes are a mix of glazed pottery, terracotta and embossed stoneware plates. Gourds and mini-pine cones are ornaments for the bowls. Wood-carved pumpkins, natural linen napkins and a blown-glass vase sprouting eucalyptus branches pull the scene together perfectly. Source: Ivy and Stone.
Continuing the theme of casual sophistication, pear stems and handmade glazed taper holders keep things bright and airy. The ewer and dried stems are an anchor for wooden rolling pins and unique felt pears. Simply fab. Source: Ivy and Stone.
The feathers look amazingly real on this Forrest Walk party plate by Juliska. The hunt napkin features pheasants and paisley on a chocolate field accented by an eternity napkin ring in gold. The pewter and white plates are Emerson by Juliska. Source: Lewis Gifts.
Popular this season are the Luke Adams blown-glass pumpkins. They have such individual personality, you may have a hard time making a selection. Charming! Source: Lewis Gifts.
Make any corner nook or sitting area complete with the perfect fragrant candle (blue hydrangea by Lux), florals (magnolia branches – classically southern!), and beautiful books to peruse ("Living Floral" and "The French Dog"). Source: Lewis Gifts.