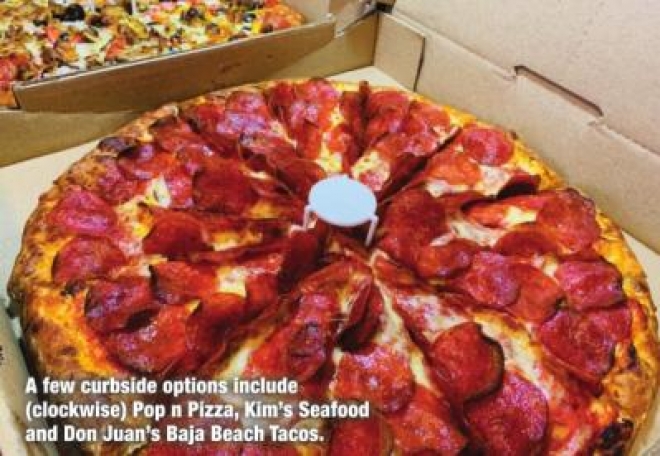 Searching for food (and information), Emily DeLatin started a local restaurant support movement
It was an evening in mid-March. Emily DeLatin was hungry, and she knew just what she wanted.
"I was trying to get a potato taco from Parish Taceaux," DeLatin remembered.
But her hunger pain came at a time when restaurant owners were scrambling – Louisiana's governor had just ordered dining rooms closed because of COVID-19. Restaurants – with only a few hours' notice – were limited to take-out and delivery. They were adjusting on the fly.
"The information was changing so quickly," DeLatin said. "They (Parish Taceaux) were only open for lunch and not for dinner. I sent my wife to get me one for dinner, and she ended up driving there, and they were closed. She went to another restaurant, and they were closed also."
Frustrated – and still hungry – DeLatin took to Facebook. Not to complain, but to create.
"I said, 'There's a need for a group that contains as much information as possible about all the restaurants in Shreveport and what's going on with things changing so quickly.' I thought, 'I will make a group, and everybody can post everything in one place, or re-post in one place.' I started it and invited all my friends, and it kind of took off from there.'" Thus, the Facebook group was born. As of mid-April, it had almost 10,500 members.
"I know we live in the South, and I know that we like to eat, but it has blown my mind how quickly the group blew up," DeLatin said. "But it is exactly what I intended it to be. I can go on the group, click the search bar at the top, type in a restaurant, and generally, the most recent information is there."
Those 10,000 members are not just hungry people looking to find which places are open, when they are open, and what they are serving. Restaurants have joined the group – seizing the opportunity to reach potential customers.
"We've had more social interaction from 318 Curbside Eats! than on any other medium or platform," said Don O'Byrne, owner of Don Juanz Baja Beach Tacos. "318 Curbside Eats is truly an 'angel' for every restauranteur in Shreveport-Bossier staying open through COVID-19."
"It's great," said Jared Wilkinson, managing partner of Chimi V's Fajita Factory in Bossier City. "There are over 10,000 followers on it, so you are hitting somebody that's engaged. They follow that page because they want to know who's out there – who's doing what. It's a great avenue to get our message out and all the local businesses to get their message out."
Wilkinson is a regular contributor to 318 Curbside Eats! He's posted everything from a video promoting the restaurant's $2 Taco Tuesday to a post suggesting a specific dinner menu.
"Chimi V's sirloin fajitas and a gallon of margarita should be on your dinner list tonight," one of Wilkinson's posts read. It was accompanied by a picture of those sirloin fajitas. The post received 17 comments – people asking about pricing and if the restaurant will be offering that meal daily.
"It just shows the power of Facebook," Wilkinson said. "Social media is huge for all of us."
As a student at Centenary College, DeLatin had her favorite restaurant nearby – Danh's Garden. As of mid-April, Danh's Garden was closed "for a few weeks," according to the restaurant's Facebook page. While Danh's Garden wasn't the reason DeLatin started the 318 Curbside Eats! group, she is thinking about Danh's Garden's owners – and other local restaurant owners.
"I hope that we – meaning the group – are helping the smaller restaurants, or even the larger restaurants, stay open," DeLatin said. "I don't want any restaurants to close because of COVID-19. I'm really sad right now. I don't want any restaurant to close because they are not getting enough support during this time."
"We're all doing everything we can to make sure our guys (employees) have a place to come back to," Wilkinson said. "With that said, I am all about being local, but even these chain restaurants – those employees are local. We have to think like that, too."
Wilkinson says support – in the form of people buying from local restaurants – is vital. He says restaurants are in survival mode.
"We're having to change and pivot and find out what works and what doesn't work. It's a new day every day. We really don't know what we're going to do, but it's the same every day."
To join the 318 Curbside Eats! Facebook page, log onto Facebook and search 318 Curbside Eats!