"A Chair-ity Event: Take Your Seat" Fundraiser vital to Shreveport Little Theatre
An artist much of her life, Marilyn Couch never knows ahead of time what her work will look like when finished.
"My paintings don't come from me – they come through me," Couch, a Tibetan Buddhist, said. "The way I work is that I open myself up to the environment and the emotions I have. It's just like breathing. You are breathing in the environment. That's reflected in my interpretation of what that feeling is about."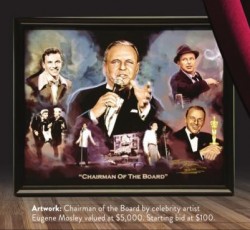 You can own – and sit in – some of Couch's feelings by taking part in "A Chair-ity Event: Take Your Seat." The online auction – a major fundraiser for the Shreveport Little Theatre – will be Oct. 12-16. To take part in the auction, you may visit shreveportlittletheatre.com, scroll down, and click the "A Chair-ity Event: Take Your Seat" icon. From noon- 7 p.m. those days, you may view the auction items at the theatre, located at 812 Margaret Place.
While you can bid on various items, chairs are the centerpiece of the auction – chairs painted by local artists.
"There are unique ones," said Carol Ferrara, co-chair of the event and president of the Shreveport Little Theatre Guild. "Chairs for children, adults. All kinds of interesting motifs on these chairs."
Speaking of "interesting," you don't have to look any further than the chair painted by Robert Darrow, SLT's managing and artistic director. Let's just say it involves a toilet seat, purple and gold tiger stripes, and the Alabama Crimson Tide logo – at the bottom of the toilet.
"I just made it for some LSU Tiger fans that might want to give it as a gift to an Alabama friend," Darrow said. "I'm not really into sports, but I have friends that are, and they thought it was hilarious. Hopefully, the Alabama fans will forgive me."
The last few months have been difficult for SLT, as the pandemic and its related restrictions on indoor events closed down the theatre.
"We have had virtually no income since mid-March," Darrow said. "We have a large facility, and we're grateful for that – a beautiful, large facility – but the overhead costs continue. We desperately need the community's support at this time."
Each year, SLT receives financial support from the SLT Guild. Since it began in 1983, the Guild has produced a yearly fundra
iser which has raised as much as $50,000.
"Our doors stay open because of the Guild's work," Darrow said. "Without their work, we would have to double our ticket prices. We would like to keep the shows as accessible as possible to everyone in our community, so we like to keep the ticket prices down. This year, in particular, with the pandemic, we are relying on them and this fundraiser a great deal."
"We're hoping this will be a success," Ferrara said.
However, this was not the fundraiser the Guild had in mind when they started planning last August. There was supposed to be a big event at Horseshoe Bossier City, complete with a live and silent auction, dinner and entertainment.
"We were going to have entertainment from the theatre itself – actors and actresses," Ferrara said. "We had wonderful emcees lined up. It was going to be nice."
The pandemic had other plans. "We went back to the drawing board, tried to figure out what we can do, and then we saw that there was a possibility of doing something online," Ferrara said. "This is a first for us."
"We already had over a dozen chairs that the artists had painted," Darrow said, "so we certainly weren't going to throw in the towel and give up the investment, so we decided to do an online fundraiser."
Darrow has taken on the technical responsibilities of putting together the auction. He's not too proud to admit there has been a steep learning curve.
"It's been interesting," Darrow said. "I'm over middle-aged, and I've had to teach myself a lot about the computer, and how to go about doing this technically to set it up. I hope that when our patrons get the link to our auction website, they will venture in and look at these beautiful, beautiful works of art."
While Darrow concentrated on things like software platforms and links, the Guild was busy getting together the auction items.
"The ladies of the Little Theatre Guild took it upon themselves – that's what our responsibility was – to gather up the artists, recruit the artists, have them sign up, give a date to have those chairs done and ready," Ferrara said.
In addition to the painted chairs, you will be able to bid on everything from gift baskets to jewelry to paintings.
"There's a large painting by (celebrity artist) Eugene Mosley called 'The Chairman of the Board,' which is a painting of Frank Sinatra," Ferrara said.
"It's a really eclectic fundraiser of things that have been donated."
But about those painted chairs. Yes, there is the aforementioned LSU- Alabama toilet seat. But there are more mainstream chairs. You will find children's chairs, formal chairs, an 18th-century Celtic chair and a rocking horse.
"I think folks are going to be surprised at the beauty and uniqueness of these chairs," Darrow said. "And it's not all chairs. It's rockers, stools, baby chairs, doll chairs …" Darrow would like to see $30,000 raised through this fundraiser. However, any amount will be a welcomed deposit into the SLT's bank account.
"Right now, we're surviving off our savings," Darrow explained. "We had a healthy savings account, luckily, from being such good stewards of the community's money. But that won't last forever. We're spending just the bare minimum that we can. We've retained all of our five employees to this point. We're trying to really generate income through online productions and events."
"One of the reasons I retired to Shreveport is because there are so many cultural activities that people can do," Couch said. "I'm from Houston originally, and Houston is so big that if you want to do something like go to a little theatre, it's very expensive and very scary. You could be watching a wonderful play, and you come out, and your car has been hijacked. Shreveport is a wonderful place and has great talent. It's a great privilege to be able to be a community person that takes advantage of all those cultural activities and in a small enough town that you can do things without a lot of hassle."
In the wake of so many pandemicrelated hurdles, many organizations have canceled their yearly events. But the SLT Guild's refusal to bring down the curtain on their annual fundraiser reinforced what its members already knew.
"How resilient and how dedicated we are to the arts here in Shreveport," Ferrara said. "This theatre, next year, is going to be 100 years old. It is a gem here in Shreveport that may be hidden to some people that need to be aware of its importance to the community. It is one of the longest-running actual community theatres in the country. I think that is something to be proud of and something you cannot let go easily."