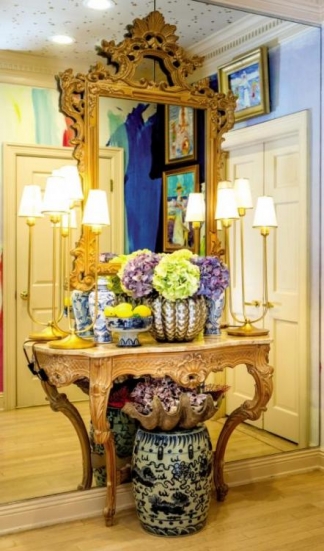 Tucked away in the Spring Lake neighborhood of Shreveport is a home that has seen a lot of living, a lot of laughter and a lot of memories.
For two lifelong friends, it has become a nexus of creativity and an outpouring of honor and affection for their parents.
Barbara and Alan Sugar bought the home in the mid-1980s while it was still under construction, according to their daughter and current owner, Ashley Sugar Bates. Her parents hired a local decorator, Cindy Miciotto, to add her design talents to the project.
Her parents later moved and sold the house to a couple who owned it for a while before they passed away. Sugar Bates said it then suffered from a lack of love and attention for a time.
"I've loved this house since I was a little girl. We got in touch with the son [of the second owners], and he sold it to us. We moved in about seven years ago, and we have started remodeling about three years ago."
When the family decided to pick the design they wanted to incorporate, Sugar Bates chose to call on someone who had almost as much history with it as she does. "I hired Ellett Miciotto because he knows me so well – we all grew up together – to come in here and just make it fabulous. So far, it's been great. The builder, Josh Nicely, has been doing the work. Ellett draws it up, and Josh makes it happen."
Miciotto is the owner of EJM Interior Design in Dallas now. He spent over a decade working in Dallas for the Highland Park Village Ralph Lauren store before hanging out his own shingle a little over five years ago.
"Ellett is about seven or eight years younger than me," Sugar Bates said. "I actually babysat him when he was little."
For his part, Miciotto said, "I have a really good sense of [Ashley's] style, and we have a really strong, mutual trust. I presented some ideas, and we immediately clicked. She let me take control and trusted me to suit her style."
He said his mother was brought in to create the original pallet for the home and a lot of the things she did remain after Sugar Bates and her husband, Brad Bates, bought it. Cindy Miciotto passed away in 2016. Her obituary in the [Shreveport] Times described her as "a very beautiful, unique and extraordinary individual." She was the owner of The Cottage and a licensed designer at Designer's Showroom.
When her son took on the redesign, "It was pretty much where my mother left off," he explained.
"The mirrored walls in the entry hall are still there. The mirrored walls in the powder bath. The antique French carved mirror and console that she had installed. The mirrored wet bar. The library paneling in the living room. A lot of the original bones that my mother had put in still remained in the house."
Sugar Bates has very strong attachments to this home. "I love this house. This is my childhood home. It's a unique house. It's a great party house. It's a great house for kids because it's a split level. The whole downstairs has all been redone. It's a great place my kids can come home to when they're married and have children, and they'll have their own space. I thought about it when we bought it. It's a great house to grow old in. This is a house people walk in the front door and they make themselves at home."
She said a walkway brings visitors into the front entryway, which opens into a first level that is, as she describes it, "like a normal person's downstairs. Then you go downstairs, and it's three bedrooms, two and a half baths, a living room and workout room."
Miciotto said, "I took a look at [Ashley's] art collection and pulled colors from her art. I know she likes contemporary, so we used a lot of bold patterns, bold colors. She has a beautiful china pattern that her mother picked out. I took inspiration from her china pattern and decorated her dining room around it. Modernized her bathrooms in clean, cool white and gray tones."
There is a video on Facebook that gives viewers a look at that dining room, plus some other areas of the home. In the video, Miciotto says he ran across some newspaper clippings about the house and his mother's hand in decorating it. Part of the history of the house is some of its notable parties.
Andy Sidaris was a former Shreveporter and long-time director for ABC Sports turned movie maker. He premiered some of his movies in the "Sugar House," as it was known. It was not unusual, he said, to find guests like George Strait, Valerie Bertinelli and Eddie Van Halen, or Pat Morita and others among the partygoers.
They were not the only visitors. In her obituary in the [Shreveport] Times, Barbara Sugar, Ashley's mom, was described as an iconic socialite. "Barbara was universally revered, loved and admired. She possessed a magical personality and turned mundane activities into cherished events. However, she was at her best when entertaining. She came by it naturally. No one ever walked into the Sugar home and felt uncomfortable."
Sugar Bates described her childhood home as an open house where Miciotto and his family often visited. "There were always parties going on at this house. Ellett knew this house just as well as I did. He's just a gift, I'm telling you."
"I grew up around the corner from Barbara, Alan and Ashley," Miciotto said. "My parents were really great friends with them. I pretty much grew up in that house, too. It was always great house to visit. It was always a lot of fun. Always a lot of glamour."
Miciotto wanted to keep that sense of entertainment in his redesign. "I feel like we're capturing the spirit of the house that we grew up with. It still has that great sense of entertaining. It almost has this enthralling feeling when you walk in. The colors are very exciting. The patterns are very exciting. It's visual and graphic that you wouldn't expect when you walk in. It's all very stimulating."
Sugar Bates gives Miciotto full credit for her results in the home. "The finished product is always amazing. He's amazing. He's driven me around Dallas and shown me jobs he's done there. He just has a gift."
In the September 2021 issue of D Magazine, Miciotto said, "I call my style 'collected contemporary' – modernized classic pieces as well as curated modern finds that will be tomorrow's antiques. I like the balance of being inspired by the past while in the present."
"Ellett is just that cool," Sugar Bates said. "First of all, we're friends. He knows me. Like my dining room, he took my china and ran with it. It was kind of different. It's that 'Jaguar Jungle' by Lynn Chase. So, the whole dining room is like a safari, it's the coolest thing. I would never have thought of that myself. Ellett just has an eye. He knows I love color. My entryway, you walk in, and it looks like somebody just took paint to the walls in this really abstract [pattern], and it's wallpaper. It's so different."
Miciotto is proud of the work he's done for the Sugar house. Still, he's also aware that it might be more of an homage to two extraordinary women than just another interior design.
"I honestly feel that my mother and Ashley's mother would be so proud of us and so happy that, after they've gone, that we're honoring their memory by going back to this place that we all enjoyed and loved so much. [We] had so many fond memories and are just highlighting those and continuing on with them. I think my mother would be so happy and so proud that I am continuing her work.
"In a strange way, their [mother's] passing brought us back together. It's kind of a circle of life."
If Sugar Bates' reaction is any indication, that circle will remain unbroken.
The dining room was inspired by Sugar Bates' wedding china, Jaguar Jungle, by Lynn Chase. The glamorous room is intimate and inviting.
The modern wallpaper is a masterful stroke as a background for the contemporary art collection.
Designer Ellett Miciotto and homeowner Ashley Sugar Bates.
The home is entered via a bridge – an inviting pathway to the front door.
The split-level house features downstairs bedrooms and living space for the kids.
Bathrooms throughout the home have been refreshed and remodeled for a new look.