State fairgrounds to spotlight food, fun, music and rides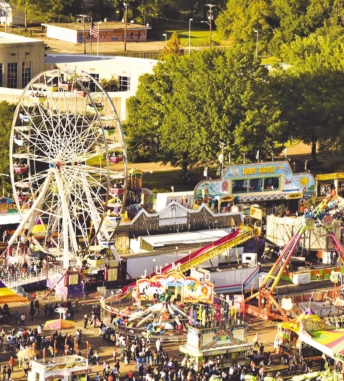 The fairgrounds are alive with the sound of Spring Fest 2022. The 11- day celebration opened on April 28 at the Louisiana State Fairgrounds and runs through May 8. Hours are 11 a.m. to 10 p.m. each day.
State Fair of Louisiana President and General Manager Chris Giordano said the event is not new but different. "This is actually the first year for the State Fair of Louisiana Spring Fest, but it's our second consecutive year having a spring fair. The only difference is we're rebranding it this year to try to distinguish it from the annual fall State Fair."
The 2021 event was almost an act of self-defense, according to Giordano. "Last year we called it the State Fair of Louisiana Spring Edition. The main reason for having that was to make up for being cancelled in 2020. The event was very successful last spring. That's why our board and our staff decided to just keep having a spring fair. We're a private not-for-profit organization, and the annual fair is our biggest revenue area that supports the business. Having the second fair in the spring sure puts money into the coffers so that we can maintain the place and such."
Giordano explained that last year's spring edition proceeds were just as good as the fall fair because they didn't have the expense that it takes to produce the more elaborate fall event.
Added to the financial incentive, he said, most of the feedback from the public has been very positive. "I kind of enjoy the spring fair where you're almost guaranteed that you're going to be in shorts and a T-shirt. Whereas during the fall, we have some warm days, but we also have some chilly days and nights," Giordano said.
He also noted that Holiday in Dixie no longer brings a carnival to Shreveport. The carnival usually occurred in April but was discontinued a few years back. Giordano said that bringing a carnival to the fairgrounds in the spring helps fill that entertainment void.
In addition to some nationally recognized acts, the music stage will feature entertainment every day of the event. The midways will feature street entertainers as well, and there will be a zoo with giraffes, camels and even pony and camel rides. Also on the bill will be exhibits in the Commercial Exhibit Building and over 50 carnival rides.
And it just wouldn't be the fair without the food. Some of the traditional fair foods include cotton candy, corn dogs, funnel cakes, turkey legs, candy apples, caramel apples, pizza, cinnamon rolls, gyros, barbecue, saltwater taffy, chicken-on-stick, shrimp-on-stick, hamburgers, ice cream, Mexican food and more. Other culinary delights to be sampled include Wisconsin cheese, gator-on-stick, cricket pizza, scorpion pizza, corned beef sandwiches, fried honey, bacon-on-a-stick, red velvet funnel cakes, fried watermelon, Rocky Mountain oysters and donut burgers.
Some of the acts visitors will be able to see include Dallas the Fire Guy, the Clown of Many Faces, Nick the Escape Artist, Darren Yong's Comedy Magic Show and Arty Dodger: Southern Gentleman Juggler.
Helicopter rides, a feature that has become a hallmark of the fair, will return with professional pilots from Timberview Helicopters giving fairgoers a whirlybird's-eye view of all the goings-on for $20 a person.
Gate admission is $12, and ride armbands are $35. That admission gets you into all the musical entertainment as well.
Discounts are also available on weekdays, with admission only $5 and ride armbands $25. Parking and gate admission will be free on weekdays from 11 a.m. until 3 p.m.
For more information and to find out when your favorite musical act will be on stage, go to https://www.statefairoflouisiana.com/events/2022/2022-state-fair-of-louisianaspring-fest