From the water or on the porch, the lake surrenders her mysteries.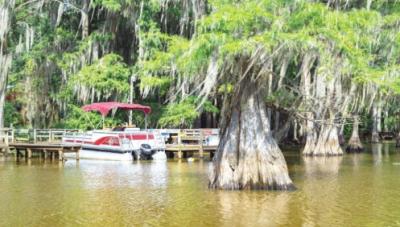 Caddo Lake — and its more than 25,000 acres of "cypress swamp," as described by the Texas Department of Wildlife and Fisheries — stretches across the Louisiana-Texas border. The lake's bald cypress trees and Spanish moss make for unforgettable scenery.
Following are three people's experiences on Caddo Lake. One has lived there most of his life. One has fished it most of his life. One recently left the city for the lake.
Drinking led to John Winn's love for Caddo Lake.
His parents were alcoholics.

His mother left the family home when Winn was just 13 years old.
His father was what Winn describes as a "happy alcoholic."
"It wasn't much of a homelife, so all my time was spent out here exploring and going places where nobody else went. (My father) wasn't much for bringing a lot of groceries home, so I learned to hunt and fish and trap. I went to selling fish when I was a kid. I was guiding and duck hunting when I was a teenager."
Winn has lived on Caddo Lake for 50 of his 61 years. And he's convinced his home is on earth's most beautiful place.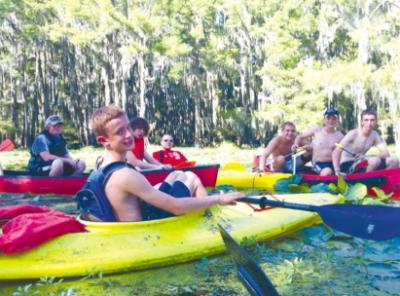 "It's always changing. The seasons make it change. You're just not going to find any place like it in this part of the world. The beauty is unmatched. I've carried people out from all over the world, and they just can't believe it. The pictures they see don't justify how it really looks."
For 20 years, Winn operated Caddo Outback Tours. He took visitors from near and far to some of Caddo Lake's most secluded parts.
"When they see this, they mostly say it looks like a place time has forgotten. They comment on the beauty of the Spanish moss and the cypress trees and the fact there's a virtual forest on the water."
Winn says on any given day, you are likely to see everything from osprey, to eagles, to pelicans. That's not to mention the deer and raccoons, along with — in winter — different species of ducks.
"It's unique in its beauty and diversity. We don't have any other lakes around like this. It's a large maze of lakes within lakes, bayous, slews, backwaters and cypress thickets that interconnect. It takes years to learn it."
For Winn, learning about the lake was more enjoyable than learning the lesson plan.
"I went to register for the ninth grade in Karnack (Texas). I was standing in line, and I said, 'I can't do this.' So, I came back home and went and baited up lines so I could sell some fish."
Winn says he has been to every part of Caddo Lake. But that doesn't mean he's seen it all.
"There's places I've been to thousands and thousands of times, and I still can look over and see something I've never seen before."
Gary McCoy has fished just about every lake in Northwest Louisiana and East Texas.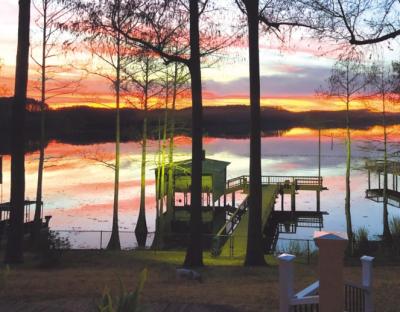 But Caddo Lake holds a special place in his tackle box.
"I caught my first bass ever at the end of the old pier at Earl Williamson Park in Oil City. Caddo is what kicked it all off for me."
For more than 50 years, Caddo Lake has remained one of McCoy's favorite fishing lakes.
"Big picture, it's one of the most excellent. Year in and year out, it's recognized by Bassmaster Magazine as one of the top lakes in the country. The guides around the lake see customers come from everywhere to Caddo Lake."
Texas Department of Wildlife and Fisheries lists records for 20 different types of fish caught with a rod and reel on Caddo Lake. The largest was a flathead catfish — caught in 1992 — weighing 55.75 pounds. The biggest largemouth bass — caught in 2010 — weighed 16 pounds, 17 ounces.
"For the longest, we didn't have any Florida bass in the lake, so catching a fiveor six- or seven-pound bass was a big deal," McCoy said. "With the introduction of the Florida bass in the last 25 years, it's made the potential a lot greater to catch a huge bass. Florida bass are so finicky. Unlike Northern bass, there are a lot of days where you can just get stumped. With a native Northern, you're a lot more likely to catch fish — just not a really big one."
One of the reasons people find success fishing at Caddo Lake is the lake itself. McCoy says its depth and vegetation are beneficial to fish growth.
"It's relatively shallow. My dad told me once that he could remember before the dam was built, essentially it was just a huge swamp. With the building of the dam, it raised the lake level a few feet. That's just so conducive to having a lot of aquatic vegetation and to the trees being so prolific in the lake. If it was really deep, you wouldn't have all of that. Our fish really get the best of all worlds — natural
forage and that vegetation that grows in the lake because it's so shallow."
McCoy can fish any lake he wants.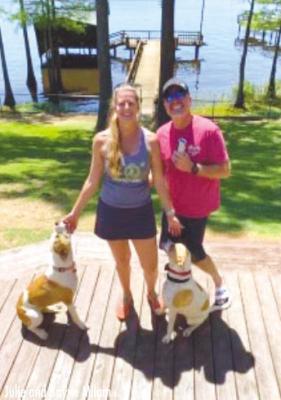 Oftentimes, he chooses Caddo Lake.
"The fishing is fantastic. The bream fishing is incredible. The crappie fishing is incredible. You've got huge bass. Catfish. It's really a cool place to have right here in our back yard."
And the scenery doesn't hurt. "It just looks like Louisiana. There's no way you could be there and think you're anywhere else."
Washington, D.C. New York City. Indianapolis. Boca Raton.
Julie Gilley Milam has lived in a lot of places.
Caddo Lake is her favorite. "Simply put, there is nothing that would compare to the view and the community that we get to experience every day on Caddo Lake."
Milam and her husband, Bayne, are relative newcomers to Caddo Lake. They moved from Shreveport three years ago. Bayne proposed it's worth it.
"We our extremely happy. It has far exceeded our expectations. We have the joy of the lake and the most beautiful sunsets you will see in this part of the country."
But just as meaningful to Milam are the people of Caddo Lake. Neighbors. Friends. Strangers.
"Neighbors still take care of one another.
We had a neighbor whose house unfortunately burned. … We did a community fundraiser for him. He did not have any homeowners, insurance. We did a nice barbecue chicken
Cypress and moss trees by Dave Hensley Crane by MS McCarthy Photography Caddo Bird by Bill Bob Bain Lilypad by Thomas and Dianne Jones Sunset scene by Julie Gilley to Julie the night they closed on their house, and they were married in the back yard overlooking the lake.
When Bayne first saw the house was for sale, he and Julie didn't hesitate.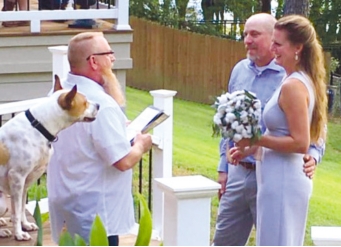 "We're lake people," Julie said. "My husband built our (pontoon) boat, so first and foremost, we wanted to be on the lake. Second, we love the history and uniqueness of Caddo Lake. There is nothing comparable that I know of anywhere."
However, Julie was not expecting the commute from Caddo Lake to Shreveport to take as long as it does. Thanks to two major bridges being out of service, she says that it takes her 45 minutes to get from her house on Jeems Bayou — "Literally a stone's throw from Kool Point" — to her office in Shreveport.
An hour and a half each way. And for Julie, (dinner) to raise money for him. Everybody still has that sense of 'we take care of our neighbors."
However, that community feel adds a little time to Julie's early-evening stroll.
"I went on a walk last night that should have taken me only 30 minutes, and it took me over an hour because of all the neighbors — we still go out in the front yard and talk to each other and catch up. It's still that Mayberrytype atmosphere."
But Andy, Aunt Bee and Opie didn't have Caddo Lake as their backdrop for a weekly gathering.
"We started what we call our Breakfast Club on Sunday mornings. A lot of our neighbors come over. We all chip in, do breakfast and watch Simple Church on our back porch. It's just the most beautiful, serene atmosphere."
To learn more about Caddo Lake, you may visit www.caddolakeinstitute.org or www.tpwd.texas.gov.