Ed's Emporium Turns Glass into Class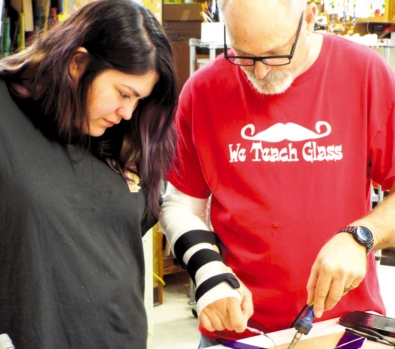 Amongst the iridescent bits and baubles in the foyer of Ed's Emporium is a glass shadowbox portrait of the shop's founder, Ed Allen; a smile curls up his signature handlebar mustache, and his metal spring eyes follow shoppers around the room. Nearby, on a display case, sit a trifold flag and World War II veteran's hat next to photos of Ed and his wife, Carol, in fused glass frames.
Over 40 years ago, Carol Allen asked her husband for a Tiffany lamp. When Ed Allen couldn't find one, he, in military fashion, rolled up his sleeves and made one himself. Five years later, in 1981, the couple founded Ed's Emporium Art Glass Studio.
Their son Eric has managed the shop for six years since his parents' passing. Eric has his own handlebar mustache — tattooed on his forearm in honor of his father.
He'd been experimenting with glass since he was 11 years old traveling to Minden for craft fairs with his parents, but glass wouldn't become Eric's career until much later in life. He'd worked a series of jobs in management, sales, telecommunications and technical engineering before returning to Bossier City in 2006. By this time, his parents were in their 80s. Eric had two options: help his parents sell the building and retire or try his hand at the trade and maybe enjoy it.
"And I've enjoyed it for about 18 years now," Eric chuckled.
Eric turned 60 this year. He often wonders what his legacy will be. What will happen to the shop when he's gone?
"I'm always looking for the next person who will get a tattoo of a mustache or grow one," he said, "Every day, I'm looking for the next owner of this place."
During Tuesday night classes and Wednesday open workshops, Eric looks out for someone with passion who keeps returning and will fall in love with glass as he has.
Eric insists he couldn't do it without help from his fellow artist, Alicia Anderson. She started taking classes at Ed's Emporium 10 years ago while studying art at Northwestern State University, then began working at the shop in 2013 to pay for her master's degree.
Teaching classes with Eric forces her to continually experiment with new techniques, which she incorporates into new classes or her art.
"If you don't try new things, you stagnate," Alicia said, "You have to let other things influence you and apply it to your art and make it part of you."
That's how she ended up here. In July 2009, Alicia's husband of 31 years, Mark, passed away in a motorcycle accident.
Mark's insurance provided four-year tuition if Alicia enrolled in college within one year.
"I always wanted to take art," Alicia said, "And I always wanted to go to college, but I couldn't afford it."
During her studies, Alicia specialized in flameworkin – or shaping glass using a torch. She fell in love with the fluidity of glass and believes people, especially artists, should exhibit this same quality. Alicia encourages her students to learn, change and adapt continually.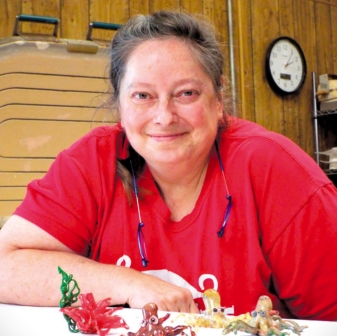 And Eric and Alicia's newest apprentice is eager to do just that. Marsadez Allen – or Mars – first took the beginner's stained-glass class at Ed's Emporium in June 2021.
Mars's previous creative endeavors were halted after a serious car accident in autumn 2019 while she recovered. Apart from the lasting side-effects of a head injury and tremors and aches in her hands, Mars's most significant injuries had been to her confidence. At the encouragement of her grandmother, the glass would be Mars's first creative venture since recovering.
"I fell in love in a very poetic way," Mars said, "I felt very broken, and you literally break glass on purpose and purposefully put it back together. And it was something I connected with in this certain season in my life."
Eric remains her biggest cheerleader. "She's going to do good," Eric said, "We'll keep her around."
He smiled at her, then joked, "I fire her every day, but I always hire her back within two minutes."
"Every day," Mars said with a laugh. "You have to get fired at least once or twice a day here," he said, "That's how you learn."
Eric gradually allocates the repair work to his new apprentice, the same way his father taught him.
"I think he's testing me out …" Mars said, "Every day I'm challenging myself, 'I'm going to prove to him that I am better than I was yesterday.'"
Eric smiled. "She thinks she's ready."
Recently, Mars started exhibiting pieces at ArtWalk. She's selling at craft fairs, creating a new website for her new business — Dreamscapes Creative Studio — and preparing for her first art show in June at Rhino Coffee.
Regardless of where she decides to go in life, Mars knows one thing: "I never see myself not doing glass …" she said.
When asked if she believes she's the heir Eric is waiting for, Mars said, "I think about it every day."