Le Tour des Jardins Returns Full Bloom
Six local gardens to welcome visitors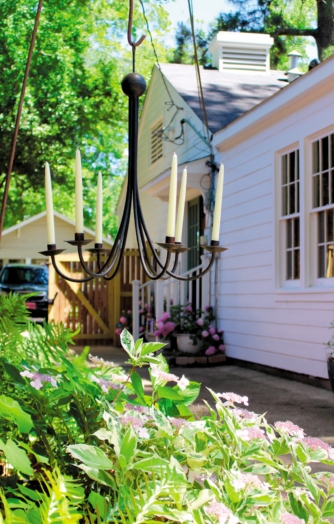 Sir Francis Bacon said, "Nature is often hidden; sometimes overcome; seldom extinguished."
This year, the Northwest Louisiana Master Gardeners will try to display that nature when they hold their annual spring garden tour, Le Tour des Jardins.
The tour will be held on June 4 from 10 a.m.- 5 p.m. and on June 5 from 1-5 p.m., where guests will visit some of this area's best gardens. Advance tickets are $10 and can be purchased at any Citizens National Bank or by calling the Master Gardener office at (318) 408-0984 or online at www.nwlamg.weebly.com. On the tour days, you may purchase tickets at any garden for $15. Tickets purchased with a credit card are also $15 to defray the service charge.
Lynn Burke organized the tour for the master gardeners and said it's good to be back after missing two years to Covid and freezing weather.
"We have six gardens that are on it. Two in Bossier and four in Shreveport," Burke said. "We have the Red River Research Station, where we have our super plants. We will also have the vendors out there, and we're also going to have food trucks this year, which is a first.
"Of the six gardens we have this year, two of them are master gardeners, the other four are not. Some of the gardens are small, almost patio gardens. Then you'll have some that are several acres. We try to have a mixture. We try to have some gardens that are sun, some gardens that are shade, just so people can walk around and think, 'I could do this.'"
In Green Acres Place, Stan and Boots Swens will host a garden that tells a story of the owners' travels. The fairy gardens can be enjoyed from multiple seating areas and boast an array of unusual plants.
Over in Plantation Trace, Judy Donaldson's corner lot presents plantings in several locations. A wrought-iron fence leads to a secluded retreat, complete with a gazebo and she-shed, yard art and more.
In the Kings Pointe subdivision, Scott and Christina Cabell's manicured garden features a variety of annuals and perennials along with established evergreens. A special feature is the night-blooming cereus in the backyard.
Going out Ellerbe Road, tour members will find Sharye and Steve Atchison's garden offering hidden delights along the paths which connect the five-acre site. The expansive plantings share space with a greenhouse, a pool, a pond and a barn along its winding paths.
Polly Buller presents a garden of southern charm featuring azaleas, Japanese maples and a quiet reflection area in the South Highland area. The caladium-lined drive takes you back to a tree-lined patio.
Another stop in South Highlands is the garden of Charles Rascoe. In front, visitors will see blueberries, daylilies, black-eyed susans, crepe myrtles and more. The backyard is a shade lover's delight with hydrangeas, peonies and a sitting area. The garden also features an extensive collection of irises the group says are "definitely worth the visit."
A Garden Bizarre will be held at the Red River Research Station, where the food trucks will be gathered during the tour. The station will host the Louisiana super plants gardens, a Northwest Louisiana Master Gardeners project. Mark Wilson, Northwest Louisiana Horticulture Extension agent, will discuss the super plants and answer questions.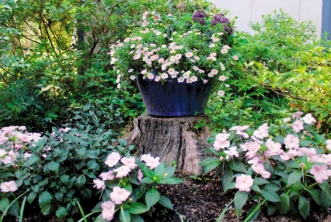 The tour is one of the Master Gardeners' major fundraisers of the year. The others are the spring and fall plant and bulb sales.
The group's mission is to educate the public about gardening and engage the community in horticultural pursuits.
The Master Gardeners' efforts generate enough money to have a community grants program. They report they have awarded over $150,000 since 2010 as a way to give back to the community.
"Our Master Gardeners organization came about in 1995," Burke said. "They knew down in Baton Rouge that they did Le Tour des Jardins, so they said we need to do something like that. They thought it would be nice to have people go to the different people's gardens and garden styles.
"Our gardens are always kind of a mixture. Sometimes we have gardens that were professionally done. Sometimes we'll put have one that was one of our grant recipients.
"A couple of years ago, Greenwood Cemeteries had a grant so we had Greenwood Cemetery on tour so that people could go and see what some of the money goes back to and where it's helped within the community."
In addition to the fundraisers, the Master Gardeners provide volunteers for many projects throughout the region. These projects are Community Gardens, American Rose Center, Pioneer Heritage Center and Holy Angels Horticulture Program.
Any Louisiana resident interested in horticulture and a desire to volunteer for community service may apply to the Master Gardener training program. For more information on how to become a Master Gardener, visit https://nwlamg.weebly.com.