Mark Dunn Builders can work with your budget, or explore your dreams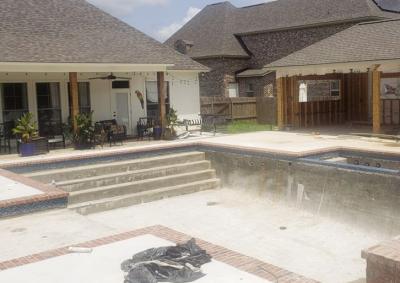 The famous movie line is "If you build it, they will come." That's sort of the big idea behind the work Mark Dunn Builders set out to achieve when they help clients turn their backyards into something special.
A fully licensed residential and commercial builder, Dunn and his firm can build virtually anything a client can imagine, from a porch makeover to a commercial building. He's found a bit of a side business in turning backyards into wonderlands.
They can go from decks to decked out, like a job he did for Craig and Holly Broussard, creating a magazine-worthy outdoor living space. "We work on outdoor living, kitchens, cabanas, pools, whatever the customer may want," Dunn explained. "We design and build them from start to finish."
If you've had an itch to do something with your backyard, Dunn suggests getting some ideas together, figuring out how much you can spend on the project, and giving him and his design team a call.
"We meet on site first. I need to see the green space or whatever we're working with. A lot of houses come with pretty vanilla, small back porches."
Once the customer knows what they want, Dunn said it takes a few weeks to get the floorplan designed, so it flows well and meets what the client wants.
"What is their wish list? Is this just an outdoor living space, or do they want food, or like the Broussards, a half-bath and a full kitchen with grill, griddle, sink, icemakers?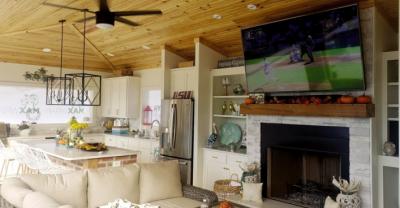 "Initially, what appliances do you want? What is your plan to do in the outdoor areas? Is it just a living space to relax? (At the Broussards,) we designed it so you could be in the hot tub or the pool; the cabana kind of hides the TV so you can see it from both of those locations and sit at the bar or in the living room area."
Every project is different, Dunn admitted. Will the space be for football parties crammed with LSU fans or boiling pots of crawfish?
"A lot of these people just want a nice outdoor living space, too, not even for grilling. We just customize [the plans] to what their needs are. Get that floor plan and getting a good flow."
As Dunn puts it, the idea is to make your backyard better than your vacation. "That's the idea, right? You want your backyard to be a destination. I don't want it to match your house exactly. We can bring a few things in and tie it together. But I want you to feel like you're leaving your house and going to an oasis area where you can just go to relax. Whether that's to watch a game or just sit out there and read a book out by your pool."
Depending on your budget, you can spend significant money and create a backyard you might like more than your house. "None of us need an outdoor kitchen or a $100,000 pool house cabana. But we work hard for it. That part makes our job a little more fun. Where we get to work with customers on a luxury project."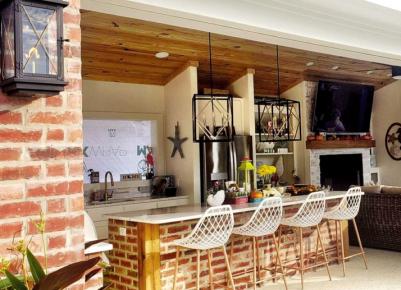 But Dunn said smaller budgets are welcome, too. "Give me a list of your needs. That's part of the whole project, too. Giving you the things that you want that fit your budget. Sometimes you have to be honest with people if they don't have enough (in their budget) for everything they want. We find out what they can afford and then try to bring it all to life for them."
What if you just can't visualize what you'd like in a backyard oasis designed by Dunn?
"Most people, I'd say 95 percent of our customers can't picture things finished.
You've got to put it on paper. Not just a blueprint. With custom outdoor living, you really need to show them in color. We can even show them with people sitting out in the bar. Give them a real feel for what it's going to look like when it's finished. It just makes it easier."
So, if you've got an idea for a get away from it all, that's the same address where you get your mail, Dunn is ready to work with you to make your dreams come true.
"An outdoor kitchen or cabana is a luxury item; it's not something we need. I always say it's something you want. We like being in the want business and not in the need business. It makes it more fun."