Cross Lake Floatilla Rides Waves of Success
Event funds local charities, organizations
What used to be a day of sun, boating, water and socializing has been transformed in recent years for the benefit of local charities.
2022 will be the 31st year for the Cross Lake Floatilla; this year, the event will be on June 18, the day before Father's Day.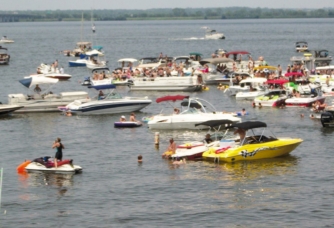 The group's secretary, Kim French, explained how the annual celebration has grown. "We're the longest-running flotilla in this part of the country," she said. "In Florida, they have one that's 31 years old. We have people who come from Oklahoma, and a lot of people come from Texas.
"We're trying to grow our flotilla because we started raising money to give away. You know, it used to be just a big party on the lake. Then probably about six years ago we took a turn. We wanted it to be more family-friendly and not just fun in the sun."
According to French, everyone who helps work the event are volunteers, and 40 percent of all the money raised from the event goes to local charities.
She said the event is always on Father's Day weekend, although it used to be earlier in the year. She noted that weather was always a problem, so they moved it back, avoiding Memorial Day and the Mudbug Festival.
"Our heart is local charities that don't get a lot of money. Charities like the American Legion. Last year, we gave $20,000 to Heart of Hope." Located in Keithville, Heart of Hope is a school for girls who have left home or were sent away because of a pregnancy. According to French, "This place takes them in; they live there. They take them to their doctor's appointments. They have in-house learning with teachers who come in and teach every day. They're able to finish their education and get their GED."
The funds raised by the Floatilla also assist three VFW posts, the color guard that performs for their event, as well as the American Legion chapter.
Folks generally start arriving around 11 a.m. on the day of the Floatilla. The band begins at about 3 p.m. Once again, this year, Presley Ross will be singing the National Anthem to help kick off the event. The musical entertainment will be provided by the group 8 Track, who will play throughout the day.
"There's going to be a boat parade as always, so people can sign up for that the night before or when we sell T-shirts. We have 65 sponsors this year. We're growing that, which we are excited about," French said.
She said the public is welcome to come out to the American Legion and bring their lawn chairs to watch the boats and take in the entertainment. According to French, you don't have to have a boat to come. Parking will be moderately priced at the American Legion, she said.
"The American Legion is going to be cooking. Last year they did hot dogs, hamburgers, chicken strips, nachos, french fries, everything. They're very reasonable priced on their food. Melvin's Landing will have gas for everyone, as well as Barron's Landing. [Boat owners] can launch from either place," French said.
Another popular feature is the Poker Run. Folks can buy poker tickets, then go to locations around the lake to collect cards from specific locations to create a poker hand. Participants then head back to the finish to see if their cards represent a winning hand. And there's good news if you were out of luck last year, French said. "We've added decks this year because we sold out last year. We've actually sold out the last four years."
The day is capped off with a fireworks show by Pyromania Fireworks in Benton. French said it's pretty spectacular, with fireworks bursts seeming to dance across the surface of Cross Lk.
For more information, call (318) 272-2882 or visit them on Facebook at https://www.facebook.com/floatilla.