Sand proppant processing facilities to open
The Port of Caddo-Bossier broke ground in mid-May for a new tenant, Sunny Point Aggregates. The new venture is building a sand proppant processing facility at the Port and will occupy a 43-acre tract in the area of the Red River front known as Scopini Island. Sunny Point is a division of Performance Proppants that operates three similar facilities in the region.
W. G. Bowden IV is president of Performance Proppants, and he and his partners, Jason Brazzel, director of plant operations, and Ryan Mc- Master, director of sales and business development, have been in the oil and gas industry since the early 2000s, he said. "I've known Jason and Ryan since college at Louisiana Tech. Back in 2016, we went to dinner with some guys and started talking about frac sand."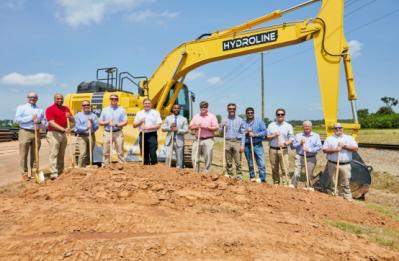 Frac sand consists of small, uniform particles injected into rock formations along with water. In exploring for natural gas, drilling companies will bore special wells for the purpose of setting off small charges in the shale deposits. The charges fracture the rock, and the sand and water slurry are pumped into the fractures. The sand's purpose is to keep the tiny fractures open and allow natural gas to be pumped out of the formation and to the surface.
The trio learned that the Haynesville Shale Play activity depended on sand from Wisconsin or south Texas. Figuring to capitalize on a more local, and, thus, cheaper because of reduced transportation charges, frac sand product, they had local sand analyzed and offered it to the companies doing business in the Haynesville Shale for as much as half of prices they had been paying. The analysis of the local sand was satisfactory, and they signed their first contract.
Their first processing facility cost $17 million to build in 2016, and business has continued to be good.
"Things were going well, and natural gas prices stated going up in 2018 and 2019. We built our second facility in Doddridge, Ark., in 2019- 2020," Bowden said.
"A lot of the natural gas producers are hedged. So, their hedges kind of helped them through the pandemic. It was a blessing to us that we weren't involved in oil, just strictly natural gas. We had a lot of contracts and a lot of good customers. We made it through it."
Last year, forecasts indicated that the need would continue to grow, and a third facility took shape in Maryville on the south end of Toledo Bend Reservoir. Sunny Point will be their fourth facility.
Bowden said they initially expected to produce 300,000 tons of product a year, but by the end of this year, they will reach the 10-millionton mark.
The trucks transporting the frac sand have become rather ubiquitous in our area. They usually consist of a dull gray or green cube-like box sitting atop a trailer rig. Some have company names printed on the side; some say Sand Box.
"In the Haynesville, it takes about 800 to 1000 truckloads of sand to produce one well," Bowden explained. "So, when you think of all the trucks you see riding around town, that's what that is. Each truck holds 23 to 24 tons of sand."
Once Sunny Point becomes fully operational later this year, they'll be turning an unused water resource into a money maker and a potential recreation area. Bowden said there is a 700-acre lake they call Port Lake that used to be on the old channel of the Red River before the U.S. Corps of Engineers rechanneled it.
"That lake right now is about two feet deep," according to Bowden. "We're going to [dredge it down to] 30 feet. It serves a couple of different purposes. One, obviously, it's profitable for us because there's material in there that we can use, but it also helps with flooding capacity." He explained that creating a 700- acre lake that is 30 feet deep instead of two feet deep provides a lot of capacity to divert flood waters when necessary. Bowden said that creates the second benefit. "Eventually, that'll be a deep lake and there'll be a lot of recreation in the lake that's not there now."
The plan is for the plant to produce three million tons of frac sand a year at Sunny Point. Bowden said there are approximately 40 million tons of material in Port Lake, which should supply the need for more than a decade of frac sand processing.
"This project is a win-win for the area," said Walter Bigby, president of the Caddo-Bossier Port Commission. "The dredging will create 40 new jobs for the area. At the same time, the dredging will help to alleviate flooding along the Red River."
Bowden said at the present production rate, the Haynesville Shale's life expectancy has been estimated at another 20 to 27 years, and he noted, "As long as gas stays above $4, the basin will be profitable."
Meantime, Bowden said the Port would remain busy with Performance Proppants' rolling stock moving sand to provide the frac sand driller need. "It takes a lot of trucks. We'll have 300 trucks a day coming in and out of that facility."