Norton Art Gallery Evolves to Engage Patrons of All Ages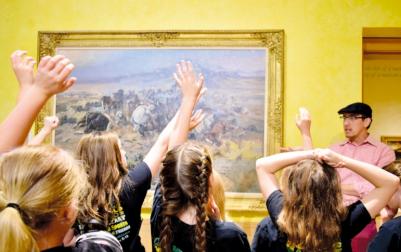 Known by locals and global art enthusiasts alike, the R. W. Norton Art Gallery is home to an extensive, permanent collection of over 500 paintings by more than 100 artists. The 45,000-square-foot gallery, nestled in the Historic South Highlands neighborhood, features the original building plus two wings and houses hundreds of paintings and sculptures of all shapes, sizes and media.
"With a permanent collection that ranges from 2400 BC early Egyptian works to contemporary artists like Kadir Nelson and Andrea Kowch, the quality of the Norton's collection is on par with many larger museums across the country," said Emily Feazel, designer of exhibits and special events. "Patrons of all ages will always find something to enjoy."
Tapestries that adorned the walls surrounding a 16th-century king of France and silver dating back to the 18th and 19th centuries are among the gallery's oldest works. More than four millennia of works of art are showcased within the museum's walls, including pieces from the European Collection, the American Collection, and the museum's Rare and Antiquarian Book Collection.
That is merely a taste of what the Norton has offered its visitors since 1966.
However, the story of the R. W. Norton Art Gallery began on Aug. 3, 1930, when Richard W. Norton (1886-1940) stepped foot on the future Rodessa Oil Field in Northwest Louisiana. Investing by way of the R.W. Norton-Hill No. 1 discovery gas well, the Rodessa Oil Field began operation under the United Gas Public Service Company in 1935, bringing commerce and prosperity to Rodessa. The town's population grew from a dozen – during the initial discovery by Norton in 1930 – to almost 15,000 in 1936. When production ended in 1940, the well produced millions of oil barrels, potentially singlehandedly sustaining Rodessa.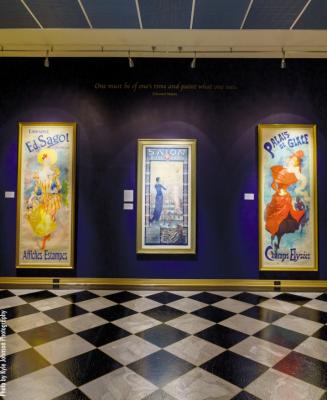 During those booming years, Norton's wife, Mrs. Richard W. Norton (1886-1975), and their son, Richard W. Norton Jr. (1919-1974), amassed a significant fine art collection. In 1946, Norton's wife and son founded the R. W. Norton Art Foundation, a 501(c)(3), to honor Norton and benefit the community. The Foundation based its initial collection upon donations from the acquisitions of the Norton family.
Twenty years later, in 1966, the R. W. Norton Art Gallery opened its doors in Shreveport. New and returning patrons continue to experience the gallery at no cost – the Norton has been and continues to be 100 percent funded internally by the Foundation.
"The Foundation's mission since its inception has been to collect, preserve, study, exhibit and stimulate appreciation for and advance knowledge of works of art and literature in the community," said Co-Executive Director Lewis Norton, son of Norton Jr. "The Foundation is dedicated to continuing the legacy and continues to serve the community by providing a place to enjoy art, family activities and more."
Lewis Norton serves as co-executive director alongside his wife, Ruth Norton.
Lewis recalled the construction of the Botanical Gardens surrounding the museum today: "In the early years, the gallery was among undeveloped, thick woods, and my mother, Margaret, had a vision for the museum's interior and exterior's appearance. She planted five azalea bushes from Clyde Gorum Nursery outside her office window. Today, more than 18,000 azalea bushes thrive in what's become the lush 43 acres of Norton Botanical Gardens, located directly behind the museum."
The gardens, freely open to the public, feature sculptures, winding streams, brick paths, step bridges, wildlife and more throughout the landscaped lawns and woodlands.
The Botanical Gardens are now used for several family-friendly events, said Feazel, one of which, Twilight Talkies, is a monthly movie series in its sixth season.
"Twilight Talkies started in 2016 to create a safe, family-friendly experience for the community," she said. "We wanted to provide an easy event for families to come out, enjoy local food trucks and a night together under the stars."
Feazel explained the name of the event comes from the Norton team's love of alliteration and the play on the old word for movies, "talkies." The next Twilight Talkies is scheduled for Friday, July 1, with a showing of "The Sandlot." Moviegoers are encouraged to bring chairs and blankets to the free event. While food trucks are available from 6 to 8 p.m., the movie will begin at dusk.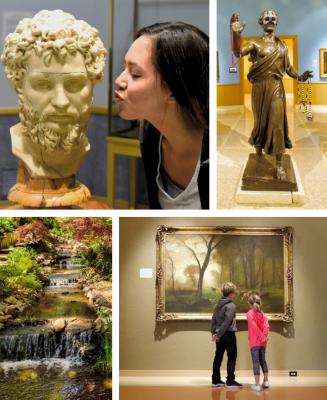 Next after "The Sandlot" is "The Little Mermaid" on July 22, "Sing" on Aug. 5, "Bolt" on Aug. 26, can sign up for the next story time at the Norton at RWNAF.org/events.
The family-friendly activities don't stop at the museum's entrance.
"While most museums are seen as stuffy places that children are not welcome, we want kids to feel at home in the Norton and know that it's a place for fun and creativity," explained Feazel. "We started offering summer camps in 2004 for upper elementary and middle schoolers. We wanted to focus on themes that would give the students something different."
Camps include Game Camp, which allows campers to play classic board games and group games to engage with each other and put down their electronic devices. Scribes and Scribbles is an art and writing camp that uses pieces from the museum's permanent collection and special exhibitions to spark creativity in writing poems, "Encanto" on Sept. 30, "Ghostbusters" on Oct. 15 and "Moana" on Nov. 4. While dogs are not allowed at each Twilight Talkies event, the museum's staff plans one dog-friendly movie a year. This year's dog-friendly talkie falls on International Dog Day, Aug. 26, with the showing of "Bolt."
"We will be featuring a special dog-themed children's scavenger hunt inside the museum that weekend for families to enjoy," added Feazel.
Another family-friendly program, Backyard Books, takes place on the lawn of the R. W. Norton Art Gallery. With the intent to spark a child's imagination, Backyard Books gives children an opportunity to hear a story and participate in a hands-on activity and garden quest. While all ages are welcome, the books and activities are most appropriate for pre-K through third grade. Parents and guardians are encouraged to partner up with their child(ren) during the free event. Tickets are limited, and only children require a ticket. Families creating art, producing one-act plays and more. Camps are open to students on a first-come, firstserved basis, with a limit of 30 students per camp.
For adults, the museum offers monthly "Adult Tours."
"These tours are a fun addition to our calendar," said Feazel. "For those who love art and history, this is the event for you. Each month is a different theme so you will get a different experience each time. Guided by our docent, Amanda McGaha, you will explore the Norton's permanent collection with tours such as 'Women in American Art,' 'European Experience,' 'American Journey' and more."
Tours are free and are limited to 20 attendees. The art doesn't stop at the exit, either. Norton's website has a digital artistic offering for kids and adults. Called "A Day at the Museum Coloring Book," a 23-page printable PDF features permanent collection pieces waiting to be brought to life by color. Patrons can also pick up a copy of the coloring book at the museum.
The public programming and offerings would not be possible without the museum's staff of 12.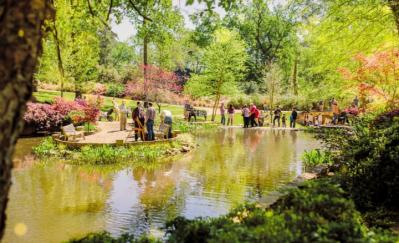 "Our programming takes a village," said Feazel. "Our staff is such a team, and we couldn't offer what we do without each individual putting forth their ideas, opinions and creativity."
The team is also responsible for curating special exhibitions, which Feazel said depends on what the team thinks the public needs or would want to see and if the special exhibition is distinct from the permanent collection.
Through July 24, museum visitors can experience two special exhibits: "Dance: A Song of the Body" and "Writing on the Wall: A Tribute to European Street Art."
"Museums are not meant to be stagnant or stodgy," said Feazel. "They are meant to inspire and speak to someone's heart in a way they didn't think was possible. Every time you come to the Norton, we want you to experience something new. Whether it's a new special exhibition, connecting with a new painting from the permanent collection, or seeing a refreshed gallery with pieces from the archives, you will never see the same museum twice."
Later this year, the Norton will be partnering with Shea Hembry, professor of art at Centenary College of Louisiana, on a pop-up exhibit highlighting the college's Centenary in Paris program. The museum will also work this year with Dr. Alexander Mikaberidze from LSU Shreveport's Noel Collection and Dr. Michael Creswell of Florida State University on an exhibition focusing on the French Revolution on film.
"In October, we will be joining in on the fun of the social media drawing challenge, Inktober, with a special exhibition working with local artists," said Feazel. "We will round out the year with a fun twist on our annual Christmas exhibition."
To learn more about the R. W. Norton Art Gallery's history and happenings, visit RWNAF.org, or follow them at Facebook.com/RWNortonArtGallery, Instagram.com/RWNortonArtGallery, and YouTube.com/RWNortonArtGallery.